recommended young players draft tips in nba 2k16 mygm
Date: 2/18/2016 4:35:10 PM
in nba 2k16 mg mode,big fans of trading like to build the strongest nba team by teaming up the best players in the league. players who are best to use are those suitable for our tactics and styles.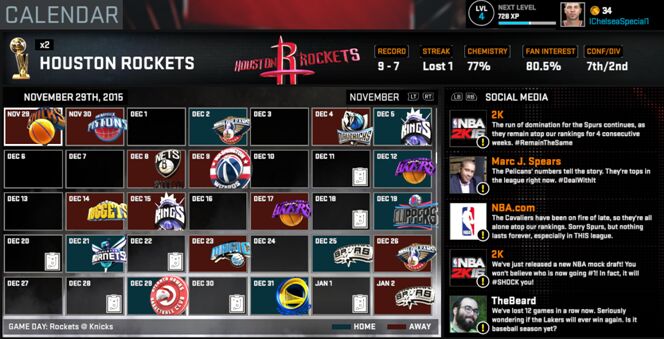 here's a list of them:
23 years old - kyrie irving, cleveland cavaliers - 87
25 years old - demarcus cousins, sacramento kings - 87
25 years old - paul george, indiana pacers - 86
22 years old - anthony davis, new orleans pelicans - 92
24 years old - kawhi leonard, san antonio spurs - 87
25 years old - damian lillard, portland trail blazers - 86
25 years old - klay thompson, golden state warriors - 87
25 years old - john wall, washington wizards - 87
orlando magic:
elfrid payton: 20 years old with 74 overall rating
nikola vucevic: 23 years old with 80 overall rating
victor oladipo: 22 years old with 78 overall rating
minnesota timberwolves
andrew wiggins: 19 years old with 77 overall rating
ricky rubio: 23 years old with 79 overall rating
zach lavine: 19 years old with 72 overall rating
philadelphia 76ers
joel embiid: 20 years old with 77 overall rating
michael carter-williams: 22 years old with 80 overall rating
nerlens noel: 20 years old with 76 overall rating
mygm young players draft tips
1.no more than 3 in season trades but i try to stick to 2. why because nobody rebuilds their roster completely during the season thats what the offseason is for.
2.don't trade made men. this rule is simple if a player has been with a team his whole career and has won a championship you can't trade them.
3. make at least one draft class in nba2k16. 2k has always had amazing player creation and this really gives scouting a personal feel. my brother and i spend hours creating fictional draft classes.
4. guys who can dunk and shoot 3's are what makes video game hoops fun. here's a list of players(in no order) that are better nba2k16 hoopers then their nba counterpart.
5.if you get tired of playing the same teams over and over again do fantasy draft. another favorite of mine is to create a roster and add legends to their present day team. for example giving the bulls mj and pippen to add to d.rose, noah, and gasol is fun. or putting dominique wilkins on the hawks. bring shaq and penny back in orlando. doing this adds a challenge off no off nights on your schedule.
if you want to buy players but don't have enough coins, you can buy nba 2k16 mt coins on buynba2kmt.com and get 5% off by using coupon code "nba16".
NBA 2K23 News Guides

NBA 2K22 News Guides

NBA 2K21 News Guides
CONTACT US
TEL (USA) : +1-315-889-1198
TEL (UK) : +44-020-32905838
MSN: [email protected]
QQ: 1498133786