Home
>>
News
>>
Top 5 Nba 2K19 Best Shooting Archetypes New Jumpshot Glitch For How To Shoot With Any Build
TOP 5 NBA 2K19 Best Shooting Archetypes & New Jumpshot Glitch for How to Shoot with Any Build
4/23/2019 5:13:21 PM
In NBA 2K19 MyCareer mode, you can build a custom player through applying different archetypes, which will influence the stats, development, and style of your player. Each player can use two archetypes now for more choices. How to customize the best shooting player and how to shoot with best jumpshot with any build? In this guide, Buynba2kmt.com will bring you the top 5 NBA 2K19 best archetypes for shooting guard and the new NBA 2K19 Jumpshot glitch to shoot with any build.
NBA 2K19 Archetypes for Shooting Guard - TOP 5 NBA 2K19 Best Shooting Archetypes
5. Slashing Stretch Five
Primary Skill: 3PT Shooting
Secondary Skill: Driving & Finishing
This is a popular build, you can apply it in all positions for both first and second skill positions, it gets three Gold badges including Pick, Popper Up and Under Specialist Free Throw ACE, 13 Silver badges and 10 Bronze badges, this is a phenomenal sharpshooting build.
4. Pure Shot Creator
Primary Skill: Shot Creating
Secondary Skill: Shot Creating
One of the most unguardable archetypes that everyone's familiar with the pure shot creator, taking a look at the badges, contains four Hall of Fame badges: Mid-range Deadeye, Difficult Shots, Tireless Scorer which means layups as well and Tear Dropper, apart from that, five Gold badges, 8 Silver and 8 Bronze Badges. It's one of the most balanced archetypes in the game to do a little bit of everything and extremely unpredictable. If he's going to the rim and trying to shoot a three mid-range, he has all kinds of trick shots he can do, make him at six foot three so he can speed boost, so causing mismatches off of picks maybe the real problem, a little bit taller should be better.
3. Sharp Shooting Shot Creator
Primary Skill: Shot Creating
Secondary Skill: 3PT Shooting
The badges of sharpshooting shot creator in a lot of ways are very comparable to the pure shot creator and in certain areas a little bit better. 4 Hall of Fame badges, 5 Gold, 8 Silver, and 4 Bronze, he gets the same Hall of Fame badges as pure shot creator, but he gets gold Corner specialist, Deep range deadeye, Catch and shoot and more, this puts him in a league of his own Limitless range, Lob city finisher, he also gets Ankle breaker and just like a pure shot creator he gets Posterizer on bronze as well, he can also be creative out of the post and hit you with a lot of those creative shots in the mid-range area and potentially rain threes on you when he gets to a 94 overall.
2. Shot-creating Sharpshooter
Primary Skill: 3PT Shooting
Secondary Skill: Shot Creating
This is an overpowered NBA 2K19 archetype, 4 Hall of Fame badges, 6 Gold, 2 Silver, and 7 Bronze, Corner specialist, Deep range deadeye, Tireless scorer and Catch & shoot HoF, this is an elite score and you can consider making this archetype small, like 6'5.
1. Pure Sharpshooter
Primary Skill: 3PT Shooting
Secondary Skill: 3PT Shooting
This is the most elite shooter in the game with five Hall of Fame badges including Corner specialist, Deep range deadeye, Limitless range, Catch & shoot and Free throw ACE, which might be a hard badge to get, he also gets 3 gold features Mid-range deadeye, Tireless score, the pure sharp has always been a beast, he can shoot from half court, he's definitely one of the best team players to have on any squad you want to go really far, in team pro-am you need to have some sharpshooters and a pure sharp is the best, make them be around 6'5 or 6'8, running from the shooting guard and small forward position.
New NBA 2K19 Jumpshot Glitch for How to Shoot with Any Build
Base: Jump Shot 24, Release 1: Rudy Gay, Release 2: Rudy Gay
This new NBA 2K19 jumpshot glitch will work on any build, but mainly for non-shooting builds, if you are a shooting build, this shot is not that recommended, because if you are shooting build, you want fast jumpshots. Go 7'4 on a lockdown shooting green 3s on the whole court, not the corners, a lock shooting from Hall of Fame limitless with a 48 overall three-pointer, to get this shot patched as the game is broken locks.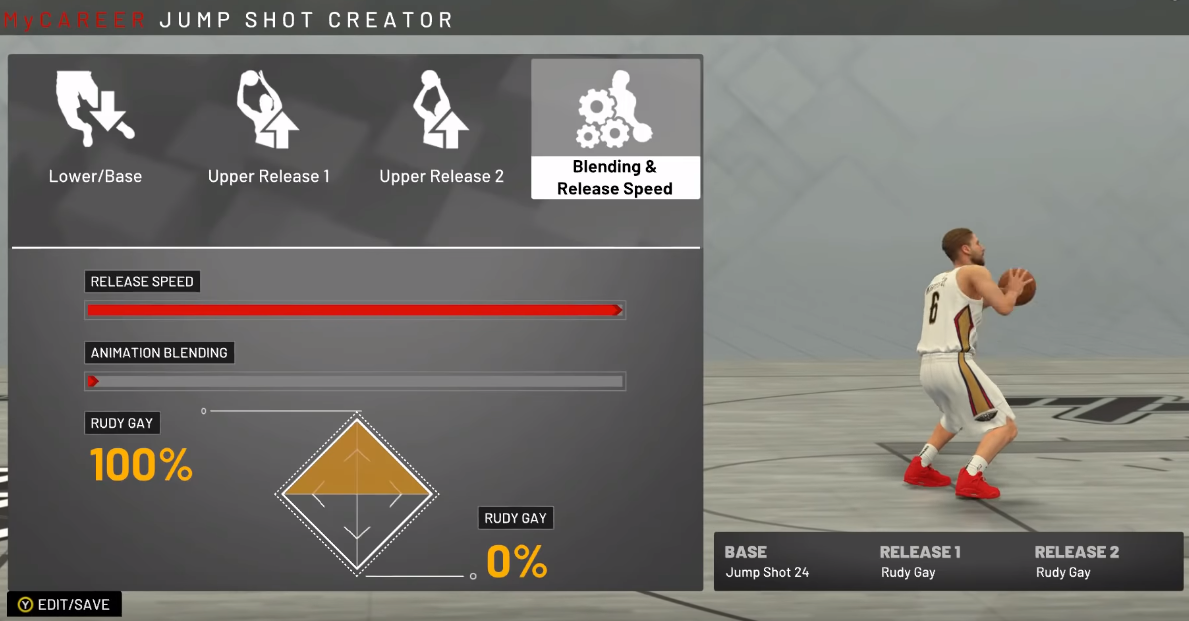 Check out the video from Y0UNGDIRK for more details of the NBA 2K19 glitched jumpshot:
CONTACT US
TEL (USA) : +1-315-889-1198
TEL (UK) : +44-020-32905838
MSN: [email protected]
QQ: 1498133786