Home
>>
News
>>
Nba 2K21 Myteam Season 7 Full Throttle Guide Which Are The Best Free Season 7 Cards In 2K21 Myteam

NBA 2K21 MyTEAM Season 7 Full Throttle Guide - Which Are The Best Free Season 7 Cards In 2K21 MyTEAM
Date: 5/11/2021 11:55:38 AM
A brand new Season 7 officially arrives in NBA 2K21 MyTEAM that is characteristics of Full Throttle theme. It's known that with the new season, a new set of rewards like cards, tokens, XPs, diamond contracts, HOF badges, ascension boards will drop in the game. Which cards are you looking forward to getting the most in Season 7 of NBA 2K21? Here at buynba2kmt.com, we are going over the best NBA 2K21 MyTEAM Season 7 cards and how to get the free rewards.
NBA 2K21 MyTEAM Season 7: Full Throttle Guide - Best & Free Cards On NBA 2K21 Season 7 MyTEAM
NBA 2K21 Season 7: Full Throttle is the shortest season for only four weeks(28 days) ends on June 4. We have got dark matter Vince Carter the best reward card on NBA 2K21 season 7 as level 40 reward, it takes you about 30 hours after reaching level 40. Considering the fact that his time drastically decreases, the longer we go into the season. The best time you start the grind for Vince on the last Monday before season 7 ends, so that you could get him on Friday. Next, we are going to check more 2K21 Season 7 best reward cards you should get in MyTEAM, as well as some more dark matters, galaxy opals and new packs that are worthy of grinding and losing sleepovers!
Derrick Rose - PG/SG - 89 - 6'3''
The free ruby Derrick Rose card that evos all the way to a 96 overall pink diamond. The problem with this season 7 reward card 2k21, it's 2k gave him Derrick Rose release on normal, which is unusable. He has a quick dribble style, even if with the curry slide, he is alright. You get the first evo to amethyst, you will get a bunch of hall of fame badges like Quick First Step. After getting to pink diamond, you will get 95 lateral quickness and hall of fame Clamps. By all means, if you insist on using Derrick Rose and you can not afford dark matter, you can get him.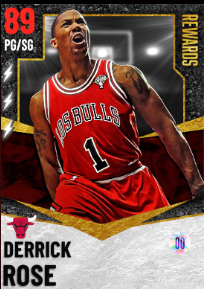 Greg Anthony - PG/SG - 85 - 6'0''
Greg Anthony is 6'0 tall and has 6'3 wingspan. He has 90 three ball, 95 speed, 95 acceleration, 95 speed with ball and 92 lateral quickness. He's got 52 all the gold badges you need. Though he has bad release, he is the best sapphire point guard in NBA 2K21. If there's sapphire weekend limited, Greg will dominate. To be honest, he is not worth grinding.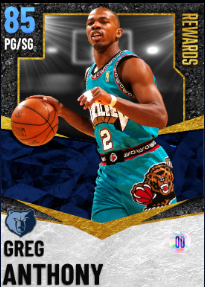 David Wesley - SG/PG - 89 - 6'0''
David Wesley is six-foot point guard who has 43 gold badges. For attributes, he's got 94 speed, 80 driving dunk, 84 three-ball, 94 speed with ball, 94 speed, and 94 lateral quickness. The truth is he is too small to be useful but he can be very solid in the limited. He's got Dwayne Wade base on real quick, he can curry slide with pro 3 behind the back.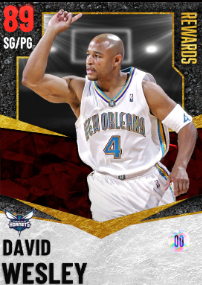 Norm Nixon - PG/SG - 91 - 6'2''
Norm Nixon is a point guard with 95 lateral quickness, 90 three ball, 94 acceleration, 92 driving layup, 94 speed, 94 acceleration but has a terrible interior defense. He's got hall of fame Clamps, hall of fame Catch And Shoot, hall of fame Unpluckable and base jump shot 7. This card is neither awful or good.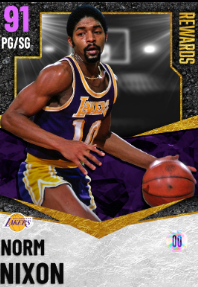 Roy Hibbert - C - 93 - 7'2''
He is a 7'2 point guard and has a 7'6 wingspan. With 17 hall of fame badges and 10 gold badges, Clamps(Gold), but has not Quick First Step. For his dribble style is a slasher, Brook Lopes on very quick. Unfortunately, he has bad stats.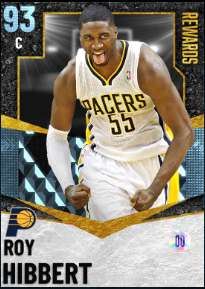 Kevin Martin - SG/SF - 95 - 6'7''
Kevin Martin has 91 speed, 91 accelerations, 95 three ball, 90 driving dunk, 91 lateral quickness, 91 perimeter defense, 92 draw foul and good enough steal. He has only gold Clamps, hall of fame Range Extender, hall of fame Blinders. His dibble style is shifty, base 26 and pro 1 size up packages. This NBA2K21 season 7 card is going to be fine in challenges than kings players, he is not good but not bad either.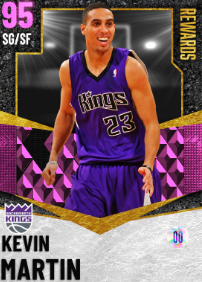 Zach Randolph - C/PF - 97 - 6'9''
Zach Randolph is one of the best free cards on NBA 2K21 season 7 that is an eight hours grind. He is a galaxy opal with 89 speed, 89 acceleration and 94 three ball. He's got his own release on very quick, pro 3 behind the back and pro 2 size up escape packages. He can curry on next gen, however, he can't do it on current gen due to his weight. For badges, he has Showtime (HOF), Range (HOF), Quick First Step (HOF) and Clamps (HOF). He's not a top-tier card in NBA 2K21 by any means, but he Is going to be usable, which is huge.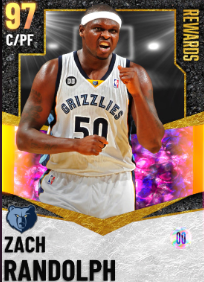 Vince Carter - SG/SF - 99 - 6'6''
Vince Carter has amazing states including 97 speed, 97 acceleration, 99 vertical, 97 three-ball, 99 driving dunk, in addition, offensive rebound, interior defense and post hook are his only stats lower than 92. He's got 47 hall of fame badges like Showtime (HOF), Range Extender (HOF) and Handles For Days(HOF). With Vince Carter on very quick, pro 2 size up escape packages, pro 3 moving behind the back, and quick dribble style make he the NBA 2K21 MyTEAM Season 7 best card that worth getting.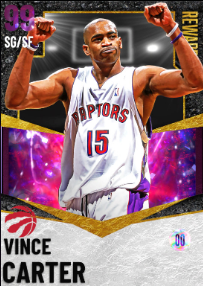 Sidney Moncrief - SG/PG - 99 - 6'3''
Sidney Moncrief is the Ascension rewards, whilst the best NBA 2K21 season 7 cards of Ascension rewards with insane 99 defensive animations. He is a six foot three point guard, has 98 speed, 93 three-ball, 98 speed with the ball, 93 ball handle, 98 acceleration, 98 stamina, 99 perimeter defense, 99 lateral quickness and 99 steal. Meanwhile, he has a quick dribble style and his release is cash, release 8 on very quick is one of the best releases in NBA 2K21. Only gold Range Extender, but still he is a solid and overpowered 6'3 point guard card 2k21 you should get in season 7.
How To Get Best NBA 2K21 Season 7 Reward Cards
Derrick Rose is the Level 1 free 2K21 Season 7 MyTEAM card, by logging in to get it. Greg Anthony is the Level 7. The next reward for 2,680 XP David Wesley at level 13. At Level 20 you will be able to get Norm Nixon. At Level 24, Roy Hibbert is the reward card. Then, is the Kevin Martin that you will get at Level 28. Most people are going at least level 35 for the overpowered Season 7 NBA 2K21 opal card by the end of the day. Finally, we can unlock the best Vince Carter NBA 2K21 MyTEAM Rewards for season 7 once we reach Level 40. Watch the fastest way to get 2k21 season 7 cards and rewards tutorial created by Excapar:
NBA 2K24 News Guides

NBA 2K23 News Guides

NBA 2K22 News Guides

NBA 2K21 News Guides
CONTACT US
TEL (USA) : +1-315-889-1198
TEL (UK) : +44-020-32905838
MSN: [email protected]
QQ: 1498133786