nba 2k17 my career and myplayer create
Date: 9/2/2016 11:19:01 AM
game publisher 2k sports in a recent announcement revealed that game's career mode with the prelude will be available 11 days before the official release. it can be downloaded for free and will be available for PS 4 or xb1 gaming consoles.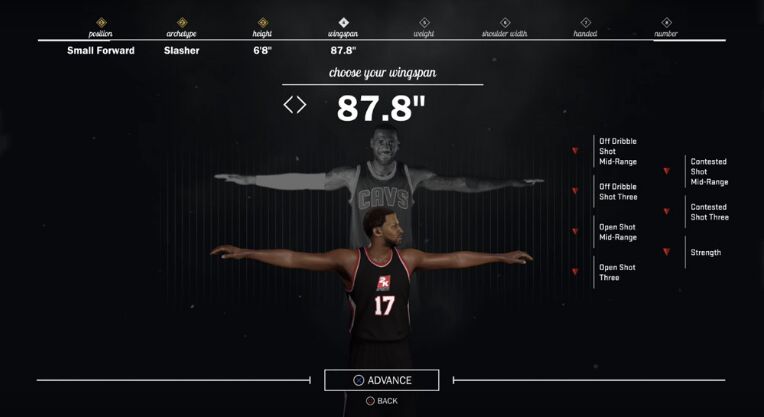 according to polygon nba 2k17, the prelude will be out just a week before the launch for pre-orders. the option will allow players to play the introduction of mycareer. it will also enable the players to explore new myplayer creation process option, which helps in customizing athlete's physical attributes that include height, weight and wingspan.
it will also enable the players to interact with coaches during the mini-narrative and that will all in all affect how they will start mycareer mode when the game actually arrives.
when passing through each position, the myplayer stands in the center of the screen with two players of the same position on his right and left sides, as well as said player's name, height, and their playstyle. for example, stephen curry is listed as 6'3 "and labeled" all-around superstar pg. "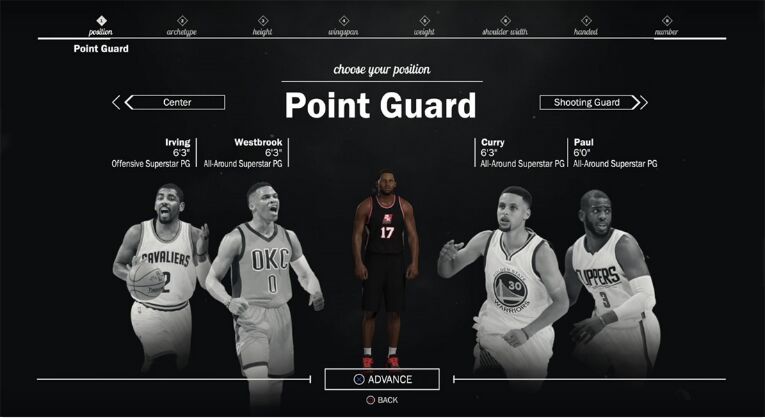 next, we get a glimpse of six of the many that will be available, slasher, shot creator, sharpshooter, coin forward, lockdown defender, and glass cleaner.
below the playstyles, the screen lists the ten attribute groups that we will be able to upgrade, which are "shooting off dribble," "layups and dunks," "mid-range shooting," "3pt shooting," "post scoring," "agility," "strength," "rebounding," "playmaking," and "defending."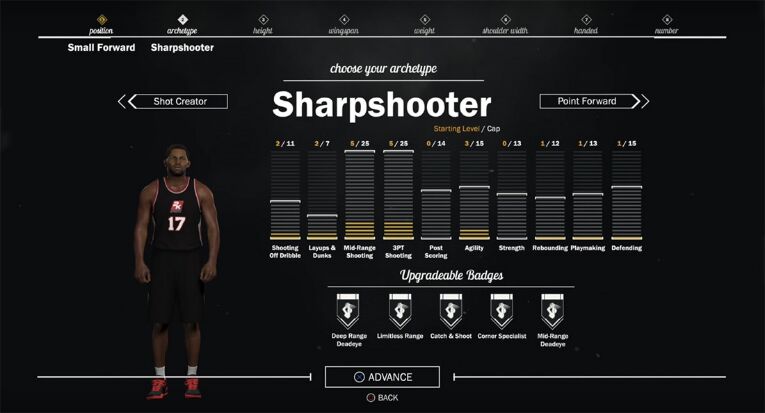 it is said that nba 2k17's the prelude will come to end before nba draft. however, the players' progress will be transferred to mycareer mode if they choose to purchase the game.
these attribute groups also have a starting level and a cap level, which differ depending on one's playstyle.
listed below the attribute groups are "upgradable badges," five of which come with each archetype, meaning one's myplayer will start his journey with a couple of predetermined badges. a "sharpshooter" has deep range deadeye, limitless range, catch & shoot, corner specialist, and mid-range deadeye to start.
2k is also adding importance to a myplayer's physicals, which are height, weight, wingspan, shoulder length, and hand size. when making one's myplayer taller or shorter, attributes are either compromised or enhanced, depending on the physical changes.
fans can check out the prelude trailer below. it will be available from sep. 9 and the full version of the game will be coming out on sep. 20 for microsoft windows, PS 4, PS 3, xb1 and xb360 platforms.more information is on buynba2kmt.com which is a professional nba 2k17 mt selling site.
NBA 2K23 News Guides

NBA 2K22 News Guides

NBA 2K21 News Guides
CONTACT US
TEL (USA) : +1-315-889-1198
TEL (UK) : +44-020-32905838
MSN: [email protected]
QQ: 1498133786