Home
>>
News
>>
Fifa 19 Futmas Sbc Cards Predictions And Investment Guide For Futmas Countdown Sbc Players

fifa 19 futmas sbc cards predictions and investment guide for futmas countdown sbc players
Date: 12/1/2018 4:09:50 PM
the fut biggest yearly promotion - fifa 19 futmas event is coming soon, in addition to lightning rounds and happy hours packs promo, the most exciting offer of the christmas promotion is must be the release of 33 fifa 19 futmas cards exclusively via futmas countdown squad building challenges with very specific requirements. which special futmas sbc cards we are going to see this year and how do you prepare for it to make a good profit for fifa 19 coins? in this guide, we sum up a list of fifa 19 futmas sbc cards predictions and investment tips.
fifa 19 futmas sbc cards predictions
thanks to the players, who created and shared possible futmas players on twitter and youtube, so we can give all fut fans the best fifa 19 futmas cards predictions featuring players who wear shirt numbers corresponding to the date the challenge goes live. you can check full details about fifa 19 futmas offers here.
fifa 19 futmas players predictions made by @futtraderj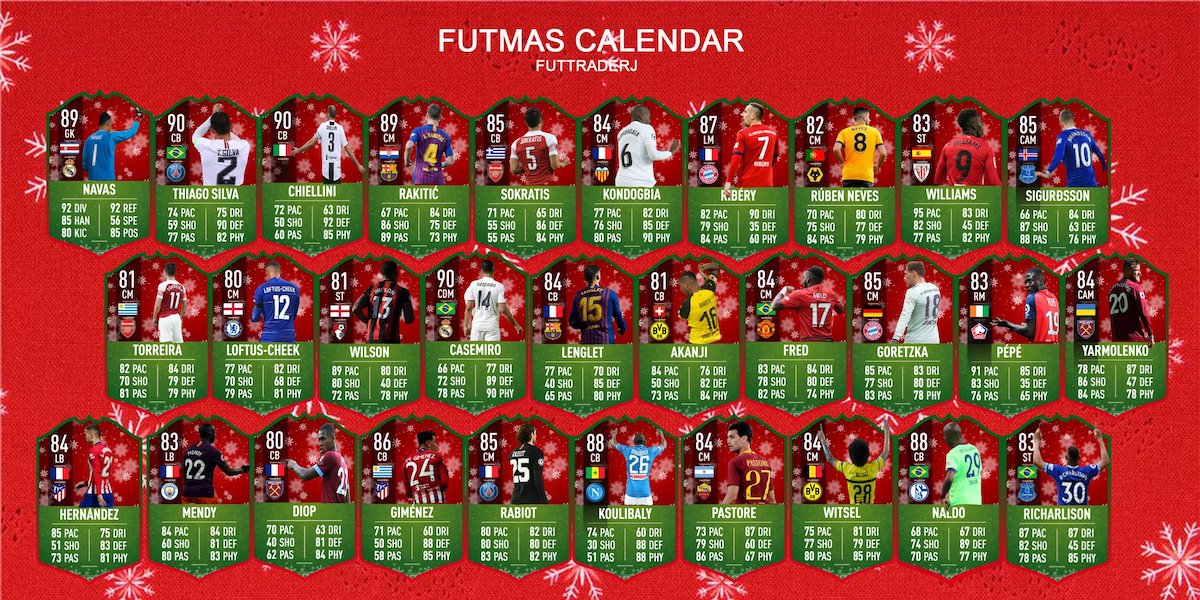 fifa 19 futmas countdown sbc calender prediction
during the futmas event, each player's kit number will match the day of the month on which they are released, and three new sbcs are being released every day for a limited time with some tasty rewards. so if you want to get your favorite futmas players, you need to know which day of the fifa 19 futmas sbcs released.
in previous year, fifa 18 futmas started on december 15 (friday) to december 24, we won't know exactly who will be involved each day, but the shirt numbers are counting down from 30 to 1, so we can make a few educated guesses, below is the prediction of fut 19 futmas sbcs schedule we made for you according to futtraderj's prediction:
day 1 (december 15th)
30 - lm - richarlison (everton/brazil) - 83
29 - cb - naldo (fc schalke 04/brazil) - 88
28 - cm - axel witsel (borussia dortmund) - 84
day 2 (december 16th)
cm - javier pastore (roma/argentina) - 84
cb - kalidou koulibaly (napoli/senegal) - 88
cm - adrien rabiot (paris saint-germain/france) - 85
day 3 (december 17th)
cb - josé maría giménez (atlético de madrid/uruguay) - 86
cb - issa diop (west ham united/france) - 80
lb - benjamin mendy (manchester city/france) - 83
day 4 (december 18th)
lb - lucas hernández (atlético de madrid/france) - 84
cam - andriy yarmolenko (west ham united/ukraine) - 84
rm - pepe (beşiktaş/portugal) - 83
day 5 (december 19th)
cm - leon goretzka (bayern münchen/germany) - 85
cm - fred (manchester united/brazil) - 84
cb - manuel akanji (borussia dortmund/switzerland) - 81
day 6 (december 20th)
cb - clément lenglet (fc barcelona/france) - 84
cdm - casemiro (real madrid/brazil) - 90
st - callum wilson (bournemouth/england) - 81
day 7 (december 21st)
cm - ruben loftus-cheek (chelsea/england) - 80
cm - lucas torreira (arsenal/uruguay) - 81
cam - gylfi sigurðsson (everton/iceland) - 85
day 8 (december 22nd)
st - williams (athletic club de bilbao/spain) - 83
cm - rúben neves (wolverhampton wanderers/portugal) - 82
lm - franck ribéry (bayern münchen/france) - 87
day 9 (december 23rd)
cm - geoffrey kondogbia (valencia cf/france) - 84
cb - sokratis (arsenal/greece) - 89
cm - ivan rakitić (barcelona/croatia) - 89
day 10 (december 24th)
cb - giorgio chiellini (juventus/italy) - 90
cb - thiago silva (paris saint-germain/brazil) - 90
gk - keylor navas (real madrid/costa rica) - 89
fifa 19 futmas investing guide and tips
complete these new futmas sbcs, you can win nice futmas cards, so more players will be keen on building up their trade pile as the event draws nearer, so you can also make some great fifa 19 coins by selling into the futmas hype. here we sum up some investment tips to help you complete the upcoming squad building challenges with less fut coins or make more profit from it.
- buy 83-84 rated gold players, spread your coins across the premier league, la liga, bundesliga, serie a and the ligue 1 in a bid to meet the high chemistry requirements that are synonymous with futmas sbcs.
- buy 84-85 rated if cards, ifs were a common requirement for futmas sbcs last year.
- buy 86-87 rated gold players, the high rated cards 86/87 should be required but they are inflated and will only rise with the baby icon sbc which is supposedly coming.
here are the investing tips from futtraderj: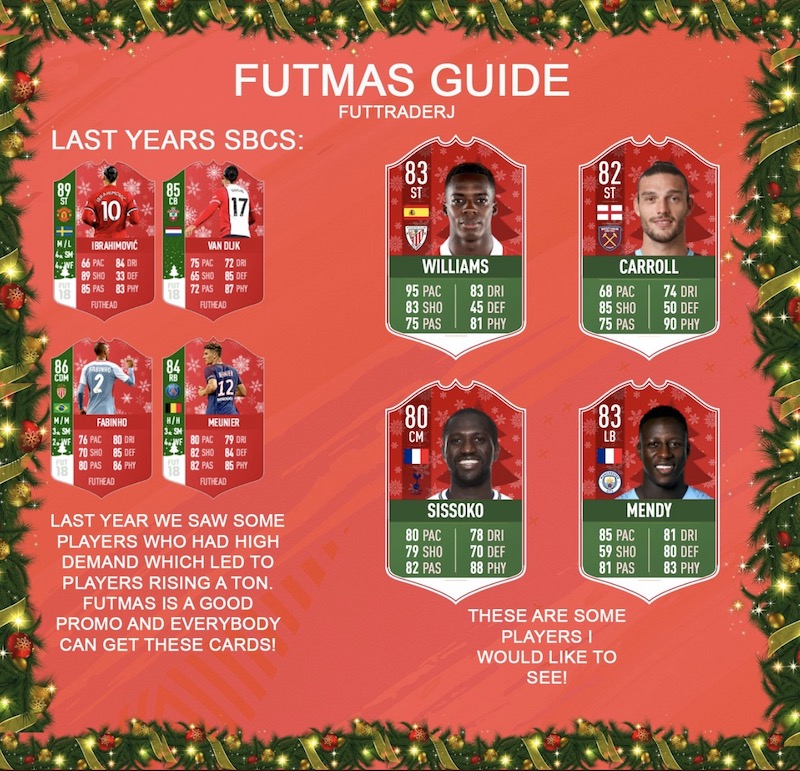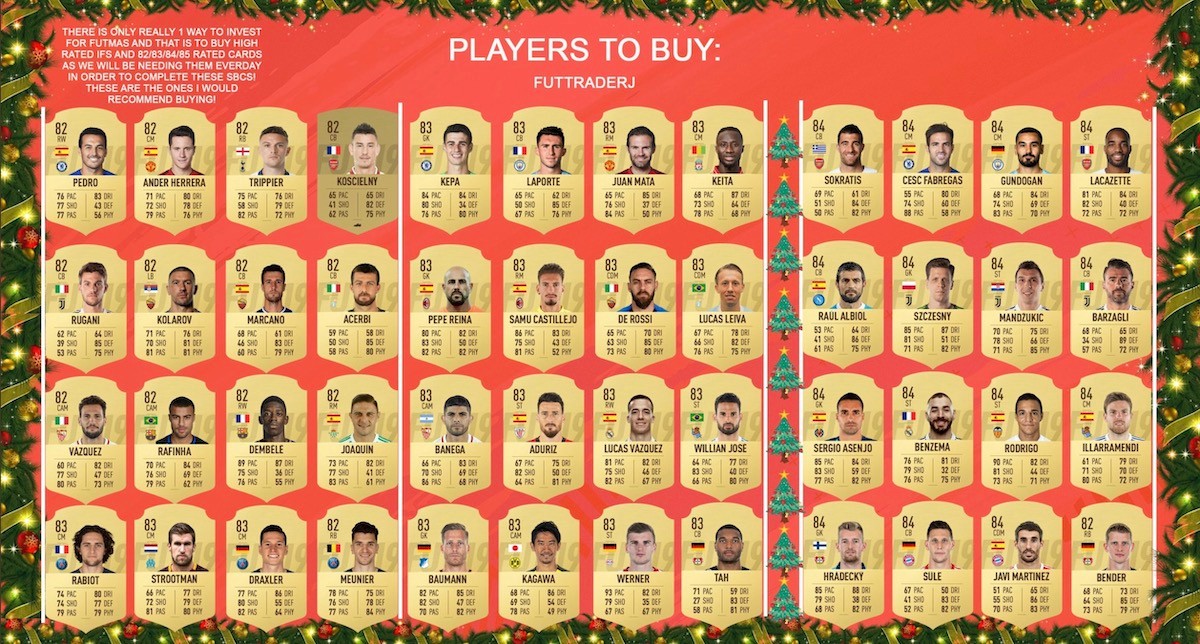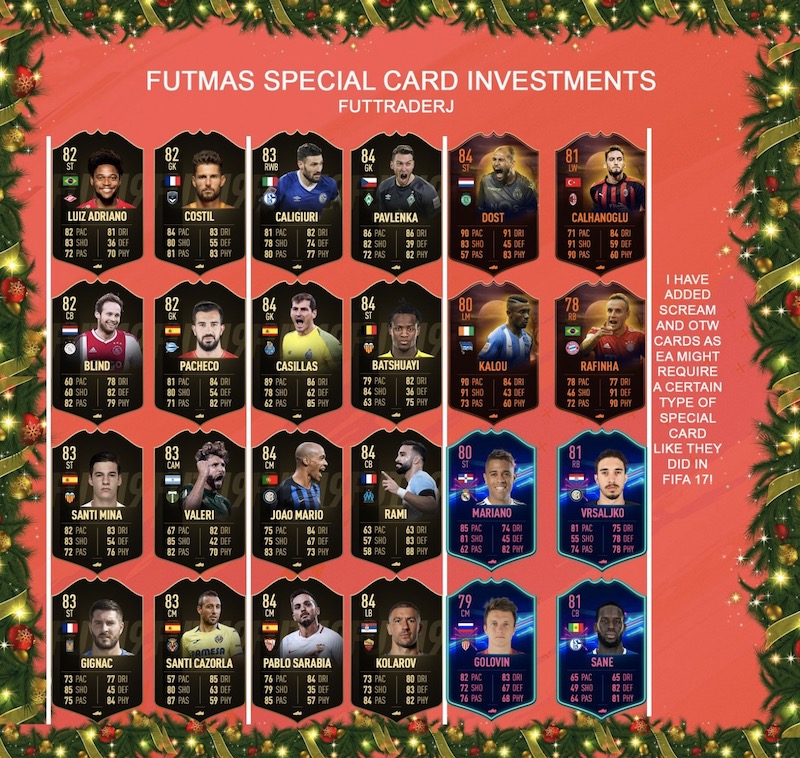 here we also share you the fifa 19 futmas trading guide from e2a:
want to buy fifa 19 coins to do some pre investments for the fifa 19 futmas sbc and the upcoming fifa 19 futmas event? goldkk.com should be your best choice for fifa coins, check below special offers: coupon code "goldkk" - 3% off.
NBA 2K23 News Guides

NBA 2K22 News Guides

NBA 2K21 News Guides
CONTACT US
TEL (USA) : +1-315-889-1198
TEL (UK) : +44-020-32905838
MSN: [email protected]
QQ: 1498133786