Home
>>
News
>>
Nba 2K21 Season 5 Myteam Best Free Cards Insanely Overpowered Season 5 Free Card You Should Grind In 2K21

NBA 2K21 Season 5 MyTEAM Best Free Cards - Insanely Overpowered Season 5 Free Card You Should Grind In 2K21
Date: 3/15/2021 2:20:13 PM
This season in NBA 2K21, the way 2k rewards players by finishing games and it will cost almost nothing to get free 2k21 season 5 rewards, just naturally doing it from playing. Some NBA 2K21 season 5 free cards could take 20 minutes to get, other top-tier cards would take longer. This article listed some of the best NBA 2K21 Season 5 MyTEAM Free Cards that you should get, including free overpowered 2k21 galaxy opal cards, evolution cards, hero cards, modern age cards and all star spotlight sim cards as well.
NBA 2K21 Season 5 MyTEAM Best Free Cards - Insanely Overpowered Season 5 Free Card You Should Grind In 2K21
These 2K21 season 5 free cards were divided into S Tier Cards, Get At All Costs, Should Try Get and more. But here we recommend you get at all costs level season 5 free cards NBA 2K21 might not the best of the best, but they are still overpowered and such an easy grind. In conclusion, you can still try to grind for top-tier cards, for example, David Robinson is one of the best s-tier free cards on NBA 2K21, as well as the best center. It takes at least 60 hours to grind for this reward. Next, you are going to see the best NBA 2K21 season 5 MyTEAM free cards that are worthy of grinding.
Antawn Jamison - 97 - PF/SF - 6'8''
This is one of the best NBA 2K21 spotlight sims free cards you should get whether in season 5 current-gen or next-gen. You can use his hall of fame deep hooks in your squad on current-gen, due to the fact he can hit wide open. He is also a beast on next-gen, It's not difficult to get this card after 33 games, besides he is one of the best shooters in games.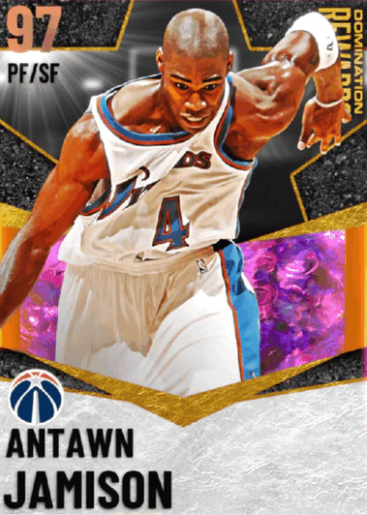 Brandon Roy - 97 - SG/SF - 6'6''
Brandon Roy took less time for grinding than Jamison and plays better. He plays p&r ball handler, isolation and mid-range. Trey Burke is his lower base, Kobe Bryant is his upper release. He has 29 gold badges and 26 hof badges such as Range Extender(HOF) and Catch & Shoot(HOF), Showtime(HOF) and Acrobat(HOF).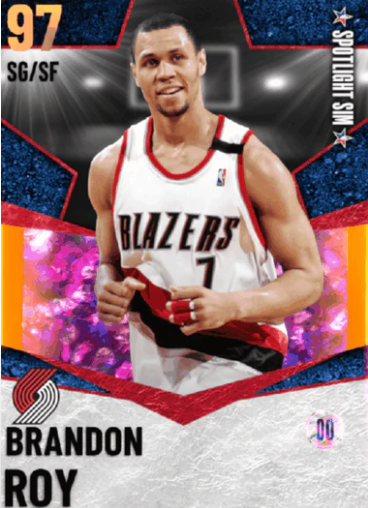 Buddy Hield - 94 - SG/SF - 6'4''
Do you know how overpowered Buddy Hield is? He has Kobe Bryant bass, a really good release and solid defense. What's more, he is easy to level up in 28, you can even achieve this free season 5 nba 2k21 reward in one day. Not mentioned that he has 95 three ball, 95 free throw, 90 speed with the ball, 92 speed, 92 acceleration and 89 lateral quickness.
Collin Sexton - 91 - PG/SG - 6'1''
Sexton is another pretty nice free modern age card on 2K21 season 5 MyTEAM. He's got good curry slide, dunk and shot. He is an unstoppable shooter and does everything well. He has 90 three ball, 90 driving dunk, 95 speed with the ball, 90 ball handle, 95 speed 98 stamina and 92 lateral quickness. Most importantly, it doesn't take long to get him, almost around two hours.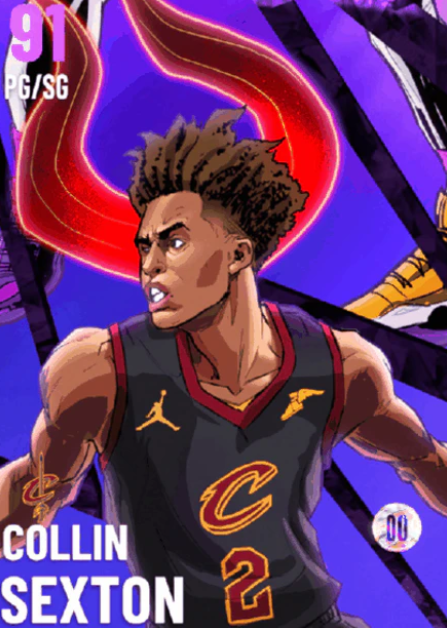 Donovan Mitchell - 97 - SG/PG - 6'1''
Donovan Mitchell takes only half an hour to get. If you combo the challenges in the best way include 3 games with 50 triple charge challenges, you can get this great free 2K21 modern age card in 30 minutes. He has range extender(HOF) and clamps(HOF), acrobat(HOF), handles for days(HOF) . With good release and dunk, he can dunk on everybody easily. The only problem is that he is 6'1''.
DeMarcus Cousins - 95 - C/PF - 6'10''
DeMarcus Cousins is one of the best big man in 2k21. He is insanely good, the same as the high-rated Counsins. He has amazing movements, handles, shooting and defense. With 90 driving layup, 90 standing dunk, 87 three ball, 86 interior defense, 95 offensive rebound and 95 defensive rebound. He has everything you need for and took two hours to grind on the way to Brandon Roy.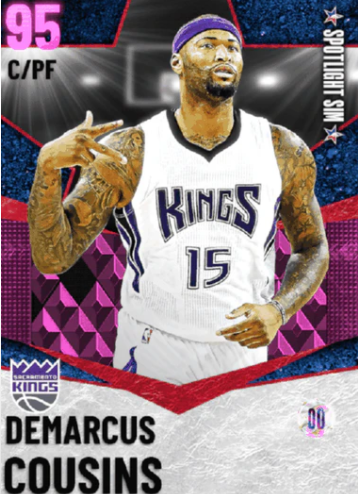 Don Buse - 95 - PG/SG - 6'4''
Don Buse is the NBA 2K21 most op free card season 5 MyTEAM you should get. He is 6'4'' player who has a long wingspan and can curry slide. He has great stats and 90 shot mid, 95 driving layup, 97 speed with the ball, 97 perimeter defense, 98 lateral defense, 98 steal, and 97 speed. D Rose as his base and features good dunking. There is nothing wrong with this card because he is an actual beast.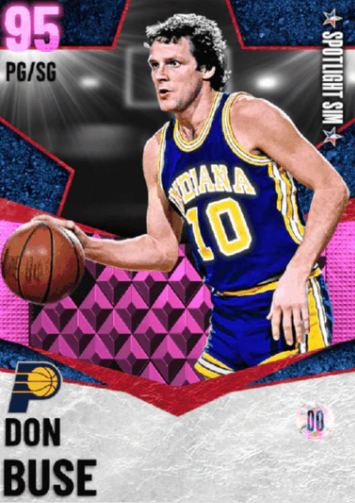 Joe Dumars - SG/PG - 95 - 6'3''
Joe Dumars is a 6 foot three SG who has hall of fame range extender and hall of fame clamps. He's got the curry slide and good release and defense on next gen. Getting Donovan Mitchell, Don Buse and Joe Dumars are the top best NBA 2K21 season 5 MyTEAM free cards in your point guard positions, it's the absolute perfect choice.
Sidney Wicks - 95 - PF/SF - 6'8''
The way that Sidney Wicks plays is ridiculous, he definitely belongs to the get at all cost tier. He can shoot when he is open. He is good even though without curry slide because he has fantastic dribbling. He's got excellent athleticism, defending and rebounding. Furthermore, he has an ultra 7'11'' long wingspan.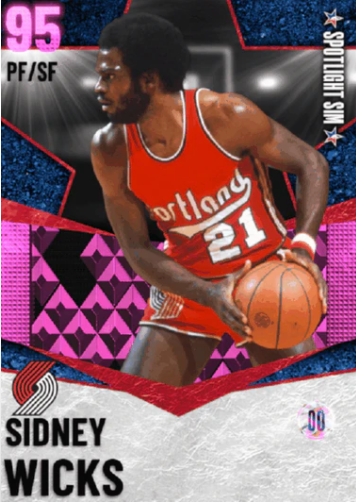 Jose Calderon - 94 - PG/SG - 6'3''
A 94 rated free Evo diamond Jose Calderon is a demon on next gen. He is 6'3'' tall and has 6'6'' wingspan. Now he is heavily towards the offense. He has a good release and a base 40 on quick on NBA 2K21. Meanwhile, he's got has 94 mid range, 95 three point shot, 98 free throw, 75 driving dunk, 94 ball handle and 88 perimeter defense. He's got a good handle and can curry slide, carries 14 hall of fame catch & shoot, dimer, deep threes antifreeze and blinders. It takes only two hours max to grind up. You will only need to complete 50 assists and 53 pointers.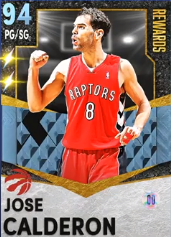 Tyler Herro - 94 - SG/SF - 6'6''
Tyler Herro is an insane NBA 2K21 MyTEAM free hero card. He can curry slide and has good animations. He has a short wingspan which is the biggest shortcoming. But it takes 2 hours of grinding.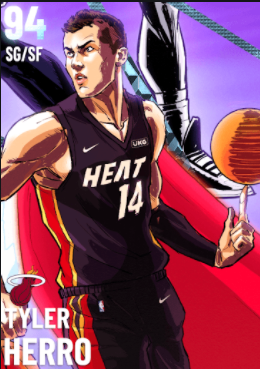 If you had time, you could absolutely go for top tier free cards NBA 2K21 season 5, such as
John Wall, Kermit Washington, Ray Allen and Wes Unseld. If you need NBA 2K21 MT for sale, go to the cheap most safe and legit store buynba2kmt.com.
NBA 2K23 News Guides

NBA 2K22 News Guides

NBA 2K21 News Guides
CONTACT US
TEL (USA) : +1-315-889-1198
TEL (UK) : +44-020-32905838
MSN: [email protected]
QQ: 1498133786