Home
>>
News
>>
Nba 2K21 Myteam Season 6 Glitched Reality Guide Which Is The Best Nba 2K12 Radioactive Card For Season

NBA 2K21 MyTEAM Season 6 Glitched Reality Guide - Which Is The Best NBA 2K12 Radioactive Card For Season 6?
Date: 4/1/2021 3:17:13 PM
Season 6: Glitched Reality officially arrives in NBA 2K21 MyTEAM. The brand new season of Glitched Reality has taken the place of season 5 Age of Heroes and brings mysterious Glitched reality packs, cards and rewards. What are the best players in the 2K21 Season 6 new radioactive pack? Here at buynba2kmt.com, we bring you the NBA 2K21 MyTEAM Season 6 best radioactive cards that are worth buying.
NBA 2K21 Season 6 Glitched Reality Guide - Which Is The Best NBA 2K12 MyTEAM Radioactive Card For Season 6?
NBA 2K21 MyTEAM launched Season 6: Glitched Reality on the day of March 26, featuring radioactive packs including Dark Matters and Galaxy Opals cards, MyTEAM rewards including mystery player cards. Actually, there are some overpowered radioactive cards like Kareem and T-Mac in NBA 2K21 Season 6. Also budget beast Clem Haskins. Dwayne Wade, Yao Ming and Jason Richardson just clones, almost the same card as before which you don't need to waste your NBA 2K1 MT. Next, we are going to list some of the best cards for season 6 NBA 2K21 next gen and current gen.
Thaddeus Young - 89 - PF/SF - 6'8''
Thaddeus Young is normally so good in 2K and still one of the best 2k21 MyTEAM radioactive cards in season 6. He has 2 hall of fame badges and 44 gold badges, including showtime(Gold), Contact Finisher(HOF), Relentless Finisher(HOF), Range Extender(Gold), Clamps(Gold) and Intimidator(Gold). He's got good three pointer, speed, lateral quickness, and driving dunk. He's fine as a power forward because of the length. What's more, he has pro 2 sizes up escape packages and Dwyane Wade on quick. He is a god and the best ruby card in season 6 NBA 2K21.
Andrei Kirilenko - 98 - PF/SF - 6'9''
This NBA2K21 radioactive card is absolutely insane in this season. He is 6'9'' tall and with 7'4'' wingspan. He's got 32 hall of fame badges includes the best badges in next gen and 32 gold badges. What's more, he has 93 speed, 92 accelerations, 94 three ball and perfect defensive stats. With the best pro 3 basic size up packages and good jumpshot 98 as lower base. But he can't do pro 3 because of his weight and height.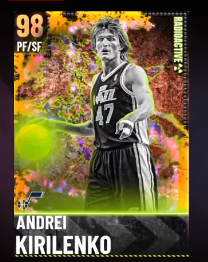 Giannis Antetokounmpo - 98 - C/PF - 6'1''
There's no doubt that he is the best card NBA 2K21 season 6 MyTEAM that everyone should buy. He carries 35 hall of fame badges Showtime(HOF), Handles For Days(HOF), Quick First Step(HOF), Clamps(HOF) and Range Extender(Gold). He features some of the best defensive stats in the game. In addition, both Giannis Antetokounmpo as lower base and upper release, which is an insane release. He is more cheesy playing center compares to point guard.
Tracy McGrady - 99 - SG/SF - 6'8''
Tracy McGrady is really the best NBA 2K21 Season 6 radioactive card. He can curry and got Range Extender(HOF), Steady Shooter(HOF), Blinders(HOF)and Clamps(HOF). He has Trey Burke on a lower base, Kobe Bryant on an upper release. With unbelievable 98 three ball, 98 driving layup, 99 driving dunk, 96 speed with the ball, 97 speed, 97 acceleration, 98 stamina, 97 lateral and 96 steal, which will help you break down NBA 2K21 next gen.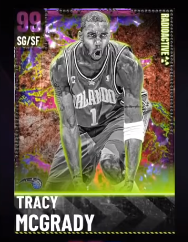 Kareem Abdul - Jabbar - 99 - C - 7 '5''
He is a fantastic card that has the best defensive in NBA 2K21, he has a 7'5'' wingspan and a 225lbs weight. He's got a really good release, insane defense and insane dunking. Depends on what you need your center for, but he is the best defense of an interior center in the game, also a decent shooter. Kareem combos Giannis will be so elite on defense. Moreover, he is unstoppable on both current gen and next gen.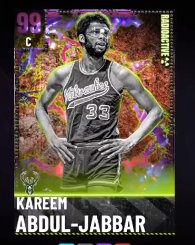 Lionel Simmons - 94 - SG/SF - 6'7''
He is a beast on defense. He has 24 hall of fame badges Blinders, Showtime, Catch And Shoot, Quick First Step and Unpluckable. And he's got 94 speed, 94 acceleration, 89 three ball, 95 driving dunk and 94 lateral. He has base 62 on a very quick, slasher dribble style.
Clem Haskins - 91 - PG/SG - 6'3''
If you are looking for cheap overpowered radioactive cards in season 6 NBA 2K1 MyTEAM. He is a decent point guard for both current gen and next gen. He is 6'3 and with 6'3 wingspan. He has 94 speed, 80 driving dunk, 95 three ball and 95 lateral quickness. He has Range Extender(HOF), Unpluckable(HOF), Handles For Days(Gold), at least he has every badge you need on gold. He's got Kobe Bryant on quick, pro 2 size up escape packages and pro 2 moving behind the back.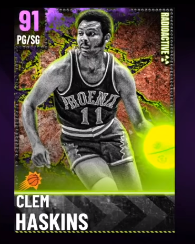 These are the NBA 2K21 MyTEAM season 6 best cards in the radioactive set. Furthermore, this is the first time 2k has ever given us some elite cards on next-gen. If you need to buy NBA 2K21 MT, go to the safest online shop buynba2kmt.com
NBA 2K24 News Guides

NBA 2K23 News Guides

NBA 2K22 News Guides

NBA 2K21 News Guides
CONTACT US
TEL (USA) : +1-315-889-1198
TEL (UK) : +44-020-32905838
MSN: [email protected]
QQ: 1498133786