nba 2k17 mygm mode team selection and draft trade tips
Date: 11/8/2016 5:21:07 PM
nba 2k17 mygm is a mode where players can have coaching experience. here buynba2kmt.com provides you with team selection and draft trade tips in nba 2k17 mygm mode. let's take a look at nba2k17 mygm mode.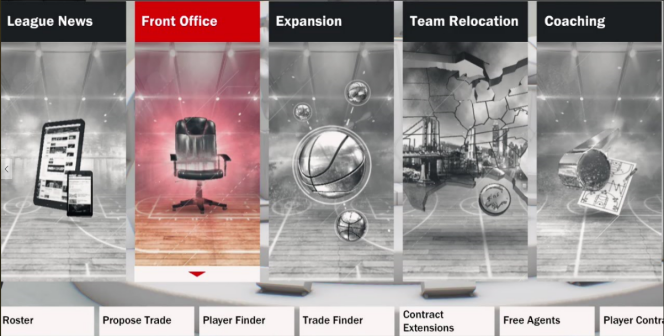 1. team selection
nba 2k17 trade finder is better than that of nba 2k16. basically all of the players are tradable. sometimes, the offer given by computer is not bad. so there are few week teams. the timberwolves is relatively simple, and the trio of towns, lavine and wiggins is used for a long time. although each open potential is random, generally it will not be bad. it is easy to practice lavine's three-coiner. it is very easy to use no matter in simulation or actual playing. you can sell wiggins after training him well, since in this generation the small forward without three-coiner ability is less preferable than shooting guard or power forward who are good at three-coiner.
in terms of team selection, the use of kings, jazz and knicks full simulation wins in the third season. when it comes to the knicks in the fourth season, anthony said that he wanted to leave because there were too many stars in the team and he did not have enough ball controlling. in summary, it matters little which team you choose. any team can win.
2. team building
at the beginning of play, the first priority is coach and scout. it is recommended to choose the high rated ones with no adverse effect. if the ratings are the same, then choose the one with more special capacities. of course, when the level of your manager gets higher, it will offset some of the adverse effect, so that you can easily choose the ones who have a high rating but negative bonus.
in general, all teams' budget is sufficient to build a top-level coach (double a in offensive defensive, 4.5-5.5m / year) + top scout (a-above). the lineups of other staff are almost the same. in the next year, generally all the staff can be replaced by the best. it's easy.
when it comes to the coach, cole, spoel, kidd and mchale are all good choices. i personally think that spoel is the best among the four. cole is expensive but good. kidd is the most expensive but doesn't have enough special capacities.
3. league rules changes
there are amendments to the league's rules every season. my advice is not to amend the rules. it happens a lot that the voting passes ridiculous rules such as scoring directly without free throw. you can choose to ignore such voting, so that the rules won't change.
every season, there are amendments to the union rules, my proposal is not modified. often computer voting without foul without penalty directly score such wonderful setting. you can directly choose not to participate, so that there will be no rules change.
4. the draft
before each draft, the coach will require you to choose a player. the request is hard to achieve unless you take the first sign. the consequence is that the coach's morale. so the answer here is not to participate in the draft, which will generally reduce the morale by 7 coins.
when you choose the player, the computer will ask if you'd like to check out the existing solutions. in such cases, there will be offer of the recently gained player from top ranked team. you can directly press the right stick to see the player's potential. if you think the player is okay, you can agree directly. generally, you will make profit.
5. salary
with any team, there is need to clear the long contract. the top priority is big contract. as long as someone wants it, you can agree.
6. role players
in general, it is recommended to choose players rated between 73 to 75. if the team chemistry is high, there will be +2 bonus. so with 75-77, there will no trouble with the substitutes. without bonus, players rated above 75 will not be happy. so please don't care about the difference in rating. during the season, assist manager will always be around. when it comes to role players, the age doesn't matter. with players younger than 33 years old, you can sign contract of 2 years and replace him with other player in the next year. you can have 3 good picks in the third season.
7. training intensity
it is recommended to use the default intensity. if the default on is normal, then it is recommended to increase the intensity by 1 grid for home game. increase the overall intensity to high but no very high, to avoid injury. if some player argue that the intensity is not enough, you are just not able to meet his intensity.
therefore, you keep the team's overall intensity as high. during the season, if trainer says that they have nothing to do, then you just veto his proposal. if substitutes or players just recover from injury suggest that the intensity is not enough, then you just choose to agree. and increase the training intensity of these players from high to very high.
8. players growth
you can directly check out players' potential in nba 2k17 mygm. if the player is age around 20 years old, with 72 initial rating and 85 potential, then he's worth training. if he's willing to sign a long term contract, then you can give him 4 years salary with annually 10% lower annually. he will agree. if he disagrees, then you reduce by one year.
if he's only agree one year contract, then you just give him up, because such players are likely to only sign one year contract in the next year. if you prefer manual operation, then you also need to consider speed and acceleration. players who are low rated in these two attribute is hard to use.
9. coaching
even if you do not manually operate, you also need to reset the time by pressing y in the coaching menu, so that the player's playing time will be more reasonable.
if you want to get nba 2k17 mt online, we also can offer it at bottom price. we have special discount for you every day. use coupon code "2k17" for 5% off. hope you enjoy it.
NBA 2K23 News Guides

NBA 2K22 News Guides

NBA 2K21 News Guides
CONTACT US
TEL (USA) : +1-315-889-1198
TEL (UK) : +44-020-32905838
MSN: [email protected]
QQ: 1498133786