nba live mobile legends tim duncan 07 and jeff hornacek 92 review
Date: 2/13/2017 3:15:52 PM
ea released two new legends in nba live mobile and you can buy and use 95 ovr tim duncan '07 and 94 ovr jeff hornacek card in the game.

nba live mobile legends
95 ovr tim duncan '07 (shooting lineup; c)
94 ovr jeff hornacek '92 (defensive lineup; sg)
jeff hornacek can be pulled through packs while tim duncan can be earned by completing his legends set. to complete the tim duncan set you will need the following:
1 legend trophy
3 2007 featured year collectibles
2 san antonio spurs team collectibles
1 number 21 jersey collectible
15 elite trophies
will you be adding any of these legends to your lineup?
tim duncan '07
1) they got robert horry and matt bonner as pf that year
2) a shooting lineup commonly has stretch 4's. duncan cant play stretch4. he might be the greatest pf all time but he can also play center.
3) according to hidden stats he's not a better defender or shorter that 93 aldridge or 94 bill like brush ea is just retarded. there are only two 90 overall shooting power forwards.
jeff hornacek '92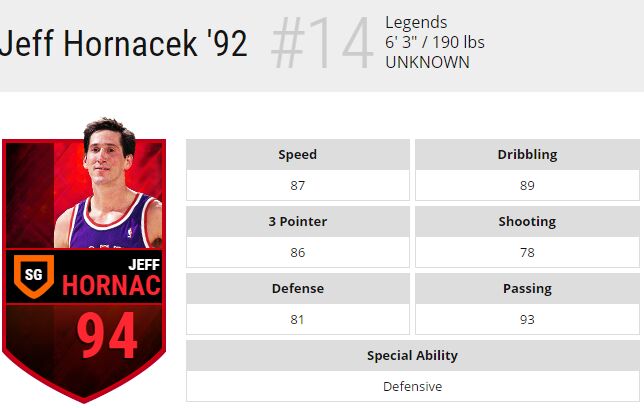 1) he was good, but never 94. biggest thing he has accomplished was helping barkley get to phoenix and winning a three coin contest.
2) his 90 two way has 90 3pt , and this 94 card 86 3pt.
3) believe it or not 94 isnt that high of a rating, eventually there will be loads of 99s.
if you are satisfied with our services and would like to leave your 5 star review on trustpilot buynba2kmt (https://goo.gl/6uvgcb), you can get 8%-off coupon.please send us the url of your review via facebook, then you can get the coupon code which is available within the next 30 days.
facebook: https://goo.gl/3b41cn
if you need to nba live mobile coins,use coupon "2k17" can enjoy a 5% discount.
nba live mobile coins 1000k=4.45 usd
nba live mobile coins 5000k=21.34 usd
nba live mobile coins 15000k=61.96 usd
NBA 2K24 News Guides

NBA 2K23 News Guides

NBA 2K22 News Guides

NBA 2K21 News Guides
CONTACT US
TEL (USA) : +1-315-889-1198
TEL (UK) : +44-020-32905838
MSN: [email protected]
QQ: 1498133786