NBA 2K21 Warehouse Challenge - How To Complete 2K21 Warehouse Challenge & Locate NPC
Date: 1/7/2021 11:41:23 AM
Finding NPC location during warehouse challenge on NBA 2K21 is one thing that will drive you crazy. After completing the NBA 2K21 next-gen challenges the NPC's will reset. How to Find the NPC location quickly? How to beat 2K21 challenges in the easiest and fastest way to win the bonus.

How To Complete NBA 2K21 Warehouse Challenge
After activating the warehouse challenges, you will receive a waypoint to the warehouse, it will light up yellow. The first thing you need to do is find the 8 NPC characters with an exclamation mark on their heads around the city and talk to them. As a matter of fact, you can only activate 4 NPC challenges at a time before you complete them. If you don't know how much 2k21 warehouse challenges you started, go check your journal. To unlock 3 games for each NPC which is a total of 24. Therefore, you will need to know the exact location of 8 characters to locate them, in order to speed up badge progression.
What Are The Benefits After Completing 2K21 Warehouse Challenge
After founding the non-player characters and fished all the NBA 2K21 warehouse challenges, you will receive boosted badge progress, 2 times badge points and Mypoints. Meanwhile, claim your exclusive reward (warehouse king pirate hat) that not available in stores. Next, you are about to see 2k21 warehouse challenge tips on how to fast find characters.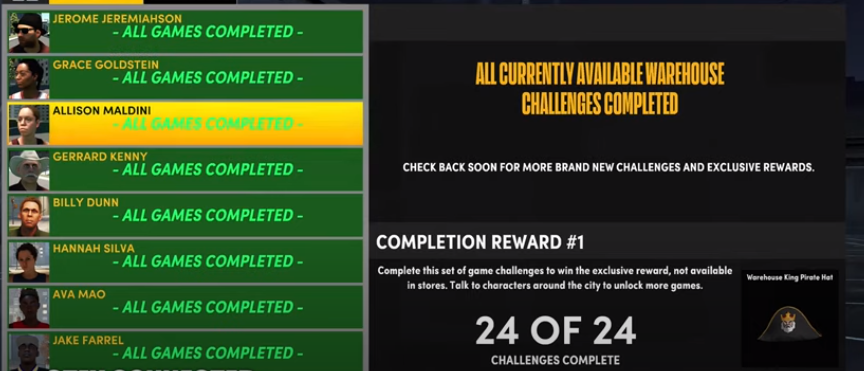 How To Find 2K21 Warehouse Challenge NPC Location & Challenge Objective
Jerome Jeremiahson: Defeat John Stockton, Jeff Hornacek & Karl Malone. His route is between Western Wildcats and South City Vipers
Grace Goldstein: Her route is next to Jerome Jeremiahson and the location is near Western Wildcats
Allison Maldini: Her route is in Western Wildcats and close to the center of The City
Gerrard Kenny: Defeat Michael Jordan, Scottie Pippen & Dennis Rodman. His route is between Western Wildcats and North Side Knights and next to Grace Goldstein, the path is relatively long.
Billy Dunn: Defeat Larry Bird, Kevin McHale & Robert Parish. His route is under Gerrard Kenny on the map.
Hannah Silva: Defeat Tim Hardaway & Alanzon Mourning. Her route is in North Side Knights
Ava Mao: Defeat Jerry West and Elgin Baylor. His route is between North Side Knights and Beasts of the East, and next to Hannah Silva
Jake Farrel: His route is in Beasts of the East and under Ava Mao
Read More:
Nba 2K22 Current Gen Next Gen Best Build - Best Build & Build System In Nba 2K22
Nba 2K21 Top 100 Best Cards - Top 100 Most Overpowered Cards In Nba 2K21 Myteam
Nba 2K21 Next Gen Best Automatic Jumpshot Top 5 Highest Green Window Jumpshots In 2K21
Click here NBA 2K21 next gen warehouse challenge guide created by Youtuber Fitzy which can help you directly find the route to the NPC locations. Fast to get both double badge points and Myteam points. NBA 2K21 MT sold at a cheap price in the most reliable online store buynba2kmt.com
NBA 2K24 News Guides

NBA 2K23 News Guides

NBA 2K22 News Guides

NBA 2K21 News Guides
CONTACT US
TEL (USA) : +1-315-889-1198
TEL (UK) : +44-020-32905838
MSN: [email protected]
QQ: 1498133786