NBA 2K21 Top 100 Best Cards - Top 100 Most Overpowered Cards In NBA 2K21 MyTEAM
Date: 8/16/2021 2:18:29 PM
NBA 2K21 is almost coming to the end, at this stage of the game, who are the final NBA 2K21 best 100 cards to buy? There are hundreds of cards with different ratings ranging from the god tier players to best budget players in the NBA 2K21. Now, this is the list of NBA 2K21 MyTEAM best top 100 card list, which includes ratings, positions, overalls, heights and packs.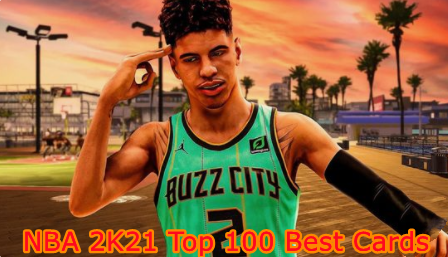 NBA 2K21 Top 100 Best Card - Top 100 Most Overpowered Cards In 2K21 MyTEAM
Each update brings numerous cards into MyTEAM, with so many options, players get confused sometimes. In NBA 2K21, players devote a significant amount of effort or NBA 2K21 MT to collecting the most overpowered NBA 2K21 cards in order to build an unbreakable squad. Next, we are going to look over the top 100 best cards in NBA 2K21 MyTEAM! If you want to build a solid team without costing your real money, you'll want to make sure you're griding as much as NBA 2K MT as you can. You can gain MT by participating in all of the activities available in the MyTeam mode, or buy cheap MT at buynba2kmt.com.
Here are the top 100 best card NBA 2K21
NBA 2K21 Top 100 - 91 Best Cards
100: Yuka Tabuse - PG/SG - 89 - 5'9' (Radioactive)
99: Jalen Suggs - PG/SG - 99 - 5'4'' (Next)
98: Josh Smith - SG/PG - 98 - 6'9' (Out of Position 2)
97: Jonathan Isaac - PF/SF - 98 - 6'11' (Fan Favorites)
96: Cade Cunningham - PG/SG - 6'8' (Next)
95: Clyde Drexler - SG/SF - 98 - 6'10' (Pantheon Team USA)
94: John Collins - PF/C - 99 - 6'9' (The Gauntlet of Spotlight Sim)
93: Jianlian Yi - SG/SF - 98 - 7'0' (Out of Position 3)
92: Jalen Rose - PG/SF - 98 - 6'8'' (Out of Position 4)
91: Sean Elliott - SG/SF - 99 - 6'8' (Hyperdrive)
NBA 2K21 Top 90 - 81 Best Cards
90: Magic Johnson - PG/C - 99 - 6'9' (Enshrined)
89: Magic Johnson - PG/SG - 99 - 6'9''(Pantheon Team USA)
88: Magic Johnson - PG/C - 99 - 6'9 (Invincible)
87: Allan Houston - SG/SF - 99 - 6'6' (The Gauntlet of Spotlight Sim)
86: Hakeem Olajuwon - C/PF - 99 - 7'0' (Invincible)
85: John Havlicek - SG/PG - 99 - 6'5' (Invincible)
84: Dino Radja - C/PF - 98 - 6'11' (Glitched)
83: Aleksej Pokusevski - SG/PG - 7'0' (Out of Position 4)
82: Lebron James - PG/C - 99 - 6'9' (Out of Position 2)
81: Lamelo Ball - PG/SG - 99 - 6'8'' (Glitched)
NBA 2K21 Top 80 - 71 Best Cards
80: R.J. Barrett - SG/SF - 99 - 6'7' (Season Rewind)
79: Terry Dischinger - SF/SG - 99 - 6'7' (The Gauntlet Spotlight Sim)
78: Julius Erving - SF/SG - 99 - 6'6' (Invincible)
77: Manu Ginobili - SG/PG - 99 - 6'6'' (Invincible)
76: Magic Johnson - PG/SG - 96 - 6'9' (G.O.A.T)
75: Anthony Davis - PF/C - 96 - 6'10' (Invincible)
74: Ben Simmons - C/SF - 96 - 6'10' (Out of Position)
73: Jalen Green - SG/PG - 99 - 6'6' (NEXT)
72: Rudy Fernandez - SG/PG - 99 - 6'6' (Fan Favorites 2)
71: Micheal Jordan - SG/SF - 99 - 6'6' (Pantheon Team USA)
NBA 2K21 Top 70 - 61 Best Cards
70: Micheal Jordan - SG/PG - 99 - 6'6' (G.O.A.T)
69: Micheal Jordan - SG/SF - 99 - 6'6' (Pantheon All Star)
68: Kobe Bryant - SG/SF - 99 - 6'6' (Pantheon Team USA)
67: Kobe Bryant - SG/SF - 99 - 6'6' (Invincible)
66: Arvydas Sabonis - C/PF - 99 - 7'3' (The Gauntlet Spotlight Sim)
65: Darius Miles - SG/PG - 99 - 6'9' (Out of Position 4)
64: Tracy Mcgrady - SG/SF - 99 - 6'8' (Radioactive)
63: Penny Hardaway - PG/SG - 99 - 6'7' (IDOLS Series III)
62: Lamelo Ball - PG/SG - 99 - 6'8' (Invincible)
61: Nicolas Batum - C/PG - 96 - 6'9' (Out of Position 2)
NBA 2K21 Top 60 - 51 Best Cards
60: Dirk Nowitzki - PF/C - 99 - 7'0' (IDOLS Series III)
59: Chris Webber - PF/SF - 99 - 6'9' (Splash Zone)
58: Joel Embiid - C/PF - 99 - 7'0' (IDOLS Series III)
57: Cliff Robinson - SG/C - 98 - 6'10' (Out of Position 3)
56: Dikembe Mutombo - C - 99 - 7'2' (Warped Reality)
55: Cameron Reddish - SF/SG - 99 - 6'8' (The Gauntlet Spotlight Sim)
54: Paul George - SF/SG - 99 - 6'9' (Flash 9)
53: Juwan Howard - PF/SF - 99 - 6'9' (Hyperdrive)
52: Antawn Jamison - PF/SF - 99 - 6'8' (IDOLS Series III VIP)
51: Kobe Bryant - SG/PG - 99 - 6'6' (G.O.A.T)
NBA 2K21 Top 50 - 41 Best Cards
50: Kevin Durant - SF/PF - 99 - 6'10' (Pantheon Team USA)
49: Corey Kispert - SG/SF - 99 - 6'7' (Next)
48: Larry Bird - PF/SF - 99 - 6'9' (Invincible)
47: Kervin Durant - SF/SG - 99 - 6'10' (Invincible)
46: Cedric Maxwell - SF/SG - 99 - 6'8' (Hyperdrive)
45: Mohamed Bamba - C/PF - 99 - 7'0' (IDOLS Series III VIP)
44: Black Griffin - PF/PG - 99 - 6'10' (Invincible)
43: Josh Smith - SF/SG - 99 - 6'9' (Hyperdrive)
42: Rudy Gay - PG/SG - 99 - 6'8' (Out of Position 4)
41: Jonathan Isaac - PF/SF - 99 - 6'1' (IDOLS Series III VIP)
NBA 2K21 Top 40 - 31 Best Cards
40: Paul George - SF/SG - 99 - 6'9' (Flash 9)
39: Boris Diaw - PF/PG - 99 - 6'8' (Fan Favorites 2)
38: Kristaps Porzingis - C/PF - 99 - 7'3' (Glitched)
37: Mose Malone - C/PF - 99 - 6'10' (Invincible)
36: Tracy Mcgrady - SG/SF - 99 - 6'8' (Invincible)
35: Tracy Mcgrady - PG/SG - 99 - 6'8' (Out of Position 4)
34: Thon Maker - PF/SF - 99 - 7'0' (Fan Favorites)
33: Jalen Johnson - SG/SF - 99 - 6'9' (NEXT)
32: Toni Kukoc - PF/SF - 99 - 6'10' (Invincible)
31: Luka Doncic - PG/SG - 99 - 6'7' (Invincible)
NBA 2K21 Top 30 - 21 Best Cards
30: Shaquille O'Neal - C/PF - 99 - 7'1' (Invincible)
29: David Robinson - C/PF - 99 - 7'1' (Invincible)
28: Paul George - PG/SG - 99 - 6'9' (Invincible)
27: Lebron James - SF/SG - 88 - 6'9' (Pantheon Team USA)
26: Joel Embiid - C/PF - 99 - 7'0' (Invincible)
25: Bol Bol - C/PF - 95 - 7'2' (Warped Reality )
24: Danny Ferry - PF/SF - 98- 6'10' (TT Offline Rewards)
23: Lebron James - SF/PF - 99 - 6'9' (Invincible)
22: Giannis Antetokounmpo - PF/SF - 99 - 6'11'' (Invincible)
21: Giannis Antetokounmpo - PG/SG - 99 - 6'11'' (Out of Position 2)
NBA 2K21 Top 20 - 11 Best Cards
20: Shawn Bradley - C - 98 - 7'6' (Out of this World)
19: Kristaps Porzingis - C/PF - 99 - 7'3' (Invincible)
18: Kawhi Leonard - SF/SG - 99 - 6'7' (IDOLS Series III)
17: Ben Simmons - PG/PF - 99 - 6'10' (Warped Reality)
16: Evan Mobley - C/PF - 99 - 7'0' (NEXT)
15: James Wiseman - C/PF - 99 - 7'1' (The Gauntlet Spotlight Sim)
14: Hedo Turkoglu - PG/SF - 99 - 6'10' (Out of Position 4)
13: Bill Russell - C/PF - 99 - 6'10' (Invincible)
12: Kawhi Leonard - SF/SG - 99 - 6'7' (Invincible)
11: Cade Cunningham - PG/SG - 99 - 6'8' (Next)
NBA 2K21 Top 10 - 1 Best Cards
10: Danny Ferry - PF/SF - 99 - 6'10' (Fan Favorites)
9: Lebron James - SF/PG - 99 - 6'9' (G.O.A.T)
8: Kareem Abdul - Jabbar - C/PF - 99 - 7'2' (Invincible)
7: Kareem Abdul- Jabbar - C/PF - 99 - 7'2' (G.O.A.T)
6: Ben Simmons - PG/PF - 99 - 6'10' (Invincible)
5: Ming Yao - C/PF - 99 - 7'4' (Invincible)
4: Andre Kirilenko - SG/PG - 99 - 6'9' (Out of Position 3)
3:Sim Bhullar - C/PF - 99 - 7'5' (Fan Favorites 2)
2: Tacko Fall - C - 99 - 7'5' (Invincible)
1: Bol Bol - PF/SF - 99 - 7'2' (Invincible/Splash Zone)
NBA 2K23 News Guides

NBA 2K22 News Guides

NBA 2K21 News Guides
CONTACT US
TEL (USA) : +1-315-889-1198
TEL (UK) : +44-020-32905838
MSN: [email protected]
QQ: 1498133786