Home
>>
News
>>
Nba 2K21 Myteam Token Market Season 7 Are New Hof Badges Worth Getting In 2K21 Token Market

NBA 2K21 MyTEAM Token Market (Season 7) - Are New HOF Badges Worth Getting In 2K21 Token Market?
Date: 5/12/2021 3:07:45 PM
The Token Market update officially arrives in NBA 2K21 along with the new Season 7: Full Throttle. Are you looking forward to seeing what's in the 2K21 token market this year 2021? Here at buynba2kmt.com, we in-depth for the hall of fame badges and players in NBA 2K21 MyTEAM Token Market Season 7, let you know what is token market as well as what are the best badges to get for your players on current gen and next gen, so that you can make NBA 2K21 MT and improve your players.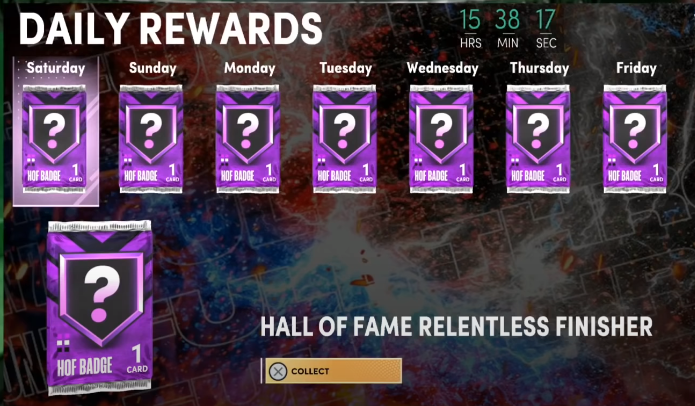 NBA 2K21 Token Market Update 2021 - What Is Token Market?
NBA 2K21 MyTEAM Season 7 Token Market opens on May 8, 2021. The main goal of Token Market is to commemorate the newest inductees into the Basketball Hall of Fame. In addition, there are going to be new packs that include Hall of Fame badges in the token market all week long from Saturday, May 8 to Friday, May 14. To get these free 2K21 token markets badges by logging in all 8 days. Log in to MyTEAM to collect free badges every day, for example, you will get a hall of fame Relentless Finisher Saturday, a hall of fame Clutch Shooter on Monday, plus, a Fearless Finisher on day 8! And visit the token market to redeem more hall of fame badges, players with tokens. Maybe we will get more options for galaxy opals, dark matter later on the market.
What's In TheToken Market NBA 2K21 MyTEAM ?
There are tons of good badges in the update of NBA 2K21 Token Market MyTEAM, you will get Blinders/Steady Shooter (HOF) for 200 tokens, Deep Threes/Range Extender (HOF) for 150 tokens, Clamps (HOF) for 150 tokens, Posterizer/Showtime (HOF) for 100 tokens, Heartcrusher (HOF) for 50 tokens, hall of fame Rebound Chaser for 50 tokens, Dimer(HOF) for 50 tokens, Yao Ming(Amethyst)/Backdown Punisher(HOF) for 11 tokens, John Stockton(Diamond)/Needle Threader(HOF) for 25 tokens, Steve Nash(Pink Diamond)/Break Starter(HOF) for 75 tokens, Dominique Wilkins(Galaxy Opal)/Lob City Finisher(HOF) for 150 tokens, Intimidator(HOF) for 150 tokens, Hot Zone Hunter(HOF) for 100 tokens And More.
Which Badges Are Worth Getting In NBA 2K21 Token Markets
Blinders/Steady Shooter(HOF)
Blinders is the best badge for NBA 2K21 Next Gen and allow your player to be unfazed by defenders contesting shots from the side. This is the badge that definitely worthy of your 200 tokens to get on Season 7 NBA 2K21 MyTEAM Token Market
Deep Threes/Range Extender (HOF)
Hall of fame Range Extender is an overpowered badge for both current gen and next gen. Many people might be questioning that a lot of NBA 2K21 best cards like Lebron James and Anthony Davis already have hall of fame Deep Threes and Range. The truth is, hall of fame Deep Threes/Range Extender badge still worth picking up, you can throw an additional Deep Threes badge on the best card Bol Bol, or throw hall of fame Range on Danny Ferry and Kareem Abdul-Jabbar if you have extra tokens.
Intimidator(HOF)
Intimidator is a badge that intimidates offensive players causing them to miss shots more often. It is one of the most broken badges in NBA 2K21 next gen and it matters in current gen too. Literally, you don't even have to play defense half the time. The only problem is that a lot of players are having this badge already, if you are normally spent players, this badge is going to help you make a ton of NBA 2K21 MT, just by adding them to different cards and flipping them that way. Anyway, getting hall of fame Intimidator and Range badge is kind of pointless, since the best cards are going to have them.
Hot Zone Hunter(HOF)
Hot Zone Hunter it means if a player has hot zone, you are going to knock down more shots in that zone. This is a great badge you can buy in NBA2K21 Token Market Season 7, due to the fact it does fit very well for different players in the game. But again a lot of players are going to have this badge already, so just choose the one you needed during the Token Market of NBA 2K21.
Yao Ming/Backdown Punisher(HOF) & John Stockton/Needle Threader(HOF)
These two are definitely a must-buy in token markets NBA 2K21M MyTEAM season 7. You are getting a moderately good HOF badge, an underrated half badge that increases the chances of a player successfully backing down their opponent. Needle Threader is also a good badge that increases the likelihood that tough passes can get by the defense. Moreover, they cost only 11 tokens and 25 tokens.
Showtime/Posterizer(HOF)
Showtime is a really overpowered badge on NBA 2K21 current gen compares to next gen, it boosts team's takeover meters after completing a highlight play. Anyway, if you are in current gen, adding Showtime to players like Jonathan Isaac, could help him sell a lot more than usual.
Quick First Step(HOF)
The quick first step provides more explosive first steps out of triple threat and size-ups. This is also one of the useful badges in NBA 2K21, the same problem is that most of the best cards are already have it.
If you are on a budget, please be smart with what you are going to choose the new badge, pack and players of the NBA 2K21 MyTEAM Token Market. 2K is going to add more throughout the week during Token Market, just be patient! That's all you need to know about the 2K21 MyTEAM Token Market update, and if you are need cheap 2K21 MT, go to buynba2kmt.com.
NBA 2K23 News Guides

NBA 2K22 News Guides

NBA 2K21 News Guides
CONTACT US
TEL (USA) : +1-315-889-1198
TEL (UK) : +44-020-32905838
MSN: [email protected]
QQ: 1498133786