NBA 2K21 Current-Gen Most Complete Small Forward Build-Based on LeBron James
Date: 7/20/2021 9:45:11 AM
Do you want to have the small forward build after LeBron James in NBA 2K21? The small forward is the most important scorer on the team. As soon as a small forward receives the ball, the first thing is to think about how to put the ball in the basket. The basic job of a small forward is to score, score, and score again. On offense, the small forward can balance power play with scoring shots, and on defense, the small forward is usually responsible for steals and rebounding. The fundamental requirement for a so-called small forward is to be able to score and to score from longer distances. This guide focuses on build data for the SF build based on LeBron James in NBA 2K21 current-gen, include body setting, attributes, takeover, badges.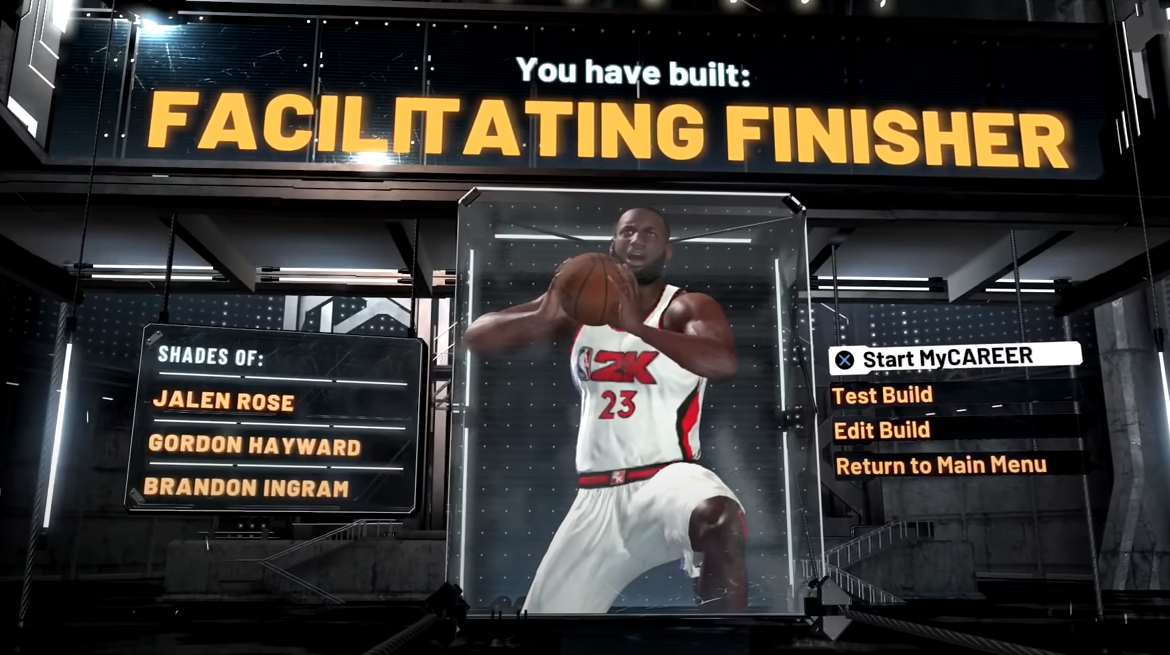 #Build: Facilitating Finisher
Overall Rating: 99
1. Attributes
Finishing
Close shot: 60-83
Driving layup: 57-84
Driving dunk: 49-83
Standing dunk: 44-81
Post control: 47-47
Shooting
Mid-range shot: 44-72
Three-point shot: 42-64
Free throw: 55-82
Post Fade : 45-45
Playmaking
Pass accuracy: 52-83
Ball handle: 49-79
Post Moves: 49-49
Defense/Rebounding:
Interior Defense: 38-38
Perimeter Defense: 47-73
Lateral Quickness: 47-72
Steal: 33-72
Block: 29-58
Offensive Rebound: 29-29
Defensive Rebound: 29-69
Physicals
Speed: 81
Acceleration: 80
Strength: 74
Vertical: 62
2. Body Settings
Height: 6'7"
Weight: 247lbs
Wingspan: 87.0"
Body Shape: Solid
3. Choose your takeover
Primary: Playmakers can freeze defenders more often with augmented ball-handling abilities and can enhance their teammate's shot-making off assists.
Secondary: Slashers receive extra boosts to finishing at the rim in traffic and more effective gathers to get past the defense.
4. Badges
Finishing
Contact finisher *HOF*
Pro touch *Sliver*
Lob city finisher *Bronze*
Relentless finisher *Gold*
Backdown punisher *Sliver*
Shooting
Range extender*Gold*
Hot zone hunter *Gold*
Catch &shoot*Sliver*
Playmaking
Quick first step*HOF*
Handles for days *HOF*
Dimer *HOF*
Floor general *Gold*
Unpluckable*Sliver*
Ankle breaker*Sliver*
Post spin technician*Sliver*
Needle threader*Bronze*
Defense/Rebounding
Clamps*Gold*
Intimidator * Silver*
Rebound chaser *Bronze*
Chase down artist *Bronze*
This is the most complete small forward build after Leron James and can beat opponents very quickly. Are you looking forward to more player build? Keep focusing on our news. Buy NBA 2K21 MT Coins or 2K22 MT Coins from the most reliable online store - buynba2kmt.com.
NBA 2K24 News Guides

NBA 2K23 News Guides

NBA 2K22 News Guides

NBA 2K21 News Guides
CONTACT US
TEL (USA) : +1-315-889-1198
TEL (UK) : +44-020-32905838
MSN: [email protected]
QQ: 1498133786