nba live player of the year chandler parsons evaluation
Date: 1/6/2017 4:03:11 PM
chandler parsons was named sec player of the year his final season at the university of florida.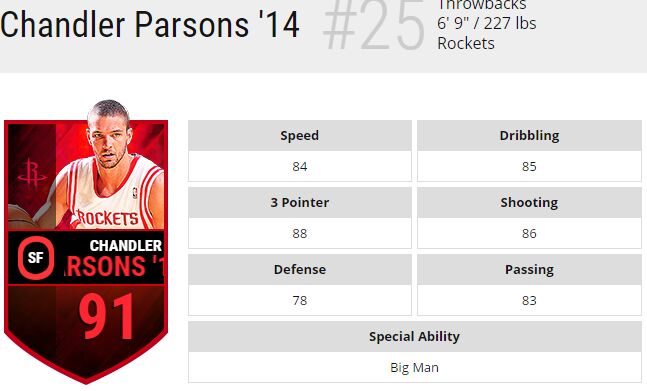 i believe a lot of players would like to try new player cards in the game. is this chandler parsons poty card worth trying? is he good in the field?
first of all, according to the over rating given by ea, special ability = big man, speed = 84, 3 coiner = 88, defense = 78, dribbling = 84, shooting = 86, passing = 83
91 chandler parsons ≈ 91 lebron james> 88 kevin durant> 92 carmelo anthony
as a sf, chandler parsons is a versatile player when it comes to attack. midrange shooting belongs to a top player card list. 96 = clutch, 92 = midrange shooting ability, 92 = midrange shooting likelihood. i think in the case of pushing, it's totally possible to make him the best big man team starter. of course, if you want to have the best defense possible, lebron james is the best option.
at the forum, many players think that he is overrated, as many people do not know him. it's surprising that it's a player of the year card. i think his rating may be even higher. but ea thinks his not that famous and gives him a 91 ovr which just reaches the shreshold.
buynba2kmt.com thinks poty chandler parsons is a very worthwhile player card. this card is obviously useful in the field. if you want to replace lbj or kd, you can just choose him. if you want to buy nba live mobile coins, you can choose www.buynba2kmt.com where you can enjoy the best discount. use coupon code "2k17" for an additional 5% off.
NBA 2K23 News Guides

NBA 2K22 News Guides

NBA 2K21 News Guides
CONTACT US
TEL (USA) : +1-315-889-1198
TEL (UK) : +44-020-32905838
MSN: [email protected]
QQ: 1498133786