Home
>>
News
>>
Nba Live Mobile Team Guide Select Small Ball Players 85 Isaiah Thomas And 85 Anthony Davis

nba live mobile team guide: select small ball players 85 isaiah thomas and 85 anthony davis
Date: 2/1/2017 11:45:32 AM
in nba live mobile, players in different teams have a variety of choices, how to choose a reasonable player to become the characteristics of this game. in the small ball team, check out buynba2kmt.com's nba live mobile team guide.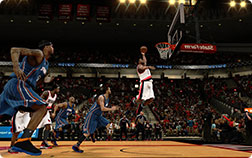 small ball team
pg: 85 ovr isaiah thomas
sg: 84 ovr victor oladipo
sf: 84 ovr jimmy butler
pf: 84 ovr draymond green
c: 85 ovr anthony davis
+2 spd and +2 dri
believe isaiah thomas or not this card is the pg center player in the game and the best big moment pull ever , he makes every shot and he is crazy at layups in traffic , don't look at these zeroes and his overall, and don't you ever exchange him . he is a beast.
draymond green defensive rebounding iq-92, on ball effectiveness-96. he is a beast.
davis's awesome as a center. some rebounding strength would've been nice but his shot block, shot alter and dunk rating are superb.
if you have enough nba live coins, you can choose to build a team in live mobile small ball. if you don't have enough nba live mobile coins, don't worry. www.buynba2kmt.com has many cheap nba live mobile coins for sale. you can buy a lot of nba live coins with only very little money. you can use coupon code "2k17" for 5% off. if you have any questions, you can contact us via live chat customer service or facebook.
NBA 2K23 News Guides

NBA 2K22 News Guides

NBA 2K21 News Guides
CONTACT US
TEL (USA) : +1-315-889-1198
TEL (UK) : +44-020-32905838
MSN: [email protected]
QQ: 1498133786