nba live mobile team guide: how to choose cheap two-way players
Date: 1/30/2017 10:25:24 AM
in nba live mobile, players in different teams have a variety of choices, how to choose a reasonable player to become the characteristics of this game. in the two-way team, check out buynba2kmt.com's nba live mobile team guide.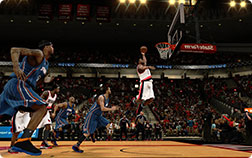 cheap two-way team
pg: 85 ovr kyle lowry
sg: 87 ovr tyreke evans '10
sf: 86 ovr carmelo anthony
pf: 83 ovr lamarcus aldridge
c: 84 ovr hassan whiteside
+2 pas and +2 def
kyle lowry got great speed and dribbling there, the only problem is his shooting is not very good. but definately a great player. 88 shooting touch, 3s are money. 80 clutch is nice, 89 pass accuracy is good.
so far this is my favorite card to play with. it represents melo so well, because carmelo anthony is not overly dominant at anything, but well balanced. not the fastest, or quickest, but a force to be reckoned with driving the lane. surprisingly effective on defense, has a great reach for knocking the ball loose. i've been playing him at pg and he's been a treat.
aldridge have good rebounder and clutch.
who would have known hassan whiteside would be such an amazing rebounder and shot blocker! great card for anyone needing stability from the center position. by the way, www.buynba2kmt.com is waiting for you to buy nba live mobile coins. use coupon "2k17" can enjoy a 5% discount.
NBA 2K23 News Guides

NBA 2K22 News Guides

NBA 2K21 News Guides
CONTACT US
TEL (USA) : +1-315-889-1198
TEL (UK) : +44-020-32905838
MSN: [email protected]
QQ: 1498133786