nba live mobile big moments player review: rudy gobert and dion waiters
Date: 2/6/2017 10:50:27 AM
ea released two big moments player in nba live mobile, you can learn about big moments player review and some fans' usage of this card in nba live mobile at buynba2kmt.com.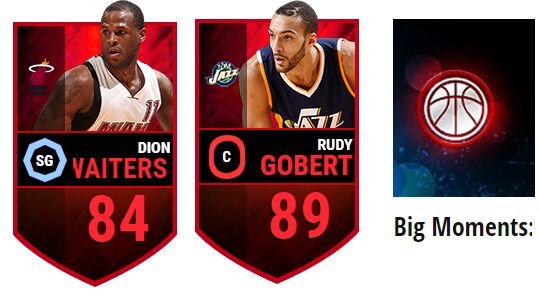 89 ovr rudy gobert (big man lineup; c)
84 ovr dion waiters (shooting lineup; sg)
will you be adding any of these players to your lineup?
89 ovr rudy gobert
86 shot block but the shot alter is a 94. he also has a lil bit of an inside shot now (his siggy in the shooting lineup did not) pretty good though.
84 ovr dion waiter
should've been atleast 95 clutch. 89 three coiners and 95 shooting as he was hot for 33 that night. he should have better speed, dunk, dribbling, and clutch. this overall is underrated.
if you are satisfied with our services and would like to leave your 5 star review on trustpilot buynba2kmt (https://www.trustpilot.com/review/buynba2kmt.com), you can get 8%-off coupon.please send us the url of your review via facebook, then you can get the coupon code which is available within the next 30 days.
if you need to nba live mobile coins,use coupon "2k17" can enjoy a 5% discount.
nba live mobile coins 500k=2.37 usd
nba live mobile coins 5000k=22.09 usd
nba live mobile coins 15000k=64.12 usd
NBA 2K23 News Guides

NBA 2K22 News Guides

NBA 2K21 News Guides
CONTACT US
TEL (USA) : +1-315-889-1198
TEL (UK) : +44-020-32905838
MSN: [email protected]
QQ: 1498133786