nba 2k16 badges guide – how to unlock all badges
Date: 12/15/2015 2:51:39 PM
there are lots of badges in nba 2k16, some badges that you can achieve them by only a move or shot. some badges may be complicated and you need some guide to unlock them. it will cost much more time to unlock those complicated badges so you had better to get quickly and with minimal effort to unlock some easier and quicker badges. here is the recommend: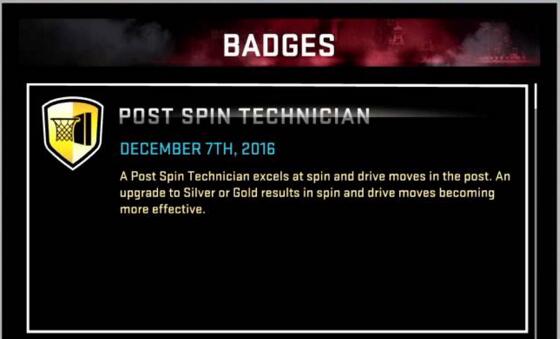 brick wall. setting a screen (press circle/b) is one of the easiest things to do in the game, and you can do it multiple times per possession. the only drawback is the potential offensive foul from it, so pick your spots. to get the brick wall badge, set 100 "good screen" teammate grade events in a single season. your strength attribute must be: pg = 70 sg = 75 sf/pf/c = 80
flashy passer. this one is super easy to unlock – just throw 40 flashy passes (double tap circle/b) in a single season. this can be done several times per possession, so it should only take you one game, or even one quarter, to unlock this badge if you perform it every possession.
lob city passer. this is another badge where you can unlock it simply by attempting the move. to unlock 'lob city passer', throw 60 alley-oops (double tap triangle/y) in a single season.
dribble moves. some of the easiest badges to get are the following dribble moves badges: killer crossover, spin kingpin, step back freeze, behind the back pro, hesitation stunner, master of in and out, and pet move size-up. if you perform all of these moves 75 times (per move) in a season, you'll unlock the badge. and all it takes are different directional flicks of the right stick. because you can pull off these moves multiple times per possession, unlocking the badges will go even quicker.
if you want to unlock all badges, here is the all badges in nba 2k16:
alpha dog
must be highest rated offensive player on the team
must play 60% of teams minutes per game in a running 20 game window (cannot earn until 20 games are played)
beta dog
must be the 2nd highest rated offensive player on the team
must play 60% of teams minutes per game in a running 20 game window (cannot earn until 20 games are played)
prime time
play better in games of significance than regular games
game significance games are the following
rivalry games
power teams
playoff games
old team (i.e. playing against your last team as well as the team you played most of your career with)
must play 6 game significance games
must happen within the last 100 games
cool and collected
never go frozen on offense in a running 10 game window (cannot earn until 10 games are played)
road dog
play better on the road than at home
look at a running 15 game window (cannot earn until 15 games in)
closer
shoot 50% or higher in at least 40 field goal attempts during the final 40% of the 4th quarter and all ots, when the coin differential is within 10 coins
must have 40 fga's in this 4th quarter / ot time frame
fierce competitor
must take 50 field goal attempts and shoot 50% or better on those attempts when down 10 or more, all in a single season
spark plug
average 8 coins per game or more while coming off the bench
look at a running 2 game window (cannot earn until 2 games in)
enforcer
get 10 non-flagrant, hard fouls in a single season
mentor
reach year 4
heart and soul
reach year 3
must stay with the same team all 3 years
floor general
raise playmaking discipline to level 18
must play 30 games in a season or career
must average 5 assist per game in career
defensive anchor
raise defense discipline to level 18
must play 30 games in a season or career
hardened
play 20 games in a row while playing 80% of the teams minutes or more
stamina attribute must be 85
all-time great
divide field goal attempts by assists. if the ratio of fga to assists is higher than this, earn all-time great
pg: 4 to 1 fga to assist ratio
sg: 4.5 to 1 fga to assist ratio
sf: 5 to 1 fga to assist ratio
pf/c: 8 to 1 fga to assist ratio
look at a running 15 game window (cannot earn until 15 games in)
can lose this badge in place of low ego
low ego
divide field goal attempts by assists. if the ratio of fga to assists is lower than this, earn low ego
pg: 2 to 1 fga to assist ratio
sg: 2.5 to 1 fga to assist ratio
sf: 3 to 1 fga to assist ratio
pf/c: 6 to 1 fga to assist ratio
look at a running 15 game window (cannot earn until 15 games in)
can lose this badge in place of all-time great
unfazed
get "hot" for 4 straight gameplay minutes, 3 different times
must happen within the last 15 games
volume shooter
take 35 shots or more 8 times in a single season
microwave
get "hot" on offense in 5 consecutive games
corner specialist
make 25 corner three coiners in a single season
must shoot 40% in those last 25 made corner threes
screen outlet
set 100 screens in a single season
deadeye
make 60 contested jumpers from 15 feet or further in a single season
limitless range
make 40 threes outside of 25 feet from the basket in a single season
must shoot 30% or higher in those last 30 long-distance makes
bank is open
make 30 banked-in jumpers in a single season
layups do not count
tear dropper
attempt 50 runners/floaters in a single season
fade ace
take 30 fadeaway jumpers in a single season
shot creator
take 150 of the following moving shots in a single season -> pullups, spin shots, hop step jumpers (which includes stepback jumpers)
lob city finisher
catch and finish 15 alley-oops in a single season
posterizer
attempt 15 contact dunks in a single season
there must be legitimate, somewhat heavy contact made on the dunk
relentless finisher
attempt 75 contact layups in a single season
strength attribute must be
pg: 45
sg: 50
sf: 65
pf/c: 75
spin lay-in
attempt 20 spin layups in a single season
hop-stepper
attempt 40 hop step layups in a single season
king of euros
attempt 40 euro step layups in a single season
acrobat
attempt 15 reverse and 4 change shot layups in a single season
dream like up and under
attempt 50 up and under shots (out of the post) in a single season
post spin technician
spin or drive out of the post 100 times in a single season
drop-stepper
dropstep out of the post 30 times in a single season
post hoperator
attempt 20 hop shots out of the post in a single season
post hook specialist
attempt 75 hook shots out of the post in a single season
post stepback pro
attempt 20 stepback shots out of the post in a single season
killer crossover
attempt 200 crossover or double crossovers (any combo) in a single season
spin kingpin
attempt 75 spin moves in a single season
stepback freeze
attempt 75 stepback moves in a single season
behind the back pro
attempt 75 behind the back moves in a single season
hesitation stunner
attempt 75 hesitation moves in a single season
master of in and out
attempt 75 in and out moves in a single season
pet move pro
attempt 200 size-ups in a single season
one man fastbreak
score on a fastbreak 50 times in a single season
speed, ball control and defensive rebound (or steal) attributes must be as follows
pg/sg = passing accuracy 75, ball control 80, steal 75
sf = passing accuracy 70, ball control 67, defensive rebound 75
pf/c = passing accuracy 60, ball control 55, defensive rebound 85
transition finisher
score on a fastbreak 75 times in a single season
flashy passer
throw 50 flashy passes in a single season
break starter
get 250 defensive rebounds in a single season
passing accuracy and defensive rebound attributes must be as follows
pg/sg = passing accuracy 75, defensive rebound 75
sf = passing accuracy 70, defensive rebound 75
pf/c = passing accuracy 60, defensive rebound 85
pick & roll maestro
call for 175 screens in a single season using the pick & roll mechanic
lob city passer
throw 50 alley-oops in a single season
dimer
get 200 assists within the last 25 games played
unlike 2k15, however, you do not need to play 25 games before it unlocks
hustle coins
score 30 times within 2.5 seconds of grabbing an offensive rebound in a single season
must be the rebounder
scrapper
get 4 loose ball saves in a single season
offensive crasher
get 150 offensive rebounds in a single season
defensive crasher
get 200 defensive rebounds in a single season
perimeter lockdown defender
raise defense discipline to level 16
must play 30 games before earning
post lockdown defender
must be a sf, pf or c
as a pf or c, raise defense discipline to level 16
as a sf, raise defense discipline to level 18
must play 30 games before earning
charge card
draw 7 charges in a single season
pick dodger
must be a pg, sg or sf
on-ball def iq and pick & roll def iq attributes must be 80 or higher
must play 20 games
interceptor
get 50 "tipped pass" teammate grade events in a single season
pick pocket
get 50 "poke ball loose" teammate grade events in a single season
eraser
block 80 shots in a single season
chase down artist
block 25 shots in a single season
speed, vertical and blocking attributes must be
pg/sg = speed 80, vertical 80, block 65
sf = speed 65, vertical 75, block 70
pf/c = speed 58, vertical 70, block 75
bruiser
height to weight ratio (metric height / weight in lbs) must be 0.905 or lower
must weigh at least 220 lbs
strength attribute must be
pg: 45
sg: 50
sf: 65
pf/c: 75
cannot earn until 10 games into the season
brick wall
100 "good screen" teammate events in a single season
strength attribute must be:
pg: 45
sg: 50
sf: 65
pf/c: 75
on court coach
raise playmaking and either inside or outside scoring discipline to level 20
connections
to earn each of these badges in mycareer, the user needs to make a connection with one of the following players. for the either/or badges, once one path is chosen, the others will no longer be available (i.e. you cannot earn both friendly and reserved)
friendly
giannis antetokounmpo
chris bosh
andre drummond
tony parker
reserved
chris paul
james harden
legendary work ethic
al jefferson
anthony davis
tim duncan
kawhi leonard
keep it real
paul george
kevin durant
john wall
pat my back
kevin love
roy hibbert
paul pierce
laid back
jimmy butler
marc gasol
rudy gobert
greg monroe
expressive
demarcus cousins
dwight howard
russell westbrook
allen iverson
unpredictable
carmelo anthony
ty lawson
mind games
chris paul
kobe bryant
gary payton
swagger
deandre jordan
shaquille o'neal
NBA 2K23 News Guides

NBA 2K22 News Guides

NBA 2K21 News Guides
CONTACT US
TEL (USA) : +1-315-889-1198
TEL (UK) : +44-020-32905838
MSN: [email protected]
QQ: 1498133786