NBA 2K21 Best Power Forward Build - Demigod Build With 101 Badges To Break NBA 2K21
12/29/2020 6:27:42 PM
A lot of people always complaining about their builds in NBA 2K21 are not good enough, whether badges are few, or physicals are low. Today, at buynba2kmt.com present you with an insane NBA 2K21 build guide, the best power forward build with 101 badges and good at defending. We will explain the details about the build body setting, attributes, and badges.
On December 21, NBA2KLAB did a test that whether physical matters during NBA 2K21? The truth is, physicals are not as important as we once thought. They tested the stamina and confirmed going above 25 stamina was nearly pointless. Next, introduce to you the best NBA 2K21 PF build with the most badges to break the game. Let's find out whether physicals are essential?
Read more:
NBA 2K21 Next-Gen Best Center Builds - Top 3 Overpowered Center Build In NBA 2K21
NBA 2K21 Best Jumpshots - Top 5 Best Custom Jumpshot On NBA 2K21 Next-Gen & Current Gen
NBA 2K21 Warehouse Challenge - How To Complete 2K21 Warehouse Challenge & Locate NPC
NBA 2K21 Best Power Forward Build - 101 Badges Demigod PF Build To Break NBA 2K21
Power forward is the best position build in NBA 2K21, that's the position you can get the most badges. Overall, you will get 26 finishing badges at the end, then set 94 close shot, 94 driving layup, 95 diving dunk, and max up standing dunk, with 22 shooting badges, 29 playmaking, and Defense/Rebound Badges. This NBA 2K21 game-breaking demigod build with shades of Chris Webber, Jayson Tatum and John Collins.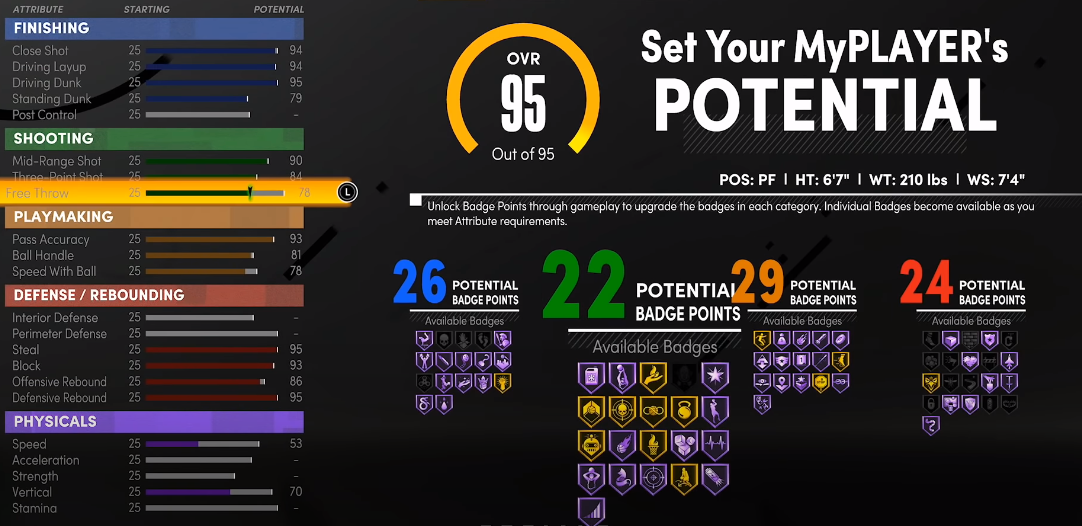 Best Overpowered Power Forward Demigod Build On NBA 2K21
1.Body Settings
Height: 6'7"
Weight: 210lbs
Wingspan: 7'4"
Body Shape: Burly
2.Attributes
Finishing
Close shot: 25-94
Driving layup: 25-94
Driving dunk: 25-95
Standing dunk: 25-79
Post control: 25-25
Shooting
Mid-range shot: 25-90
Three-point shot: 25-84
Free throw: 25-78
Playmaking
Pass accuracy: 25-25
Ball handle: 25-25
Speed with ball: 25-78
Defense/Rebonding
Interior defense: 25-25
Perimeter defense: 25-25
Steal: 25-95
Block: 25-93
Offensive rebound: 25-86
Defensive rebound: 25-95
Physicals
Speed: 25-53
Acceleration: 25-25
Strength: 25-25
Vertical: 25-70
Stamina: 25-25
3.Choose your takeover
Primary: Spot-up Precision
Secondary: Advanced Gathers
4.Badges
Finishing Badges: Acrobat*HOF*, Giant Slayer*HOF*, LOB city finisher*HOF*, Deep Hook*HOF*, Pro Touch*HOF*, Tear Drop*HOF*
Shooting Badges: Difficult Shot*Gold*, Deadeye*Gold*, Clutch Shooter*Hof*, Green Machine*Sliver*, Catch & Shoot*Gold*, Corner Specialist*Gold*
Playmaking Badges: Ankle breaker*Gold*, Stop&Go*Gold*, Bail Out*HOF*, Quick first step*Gold*, Tight Handles*HOF*
Defense/Rebound Badges: Box*HOF*, Chase Down Artist*Gold*, Intimidator*Gold*, Heart Crusher*Gold*, Pogo Stick*Gold*
CONTACT US
TEL (USA) : +1-315-889-1198
TEL (UK) : +44-020-32905838
MSN: [email protected]
QQ: 1498133786