Home
>>
News
>>
Nba 2K21 Next Gen Best Shooting Badges Tier Onetwothree Shooting Badges Breakdown In Nba 2K21 Next Gen

NBA 2K21 Next Gen Best Shooting Badges - Tier One/Two/Three Shooting Badges Breakdown In NBA 2K21 Next Gen
Date: 2/2/2021 2:43:38 PM
Are you confused by tons of shooting badges in NBA 2K21 next gen? What are the best shooting badges for every build to use in the category? At buynba2kmt.com we bring you the best shooting badge breakdown on NBA 2K21 next gen, divided into tier one, tier two and tier three, which depends on how many shooting badges upgrades you have on NBA 2K21 next gen.
NBA 2K21 Next Gen Best Shooting Badges - Tier List Shooting Badges Breakdown In NBA 2K21 Next Gen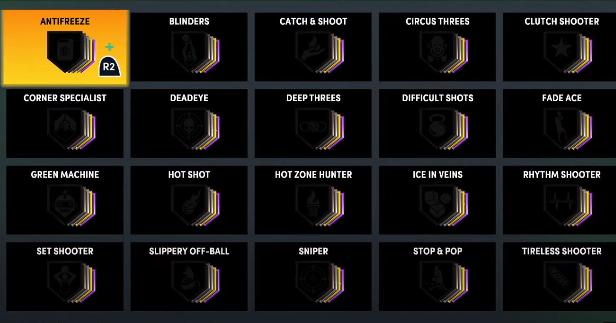 Read Releated:
Nba 2K22 Current Gen Next Gen Best Build - Best Build & Build System In Nba 2K22
Nba 2K21 Top 100 Best Cards - Top 100 Most Overpowered Cards In Nba 2K21 Myteam
Nba 2K21 Next Gen Best Automatic Jumpshot Top 5 Highest Green Window Jumpshots In 2K21
Tier One>12 Badges
Hot Zone Hunter
Shots that are taken in a player's hot zones are given a boost. The most important finishing badge you need to have in NBA 2K21 next gen is Hot Zone Hunter. Despite the fact that Hot Zone Hunter has been always the 2K21 next-gen and current-gen most overpowered tier one badge. This is the first badge you should equip, which can give you a massive boost to your shooting.
Deep Threes
Adds extra distance for which a player's give shot range is from three-point territory. This shooting badge creates a lot of space, gives you a boost and allows you to be outside the three-point line so that you will be able to shoot 3 consistently. When it comes to the rack, deep threes are the best shooting badges in NBA 2K21.
Blinders
Jump shots taken with a defender closing out in their peripheral vision will suffer a lower penalty. This is a new overpowered NBA 2K21 next-gen tier one shooting badge that gets people jumping on you.
Hot Shot
Gives an additional boost towards takeover progress after making jump-shots. It's an overpowered one tier badge in 2K21 next gen, you can get somebody that throws you a flashy pass, with hotshot you can get team takeover. This is also an important badge that gives you an additional boost towards takeover progress then makes jumpshots. Either to have this badge on gold or hall of fame, because that helps you get takeover quickly.
Tier Two 12- 20 Badges
Circus Three
Stepback threes taken off the dribble receive a boost. The first tier-two shooting badges that come to circus threes, thus it's insanely good, players are free to fade, doing 3 and step back 3. This badge could be the tier one badge depends on what type of player you are, for the one who can jumpshots at a high rate.
Green Machine
Gives an additional shot boost when consecutively achieving excellent releases on jumpshots. You will need to hit 3 second machine to get the best tier 2 shooting badge for NBA 2k21, as long as, have at least a bronze or silver green machine you can get a magnificent boost.
Rhythm Shooter, Stop&Pop
Both two NBA 2K21 badges are overpowered and effective for ball-handler, which gives a fantastic boost. The difference between Rhythm Shooter and Stop&Pop, the first one increases the chance of a made shot after sizing up your opponents with dribble moves, especially favored by iso typ of players. The second badges are the exact opposite compares to the first one, which boosts shot rating on standstill three-pointers after dribbling. You will be able to sit on the screen, run off the screen, stop real quick then shoot.
Tier Three 20-30 Badges
Catch&Shoot
For a short time after receiving a pass, the receiver's ability to knock down threes gets a significant boost. As a spot-up shooter, silver and bronze catch&Shoot has always been the primary badge in 2k21, which used to be tier 1. It's likely that everyone has a high three-point rating this year, catch&shoot and has fallen back a little bit.
Difficult Shots
High difficulty jumpers such as hop steps, spins, stepbacks, and pull-ups receive a shot percentage boost from mid-range. The reason why this badge dropped a little bit because a lot of players are doing fade away threes and step-back threes. If you have 20/30badges, bronze and silver and silver. Difficult Shots is perfect for mid-range jumpers.
Deadeye
Jump shot taken with a defender closing out receives less of a penalty from a shot contest. Deadeye has always been one of the NBA 2K21 next gen best badges. But Blinders has gradually taken place of Deadeye, as a result, dead eye is from the front, however, you barely get front jumps now. Silver or bronze Deadeye still deserves a spot, if you had 20/ 30.
Tireless Shooter
Shot Attributes on jumpshots suffer a smaller penalty than normal when fatigued. The tireless shooter also plays an important role in 2K21 current gen and next gen. Bronze or silver Tireless Shooter maximize your shooting under the circumstance you had 20/ 30.
Overpowered badges are the key points that bring you chances to the final success in NBA 2K21. Above all, is the best NBA 2K21 next gen shooting badges breakdown for all builds. If you need cheap NBA 2K21 MT, buynba2kmt.com can meet all your demands.
NBA 2K23 News Guides

NBA 2K22 News Guides

NBA 2K21 News Guides
CONTACT US
TEL (USA) : +1-315-889-1198
TEL (UK) : +44-020-32905838
MSN: [email protected]
QQ: 1498133786