NBA 2K21 Season 5 Guide - Which NBA 2K21 Season 5 Quantum Cards Are Worth Buying
Date: 2/20/2021 3:59:54 PM
NBA 2K21 season 5 is the age of heroes, new quantum set with galaxy opals and cards was released in NBA 2K21 Myteam. Season 5 new players, epic challenges, legendary rewards, and superhero themed cards surely are the most exciting parts that you could look forward to. But today we listed the best NBA 2K21 Season 5 quantum cards that you need to get in your squad.
Read More:
Top 5 NBA 2K21 Next Gen Best Builds - Best Guard Build, Spot Up Build, Center Build & More NBA 2K21!
NBA 2K21 Best Jumpshot For All Builds - Fastest Greenlight Jumpshots & Best Shooting Badges In 2K21
NBA 2K21 Top 10 Best Card - Most Overpowered Cards Under 100K In 2K21 MyTEAM
NBA 2K21 Season 5 Guide - Which NBA 2K21 Season 5 Quantum Cards Are Worth Buying
Are you confusing whether 2k21 Season 5 promo packs are worth buying or not? The theme of season 5 is Modern Age vs Golden Age. There are 15 players to collect from the Modern Age of the NBA including future superstars Luka Doncic, Kervin Durant, Shaquille O'Neal, Flipe Lopez and more. 15 legends to collect from the Golden Age of the NBA including the Big Fella Shaq and Manu Ginobili. Next, you are about to see the best quantum cards are worth buying on NBA 2K21 Season 5 MyTEAM.
Luka Doncic - 97- PG/SG - 6'7''
Luka Doncic is the NBA 2K21 best card on season 5 which has 95 speed, 95 acceleration, 95 three ball, 90 diving dunk, 94 lateral quickness and 87 steel. Badges include quick first step(HOF), range extender(HOF) and showtime(HOF).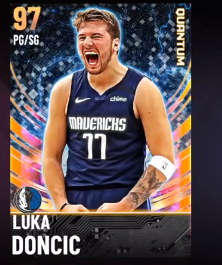 Kervin Durant - 97 - PF/SF - 6'10''
Kervin Durant is an absolute god and another season 5 2k21 quantum card that is worth investing in. He is 6 foot 7 and 7 foot 4 wingspan. He has 97 three ball, 94 speed, 94 acceleration, 94 lateral quickness, 95 driving dunk and 85 post huk.
Shaquille O'Neal - 98 - C - 7'1''
Shaquille O'Neal has 12 gold badges and 21 hall of fame. Moreover, he is elite in everything and the best end of the game, except for shooting. As a matter of fact that it is a good card but doesn't suit most players' play style.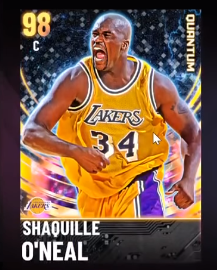 Mitchell Robinson- 88 - C/PF - 7'1''
Mitchell Robinson is a great card for limited. He is an overpowered defensive player with 96 block, 82 speed, 84 lateral quickness. He's got all the defensive badges, gold quick first step and gold showtime.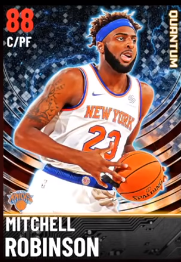 Flipe Lopez - 89 - SG/PG - 6'5''
Flipe Lopez is point guards with six foot five height, and seven foot 1 wingspan. He's got 88 three ball, 91 shot mid, 93 speed, 90 driving dunk, 85 perimeter defensive, 91 lateral quickness, 92 speed with the ball, 25 intangibles and 30 hot IQ which is insane. Meanwhile, he has everything you need for badges, gold range, gold showtime, gold handles for days, gold quick first step, gold clamps and gold intimidator. He can curry with all three point hot zone. This beast season 5 NBA 2K21 quantum cards are worth buying.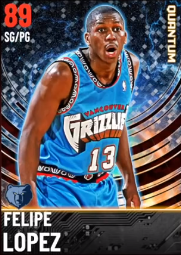 Austin Croshere - 90 - PF/SF - 6'9''
He is one of the most budget season 5 quantum cards on NBA2K21, which is going to be popular among the 2k players. He has 7 foot 3 wingspan and got 86 speed, 86 acceleration, 94 three ball, 30 shot IQ, 86 ball handle, and 85 lateral quickness. He has all the defensive badges you need, plus Quick jumpshot 12 as lower base.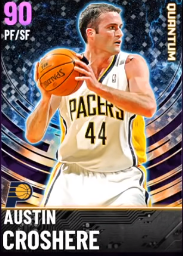 Bob Sura - 93 - PG/SG - 6'5''
Is Bob Sura will be good as last year? He has 94 speed, 94 acceleration, 92 three ball, 91 lateral quickness and 90 driving dunk. He has gold blinders, hall of fame quick first step, gold clamps, hall of fame heart crusher, and hall of fame showtime. Bob Sura has sized up escape packages on pro 2, quick lower base and quick pro fight behind the back. This absolutely an unstoppable beast, as well as one of the best 2k21 quantum cards you can get.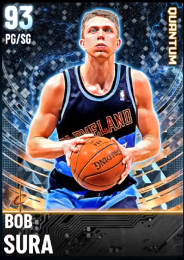 Karl Malone - 96 - C/PF - 6'9''
Karl Malone has gold range extender, gold clamps, hall of fame quick first steps. He's got 90 speed, 90 acceleration, 96 three ball, 86 lateral quickness and acquires good tendencies. By no means, he is relatively a top-tier promo card in NBA 2K21 season 5.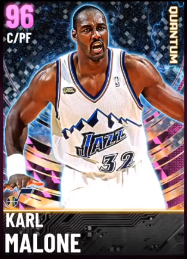 Lamar Odom - 96 - PF/SF - 6'10''
Lamar Odom is really an overpowered NBA 2K21 quantum season 5 card that features great badges like gold range extender, hall of fame handles for days(HOF), quick first steps(HOF), Clamps(Gold). Overall, he has solid defensive stats and got good length, 91 speed, 91 acceleration and 88 three ball. Most important thing is, Paul George is the lower base. He can curry slide in next gen instead of current gen.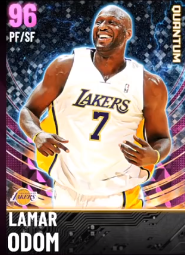 At the end, there are more superhero themed cards and galaxy opals cards waiting for you to collect during NBA 2K21 Season 5. Fast buy NBA 2K21 MT here at an affordable price, get these promo packs to unlock high-tier players!
NBA 2K24 News Guides

NBA 2K23 News Guides

NBA 2K22 News Guides

NBA 2K21 News Guides
CONTACT US
TEL (USA) : +1-315-889-1198
TEL (UK) : +44-020-32905838
MSN: [email protected]
QQ: 1498133786