Home
>>
News
>>
​Top 10 Nba 2K21 Best Budget Card Cheap Overpowered Cards You Can Buy On Nba 2K21 Myteam

​Top 10 NBA 2K21 Best Budget Card - Cheap & Overpowered Cards You Can Buy On NBA 2K21 MyTEAM
Date: 3/2/2021 4:35:31 PM
People always talking about what's the badges, what's the best jumpshot, what' the best cheap cards in NBA 2K21? It's normal that people are moving towards the best. Without further ado, let's look at the top 10 best cheap NBA 2K21 MyTEAM cards that everyone should buy. Learning about different ways of playing the game running with those NBA2K21 MyTEAM budget cards, the overall cards and mid-tier cards that are under 5k.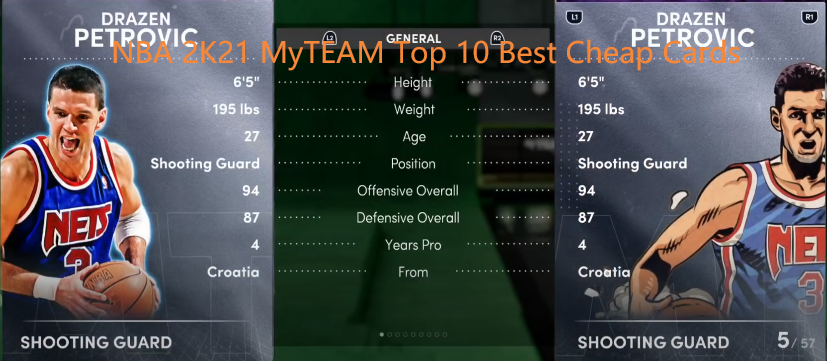 Top 10 NBA 2K21 Best Budget Card - Most Overpowered NBA 2K21 MyTEAM Cards You Can Buy
Next, you are about to see the details and features of the top 10 best NBA 2K21 MyTEAM budget cards.
Best Cheap NBA 2K21 MyTEAM Card Top 10
Drazen Petrovic - SG/SF - 6'5'', 195lbs, 94 Offensive Overall, 84 Defensive Overall
Drazen Petrovic it's recently coming out cheap NBA 2K21 card cost of 1 000 MT. He is a competent defender and elite shooter. There are two versions of this card, literally the same card. Both cards have 29 gold badge clamps, quick first step and pluckable and green machine 2 hall of fame badges, only one on current gen which is the most expensive badge range extender, except comic book version card has 3 silver badges breaker starter, pick dodger and bailout. You can get both 2K21 overpowered cards for the same cheap price, if you don't care about XP challenges.
Best Cheap NBA 2K21 MyTEAM Card Top 9
Micheal Porter JR. - SF/PF - 6'10'', 210lbs, 96 Offensive Overall, 94 Defensive Overall
The top 9 best 2k21 budget card is Micheal Porter JR. who is a good tier on offense instead of defense current gen. He's steadily creeping up and pricing costs around the 1k. He has 41 gold badges and 4 hall of fame, with good dribble animations and good wingspan. He's got gold showtime, posterizer, range extender, handles for days and quick first step. He's got basically everything you need, as well as 90 three-ball, 89 mid-range, 85 driving dunk and basic ball handle, though his defensive stats are not great.
Best Cheap NBA 2K21 MyTEAM Card Top 8
Jarrett Jack - PF/SG - 6'3'', 200lbs, 96 Offensive Overall, 91 Defensive Overall
Jarrett Jack has 44 gold badges and 4 hall of fame badges. He's got gold clamps, gold defensive leader, gold interceptor and gold range extender. With great three-ball of 92, competent driving dunk of 75, great ball handling, good perimeter defensive and really good steel, speed and acceleration. Most important is that he got base three which is one of the fastest releases in the game.
Best Cheap NBA 2K21 MyTEAM Card Top 7
Killian Hayes - PG/SG - 6'5'', 192lbs, 91 Offensive Overall, 90 Defensive Overall

The is one of the underrated overpowered cheap NBA 2K21 cards that has everything except one flaw, doesn't have quick first step. He is six foot five point guard who can curry slide. He's got catch &shoot(gold), corner specialist(gold), acrobat(gold) and all the badges you need. He has 89 three ball, 88 mid-range, 86 ball handle, 90 speed and 90 acceleration. He is an absolute beast in 2K21 next gen.
Best Cheap NBA 2K21 MyTEAM Card Top 6
Brian Scalabrine - PF/SF - 6'9'', 241lbs, 95 Offensive Overall, 86 Defensive Overall
Brian Scalabrine is six foot nine power forward cost less than 2k, with a lot of great badges like hall of fame range extender and catch&shoot. He has gold clamps, heart crusher, interceptor and intimidator. He shoots well, has fantastic release, good ball handle, stealing and blocker, meantime, both his defense and speed are definitely solid.
Best Cheap NBA 2K21 MyTEAM Card Top 5
Sekou Doumbouya - PF/SF - 6'9'', 230lbs, 94 Offensive Overall, 95 Defensive Overall
This is a cheap NBA2K21 card that is a defensive beast for 2000 MT. This power forward is a solid all-around defense that got Aaron Gordon base release with that Kevin Durant upper on quick. He has 95 driving dunk, 86 ball handle,89 lateral, good rebounding and absolutely elite speed. He's got hof quick first step, gold catch& shoot, gold clams and gold heart crusher.
Best Cheap NBA 2K21 MyTEAM Card Top 4
Isaac Bonga - PG/SF - 6'8'', 198lbs, 93 Offensive Overall, 93 Defensive Overall
Isaac Bonga is six foot eight curry sliding which you need to badge up. This one of the best cheap card that you need to buy on NBA 2K21. He has gold show time, elite defensive and good shooting. There's no denying that he's got a 53 post hook, he can still post two people into oblivion. He has 86 ball handle, 89 steel, 90 perimeter defense, 90 speed, 90 speed with ball, 90 acceleration and 88 lateral quickness. He's definitely a top tier card on defense but a little bit lacking shooting badges.
Best Cheap NBA 2K21 MyTEAM Card Top 3
Mohamed Bamba - C - 7'0'', 221lbs, 89 Offensive Overall, 92 Defensive Overall
Mohamed Bamba is the only best cheap center on NBA 2K21, which costs around 5k. The center position is so lacking for cheap centers. His 30 gold badges include intimidator, catch&shoot, corner specialist and set shooter. He has a long 7'10 wingspan and he can block crazy a amount of shots. He has 83 three ball, 90 standing dunk, 93 block, 92 interior defense, 90 offensive rebound and 94 defensive rebound. The one thing is that he got 60 strength, but his speed makes up for everything.
Best Cheap NBA 2K21 MyTEAM Card Top 2
Austin Croshere - PF/SF - 6'9'', 235lbs, 94 Offensive Overall, 88 Defensive Overall
Austin Croshere is a six foot nine power forward with 49 gold badges and 2 hall of fame badges. He got a fantastic three ball, good driving dunk, good ball handle, solid steel, block as well as tendency. He's got Draymond release on quick, that's why he's an absolutely exceptional beast on games.

Best Cheap NBA 2K21 MyTEAM Card Top 1
Felipe Lopez - SG/PG - 6'5'', 199lbs, 90 Offensive Overall, 95 Defensive Overall
Felipe Lopez is the best NBA 2K21 budget card worth 1k MT. He has 44 gold badges you need gold showtime, gold range, gold clams, gold quick first step and gold handles for days. He's also six five with a long seven foot one wingspan. He has JR Smith release and competent behind the back. He acquires 88 three ball, 91 mid range, 90 driving dunk, 93 speed, 92 speed with ball, 93 acceleration and 91 lateral quickness. What's more important, he has got ridiculous total stats which makes him the best cheap card on NBA 2K21.
Read more:
Nba 2K22 Current Gen Next Gen Best Build - Best Build & Build System In Nba 2K22
Nba 2K21 Top 100 Best Cards - Top 100 Most Overpowered Cards In Nba 2K21 Myteam
Nba 2K21 Next Gen Best Automatic Jumpshot Top 5 Highest Green Window Jumpshots In 2K21
These are the top 10 NBA 2K21 MyTEAM best cheap card you can buy under 5k MT. If you ever need NBA 2K21 MT for sale to collect cheap beasts into your team, buynba2kmt.com is always your first choice.
NBA 2K23 News Guides

NBA 2K22 News Guides

NBA 2K21 News Guides
CONTACT US
TEL (USA) : +1-315-889-1198
TEL (UK) : +44-020-32905838
MSN: [email protected]
QQ: 1498133786