NBA 2K21 Galaxy Opal Guide - Which 2K21 MyTEAM Galaxy Opal Cards Are Worthy Buying?
Date: 2/24/2021 4:17:37 PM
Surely many players are struggling with how to invest wisely in new NBA 2K21 galaxy opal cards? Since there are already so many overpowered 2K21 galaxy opal players, here we analyst these best galaxy opal cards in NBA 2K21 MyTEAM, let's see whether they are worth buying or not. This way you can save your budget instead of wasting your NBA 2K21 MT.
NBA 2K21 Galaxy Opal Guide - Which 2K21 MyTEAM Galaxy Opal Cards Are Worthy Buying?
MyTeam updated from 22 February 2021, 4 new galaxy opal cards Jamal Murray, Terry Rozier, Brandon Ingram, Gilbert Arenas arrived in NBA 2K21 MyTEAM. Jamal Murray is the showcase player of this NBA2K21 galaxy opal promo card set. Without a doubt that he is going to be the most expensive player in galaxy opals pack. If you are a Terry Rozier fan, will you buy the new card of galaxy opal? Will Brandon Ingram who has a good release will be a good pickup? Anyway, next you are going to see which NBA 2K21 Galaxy Opal card is the best to get for your team!
Brandon Ingram - SF/PF - 94 -7'3''
Starting with Brandon Ingram, he is 7'3'' tall and got that long wingspan He has hot zones everywhere outside the three-point line. What's more, he's at a 90 three ball, 90 speed, 90 acceleration, 88 speed with ball, 90 driving dunk, but his defense is a bit lacking. With 13 hall of fame badges which is mad compared to the six, he has his last card. For badges he has range extender(gold), quick first step(hof), downhill(hof), difficult shot(hof), clamps(hof) and intimidator(gold). Great Jumpshot 75 as for his lower base, features quick release, good showtime dunks at the same time. Though he is bad at escaping. Brandon Ingram this new NBA 2K21 season 5 galaxy opal card is worth buying, due to he is an absolute beast.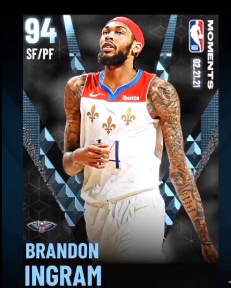 Terry Rozier - PG/SG - 95 - 6'1''
Terry Rozier is a 95 overall pink diamond galaxy opal card on NBA 2K21 season 5. His very small at a height of 6 foot 1, at least has a long wingspan. His stats hot zones everywhere outside of three, has 17 hall of fame badges. He's got 94 speed, 94 acceleration, 94 three ball. He is a gold range with 90 driving dunk, 87 perimeter defense, 91 lateral quickness which is alright. He has 94 speed with the ball, got half quick for a step only gold defensive badges which aren't great. His dribble animations for basic size up pro 3, pro 3 behind the back which is elite, Stephen Curry layup package which is good and quick dribble style which is important on NBA 2K21 next gen. Overall, Terry Rozier galaxy opal card is not bad.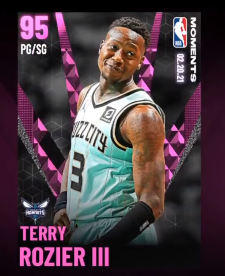 Jamal Murray - PG/SG - 97 - 6'4
Jamal Murray a competent defender and solid offensive player. He has 23 hall of fame badges and 27 gold badges. With 94 speed, 94 acceleration, 96 three ball, 92 lateral quickness, 89 steal, he has showtime(gold), contact finisher( hof), slithery finisher(hof), fancy footwork(hof) and clamps(gold). The reason why Jamal Murray is overpowered is his animations. He's got the curry slide, base jump shot 80, upper release Trey Burke and Pro 5 behind the back. Jamal Murray is one of the best galaxy opal cards on NBA 2K21 next gen.
Read more:
NBA 2K21 MyTEAM Token Market (Season 7) - Are New HOF Badges Worth Getting In 2K21 Token Market?
NBA 2K21 MyTEAM Season 7 Full Throttle Guide - Which Are The Best Free Season 7 Cards In 2K21 MyTEAM
Top 5 NBA 2K21 Next Gen Best Builds - Best Guard Build, Spot Up Build, Center Build & More NBA 2K21!
NBA 2K21 Best Jumpshot For All Builds - Fastest Greenlight Jumpshots & Best Shooting Badges In 2K21
NBA 2K21 Top 10 Best Card - Most Overpowered Cards Under 100K In 2K21 MyTEAM
If you want to get these overpowered NBA 2K21 galaxy opal players for Myteam lineup, fast to get NBA 2K21 MT at buynba2kmt.com, you can enjoy the best prices!
NBA 2K23 News Guides

NBA 2K22 News Guides

NBA 2K21 News Guides
CONTACT US
TEL (USA) : +1-315-889-1198
TEL (UK) : +44-020-32905838
MSN: [email protected]
QQ: 1498133786