Home
>>
News
>>
Nba 2K21 Next Gen Best Dribble Animations After Patch 4 How To Become Dribble God On 2K21 Next Gen

NBA 2K21 Next Gen Best Dribble Animations After Patch 4 - How To Become Dribble God On 2K21 Next Gen
Date: 2/22/2021 4:41:27 PM
What are NAB 2K21 dribble animation requirements? It can be said with certainty that it's not easy to master dribbling skills like curry slide or speed boost. Here we share the best NBA 2K21 next gen dribble animations tutorial after patch 4, how to set dribble style, Size-Up Escape Packages, Moving Stepbacks and more. In order to help you score more efficiently during the competitions.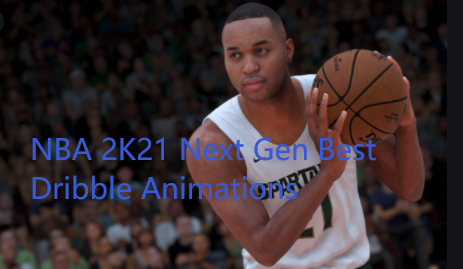 NBA 2K21 Next Gen Best Dribble Animations After Patch 4 - Dribble Animations Tutorial Help You Become Dribble God On 2K21
Dribble Style
What is the best dribbling animation in NBA 2K21 next-gen? When it comes to the dribble animations, depending on your own dribble style, how fast you would dribble, as well as how fast when you speed boost. Two most popular dribble style in 2k21 is Quick and Shifty. Quick is the most popular nba 2k21 animations due to its meta, has fast dribble moves. Shifty is the quickest move for speed boosting.
Size-Up Escape Packages
When it comes to size-up escape packages, where you get explosive behind the back and curry slide. Both Normal 2 and Normal 1 are great for people who don't have 80 ball handle. If you want to get curry slide, Pro 2 is literally the only way. Pro 3 has the quickest and fastest animations to dribble and combo, able to speed boost. Probably it's the best dribble animations nba 2k21 if was no curry slide, but it's a pity that the dribbling of Pro 3 is bad.
Moving Stepbacks
You can't go wrong with any of the moving stepbacks Basic 1, Normal 1, Normal 2, Normal 3, Normal 5, Pro 3 and Pro 6. There's no denying that all of them are overpowered and best step backs in NBA 2K21 whether it's for the snatchback or the step-back animations. Normal 3 has good variety, Normal 5 and Pro 3 have some good ones either.
Signature Size-Up
Signature size-up is where you get your walking size up and rhythm dribble. You need to use whatever is going to be the easiest to dribble and speed-boosting out of. Basic, Normal, Elite and T-Hardaway are very similar, they're all going in between the legs and coming out and having a good trigger that is able to speed boost out of. Normal, Elite, or T-Hardaway it will get faster and faster. Elite is slow and easy to speed boost that up. Normal is the NBA 2K21 next gen best dribble moves animation for signature size up, the truth is, Normal it's a balance of T-Hardaway and Elite which acquires a lot of different speed-boosting points.
Park Size-up
Park Size-up is the almost exact same thing as the signature size up except this doesn't have walking sizes, and it's only for the park. Whenever you try to do a rhythm dribble, it's going to do this every single time. Part 12 is the best rhythm dribbling NBA 2K21.
Basic Size-Up Packages
When it comes to the basic size of packages, the best hands down is Pro 3. What's more, normal 1 and normal 2 are better in comparison to pro 1 and pro 2. After all, you will have to choose the right packages for you! When you stand still dribble moves is where shows you what type of crossover, between the legs or behind the back and how fast it will be.
Moving Crossovers
Moving crossover is moving between your legs. Pro 2 is the best dribble animations on NBA 2K21 next gen.
Moving Behind The Backs
Pro 3 hands down have the best momentum and it gives you an extra speed boost.
Moving Spins
We have a variety of options when it comes to here now for the crossover and the bottom back. Compare to moving spins it's different things, which depending on the players. Basic 1 has the best and most overpowered spin back in the game. As for Pro 4 that has the biggest variety, Pro 7 is the fastest, Pro two is a new version of pro 4. The best moving spins as follows Basic 1, Pro 2, Pro 4 and Pro 7.
Moving Hesitations
Normal 3, Pro 1, Pro 3 and Pro 8 are free to use. Pro 8 is for the people who like to do heavy spam and suitable on 3v3, it's not popular on next-gen though. Pro 3 is for people who like balance, quick stops and speed boost. Pro 1 is the fastest moving hesitations for speed boosting, meanwhile, a good combo with a quick dribble style. If you want to have the fast speed boost of your hesitation, go ahead put Pro 1. If you have a build that doesn't have pro dribble moves, Normal 3 is the best NBA 2K21 next gen dribble move animations for you.
Triple Threat Styles
Normal 4 is the best NBA2K21 dribble move animations next gen. Triple threat styles allow you to pump fake for the shot, and have the best sizes and escape dribbles.
Read more:
NBA 2K21 MyTEAM Token Market (Season 7) - Are New HOF Badges Worth Getting In 2K21 Token Market?
NBA 2K21 MyTEAM Season 7 Full Throttle Guide - Which Are The Best Free Season 7 Cards In 2K21 MyTEAM
Top 5 NBA 2K21 Next Gen Best Builds - Best Guard Build, Spot Up Build, Center Build & More NBA 2K21!
NBA 2K21 Best Jumpshot For All Builds - Fastest Greenlight Jumpshots & Best Shooting Badges In 2K21
NBA 2K21 Top 10 Best Card - Most Overpowered Cards Under 100K In 2K21 MyTEAM
Break down every single NBA 2K21 next gen best animations for dribble moves tips, have the right dribble animations are the first step to the dribble god! More shooting animation, jumpshot animation, dunk animations, layup animations, please stay close. If you ever need cheap NBA 2K21 MT, go to buynba2kmt.com.
NBA 2K23 News Guides

NBA 2K22 News Guides

NBA 2K21 News Guides
CONTACT US
TEL (USA) : +1-315-889-1198
TEL (UK) : +44-020-32905838
MSN: [email protected]
QQ: 1498133786