NBA 2K21 Best Pink Diamond Cards - Most Overpowered Pink Diamonds In NBA 2K21 MyTEAM
Date: 4/8/2021 2:18:45 PM
It's brand new MyTEAM Season 6: Glitched Reality in NBA 2K21. With the new season that dropped a lot of pink diamonds. You must be wondering what are the best NBA 2K21 free pink diamonds that are worth grinding? At buynba2kmt.com we will go over some of the best pink diamond cards on NBA 2K21 MyTEAM, so that you can see which are the best pink diamonds that help you dominate the game.
NBA 2K21 Best Pink Diamonds - Best Pink Diamonds 2K21
In order to get pink diamonds in NBA 2K21, you could play TTL, or type in any locker codes, open packs with NBA 2K21 MT or XP challenges. For example, to grind a glitched reality overpowered pink diamond Kelly Oubre JR, it takes only 30 minutes for completing Kelly Oubre JR Challenges. Including 1. PF Dunks needs to make 4 dunks with power forwards in a single game. 2. Suns Win needs to win a game using 6 suns players. 3.Suns SF Points needs to score 75 points with suns small forwards over multiple games. Next, we are going to see the best cards 2K21. Let's see is there a perfectly fair spot of your favorite players in the 2K21 pink diamond tier list?
Andrew Wiggins - 96 - SF/SG - 6'7''
There's no doubt that pink diamond Andrew Wiggins is inane in NBA 2K21, and he is one of the best perimeter defenders you could find. His handle is good, the jumper is good, he dunks on everybody. Actually, he got an upgrade to animations, and upgraded him to a better galaxy opal, Jimmy Butler. As jump shot 22 on quick, with the curry slide, he could slash the basket easily. He is a demon of a shooter, because jumpshot 22 is so smooth and clean, that he can basically green it every single time.
Terry Dischinger - 96 - SF/SG - 6'7''
Terry Dischinger is obviously one of the best pink diamonds 2K21 ever since he came out. He has Rudy Gay base, and able to curry slide. He's got hall of fame Clamps, Range Extender showtime, intimidator and quick first step. With 93 three ball, 93 speed, 93 acceleration, 98 stamina, 95 driving dunk, 93 speed with ball, and 94 lateral quickness.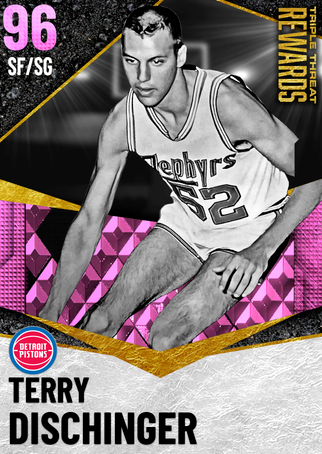 Richard Dumas - 96 - PF/SF - 6'7''
Richard Dumas is the NBA 2K21 best pink diamond card. As six foot seven small forward and power forward, he has seven foot four wingspan. He has Paul George on real quick, quick dribble style and long athlete layout pac kages and the curry slide. He's got 95 driving layup, 97 driving dunk, 89 three ball, 90 speed with ball, 94 speed and 94 lateral. Comes with some of the best shooting, he is an amazing all-around defense small forward and power forward, what's more, he dunks on everybody.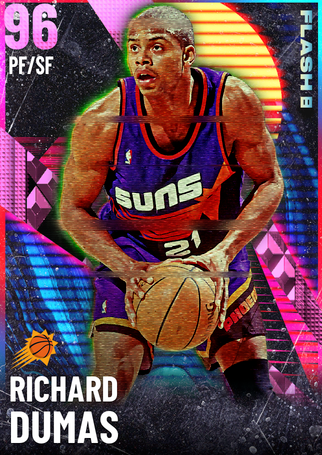 OG Anunoby - 96 - PF/SF - 6'8''
OG Anunoby is one of the best NBA2K21 pink diamond card in the glitched market as well as one of the best all-around defenders. He has jump shot 76 on real quick which is absolutely unreal. His release is good and the handle is good. For a small forward position, his height and length are perfectly fine. With 93 three ball, 90 driving layup, 90 driving dunk, 89 speed with ball, 94 speed, 94 acceleration, 95 perimeter defense and 96 lateral quickness, as well as 30 hall of fame badges and 15 gold badges including Showtime(HOF), Catch And Shoot(HOF), Range Extender(GOLD), Hot Zone Hunter(Gold), Clamps(HOF), Interceptor(HOF).
Domantas Sabonis - 96 - C/PF - 6'10''
Without questioning that Domantas Sabonis is a bonus, he is another Dirk Nowitzki. This is an absolutely crazy overpowered 2k21 pink diamond card. His stats are comparable to one of the best players in the game. Though the biggest shortcoming is his base jump shot 10, apart from his jumper, he's got everything good. He has 94 three ball, 90 standing dunk, 87 speed with ball, 87 speed, 95 stamina, 89 interior defense, 97 offensive rebound and 95 defensive rebound. He is elite in NBA 2K21 next gen with gold Clamps, hall of fame range extender.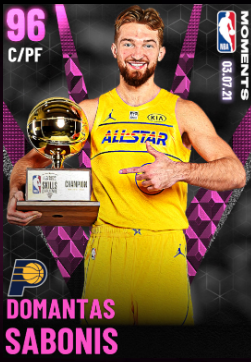 Draymond Green - 96 - PF/C - 6'7''
Draymond Green is a fantastic pink diamond, both his shooting and handle are elite. He plays great defense and does everything you want from a player. He is 6'7'' and with 7'1'' wingspan. Got 91 three ball, 88 driving layup, 89 speed with ball, 93 stamina, 96 interior defense and 94 lateral defense. Features Range Extender(HOF), Catch And Shoot(HOF), Quick First Step(HOF), Clamps(HOF), Heart Crusher(HOF), Stop And Go(Gold) and more badges you need.
Lamer Odom - 96 - PF/SF - 6'1''
Lamer Odom is one of the best pink diamonds in the NBA 2K21. He has a great 6'1'' height and 6'11'' wingspan. Actually, there are no real negatives to this card. He is a good shooter, his offense is great so does defense. He has great overall, good Paul George as his lower base, can curry on next gen. He's got 88 three ball, 94 driving layup, 90 driving dunk, 88 speed with ball, 91 speed, 90 acceleration, 94 stamina and 88 lateral quickness. He almost has every badge you need.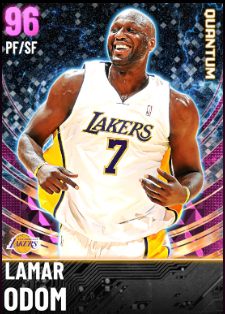 Frank Ntilikina - 96 - PG/SG - 6'6''
The way Frank plays is a better version of pink diamond Lonzo Ball. It's another overpowered pink diamond for a point guard position. He is the best defensive six foot six pg with a lot of hall of fame badges, including Clamps(HOF), Range Extender(GOLD), interceptor(HOF), Intimidator(HOF). He has 89 three ball, 88 driving layup, 93 speed, 95 perimeter defense, 96 lateral quickness and 96 steal. Jumpshot 4 on quick, shifty dribble style and the curry slide with the long athlete layup packages.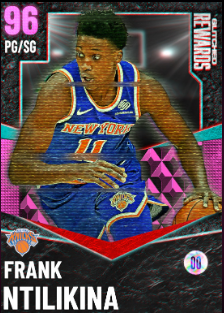 Malik Sealy - 95 - SG/SF - 6'8''
Malik Sealy is a s tier best pink diamond NBA 2K21, he is also top 10 best wings in the game. He Ray Allen base, and can curry slide. He has great stats, with 90 three ball, 95 driving dunk, 94 driving layup, 88 speed with ball, 93 speed, 85 stamina, 90 perimeter defense and 92 lateral quickness. He carries Range Extender(GOLD), Hot Zone Hunter(GOLD), Volume Shooter(HOF) and Clamps(HOF). He is a fantastic card that has amazing defense.
Myles Turner - 96 - C/PF - 6'1''
Myles Turner is an op 2K21 pink diamond from the glitch market. He has jumpshot 71, his signature jumper on very quick. Moreover, is the best three in the center and one of the best shooters in the entire game. He can lock it down on the defense, especially in the paint.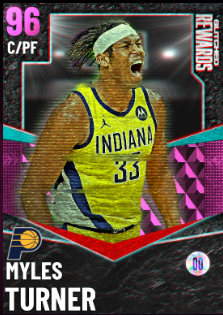 Read releated:
Nba 2K22 Current Gen Next Gen Best Build - Best Build & Build System In Nba 2K22
Nba 2K21 Top 100 Best Cards - Top 100 Most Overpowered Cards In Nba 2K21 Myteam
Nba 2K21 Next Gen Best Automatic Jumpshot Top 5 Highest Green Window Jumpshots In 2K21
That's the best pink diamonds in NBA 2K12 MyTEAM that are worth getting. If you need to buy cheap NBA 2K21 MT to get these 2k21 pink diamond cards, go to buynba2kmt.com - the safest online store to buy NBA 2K coins.
NBA 2K23 News Guides

NBA 2K22 News Guides

NBA 2K21 News Guides
CONTACT US
TEL (USA) : +1-315-889-1198
TEL (UK) : +44-020-32905838
MSN: [email protected]
QQ: 1498133786