Home
>>
News
>>
Nba 2K21 Season 8 Trial Of Champions Guide New Cards Rewards Locker Codes More In 2K21 Season

NBA 2K21 Season 8 Trial Of Champions Guide - New Cards, Rewards, Locker Codes & More In 2K21 Season 8
Date: 6/7/2021 3:03:13 PM
NBA 2K21 Season 8 officially arrives in MyTEAM, features a theme of Trial of Champions, with new rewards, agenda XP, Exchanges and more. Some people might not up to date with very everything about season 8 NBA 2K21. Here is an NBA 2K21 Season 8 guide in depth on everything you need to know about 2K21 Season 8 Myteam, including new cards, packs, rewards, locker codes and triple threat, MyTEAM unlimited token market and more.
Read more:
Nba 2K22 Current Gen Next Gen Best Build - Best Build & Build System In Nba 2K22
Nba 2K21 Top 100 Best Cards - Top 100 Most Overpowered Cards In Nba 2K21 Myteam
Nba 2K21 Next Gen Best Automatic Jumpshot Top 5 Highest Green Window Jumpshots In 2K21
NBA 2K21 Season 8: Trial Of Champions Guide - Everything You Need To Know About Season 8 In 2K21
NBA 2K21 Season 8:Trial of Champions will begin on June 4 and last six weeks, meanwhile it's a new competition entering MyTEAM mode. Log in all 7 days, you will get a guaranteed Trae Young which it's going to be a fun card to use. According to 2K, you will most likely be rewarded a new dark matter card each week during the update of NBA 2K21 season 8. 2K did give us great triple threat online and offline rewards. Needless to say, Luca Doncic is a game-breaking card. Moreover, with 6 Trial of Champions NBA stars that you can choose to compete in the Game of Rings. These Six players will be given to everyone in MyTEAM at Level 1 this season, whatever card you score with the most, whoever we are getting the free galaxy opals or dark matter cards. You'd better try to score with the guy that you want to obtain most in MyTEAM.
Anthony Davis

Damian Lillard

Donovan Mitchell

Ben Simmons

Jayson Tatum

Zion Williamson
Invincible Dark Matter Luka Doncic
Did you miss Dywane Wade, David Robbinson, Kawhi Leonard, or Vince Carter in the past seasons in NBA 2K21? Invincible dark matter Luka Doncic is the reward for reaching Level 40 in NBA2K21 season 8 MyTEAM, as well as one of the best rewards. It's suggested that you shouldn't miss this invincible dark matter Luka Doncic. Grinding for all the season agenda progress, not only you will earn Luka, but also an amount of XP. (Read: how to get Invincible Dark Matter Luka Doncic fast in NBA 2K21 Season 8?)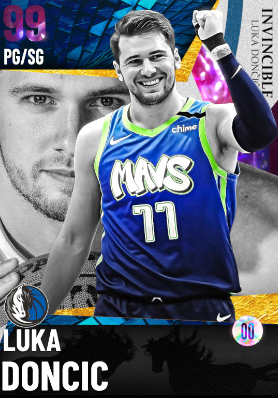 One Of The Requirements - Rewards
Token Reward Update
Szczerbiak for 3 (7,500 XP):

Make 30 3-pointers with rewards Wally Szcerbiak over multiple TT or TTO games

Gervin Dominates Multiplayer (15,000 XP):

Score 75 points with Rewards George Gervin over multiple games

Gervin Scores Single Player (25,000 XP):

Score 250 points with reward George Gervin over multiple single player games.

Johnson Assists (5,000 XP):

Get 50 assists with rewards Kevin Johnson over multiple games.
NBA 2K21 Season 8 MyTEAM Unlimited
MyTEAM Unlimited is a mode where players can compete in 5v5 with their best players and unique lineup creation rules every weekend to win exclusive prizes and qualify for the MyTEAM Unlimited $250,000 tournament! MyTEAM Unlimited rewards like dark matter Drazen Petrovic are going to be overpowered, Unlimited Token Event ends until June 7, after that are to earn 2 tokens for every win.

NBA 2K21 Season 8 Triple Threat
Triple threat offline is also updated in NBA 2K21 Season 8 and available until June 21. Play casual 3-on-3 games after 1,750 wins, you could get the final bonus Dark Matter Robert Parish. To be honest, Tom Van Arsdale is the reward worth grinding in Season 8 2K21 instead of Robert Parish, because Rober Parish is more solid, furthermore, he has a dynamic duo with his running mate. Dark matter Tom Van Arsdale is also a vault reward in triple threat online.
NBA 2K21 Season 8 Pack Market - Gladiator
In Season 8 NBA 2K21 new gladiator pack, contains 1 player and 5 items with a guaranteed gladiator player or invincible card, without a doubt that you should get Invincible Kervin Durant, Invincible Dywane Wade, Invincible Tracy Mcgrady as well as dark matter Pascal Siakam, Draymond Green, Clay Tompson. The best thing is we're at a point in NBA 2K21 where the pack odds are all a hundred percent.
Packs
Gladiator Deluxe Pack 5 Cards(15,000 VC, 17,250 MT)
Gladiator 5 Cards(11,250 VC, 10,200 MT)
Gladiator Deluxe 10 Pack 135,000(135,000 VC)
Rewards
Klay Thompson
Draymond Green
Pascal Siakam
Tracy Mcgrady
Dywane Wade
Charles Oakley
Maurice Lucas
Kobe Brayant
Koby Brant
Tristan Thompson
Channing Frye
Anthony Davis
Cloe Anthony
NBA 2K21 Season 8 Token Market
In 2K21 Season 8: Trial Of Champions, the token market is opened once again released many juiced token packs with good badges, which is a massive W that 2K opens the token market. You can get 75 tokens for hall of fame Posterizer, Showtime badge, Brandon Ingram and a diamond shoe. 75 tokens for Difficult Shots badge, Enes Kanter and a diamond shoe. 75 tokens for Tireless Defender badges, Tobias Harris, and a diamond shoe. 75 tokens for slithery Finisher badge, Rudy Gobert and a diamond shoe. 75 tokens for Deadeye badge, Robert Williams and a diamond shoe. 75 tokens for Intimidator badge, Talen Horton-Tucker and a diamond shoe. 250 tokens for hall of fame Deep Threes/Range Extender, hall of fame Blinders/Steady Shooter and a diamond contract.

NBA 2K21 Locker Code
New Season, new locker codes in NBA 2K21. We got you all 2K21 season 8 locker codes so far
myteam-gladiator-packs-2x84r
trial-of-champions-starts-now
kd-myteam-sig-challenge
A good season depends on how active the game stays and how interesting the contents are. Overall, what the case in Season 8 NBA2K21 is that 2K wants you to throw away your tokens towards George Gervin and XP for Luka Doncic. Fast to grind your rewards in the final season of NBA 2K21, due to the fact that, NBA 2K22 is around the corner, get prepared for your 2K22 MT at buynba2kmt.com!
NBA 2K23 News Guides

NBA 2K22 News Guides

NBA 2K21 News Guides
CONTACT US
TEL (USA) : +1-315-889-1198
TEL (UK) : +44-020-32905838
MSN: [email protected]
QQ: 1498133786