NBA 2K22 Best Point Guard Build Current Gen - Most Overpowered PG Build in 2K22
Date: 9/10/2021 3:46:52 PM
How to dominate from the first day of NBA 2K22? A demigod MyPLAYER build is critical. Go with this NBA 2K22 best point guard build on current-gen, which is one of the most overpowered PG build in the game.
Related Read: NBA 2K22 Best Power Forward Build
NBA 2K22 Current Gen Best Point Guard Build - Demigod PG Build in 2K22
Check out the breakdown of the NBA 2K22 best PG build created by Grinding DF, with skill, physical, body setting attributes, takeover, and badges, when your build reaches 99 overall, you'll get 91 speed, 90 acceleration, 93 mid-range, 90 three-point, 88 pass accuracy, 89 ball handle, 74 perimeter defense, 74 lateral quickness, and 78 steal.
Choose Your Skill Breakdown
The skill pie chart is gonna be the one with the equally bigger part of green and yellow.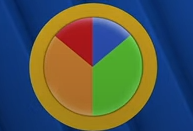 Choose Your Physical Profile
The physical profile pie chart is gonna be the one with the most speed.
Set Your Potential (Attributes)
Starting from shooting attributes, upgrade the mid-range, three-point and free throw all the way to get max shooting badges, and then upgrade the post fade to 78. For playmaking, max out the pass accuracy and ball handle, and then upgrade post control to 62. For defense, max out perimeter defense, lateral quickness, steel and defensive rebound, you can put one down on steal to keep the six badges, or you could put one down on defensive rebound. This is going to be an offensive-minded player.
- Finishing: Close Shot - 57, Driving Layup - 79, Driving Dunk - 64, Standing Dunk - 25, Post Hook - 30
- Shooting: Mid-Range Shot - 90, Three-Point Shot - 87, Free Throw - 90, Post Fade - 78
- Playmaking: Pass Accuracy - 88, Ball Handle - 87, Post Control - 62
- Defense/Rebounding: Interior Defense - 34, Perimeter Defense - 75, Lateral Quickness - 75, Steal - 80, Block - 27, Offensive Rebound - 28, Defensive Rebound - 64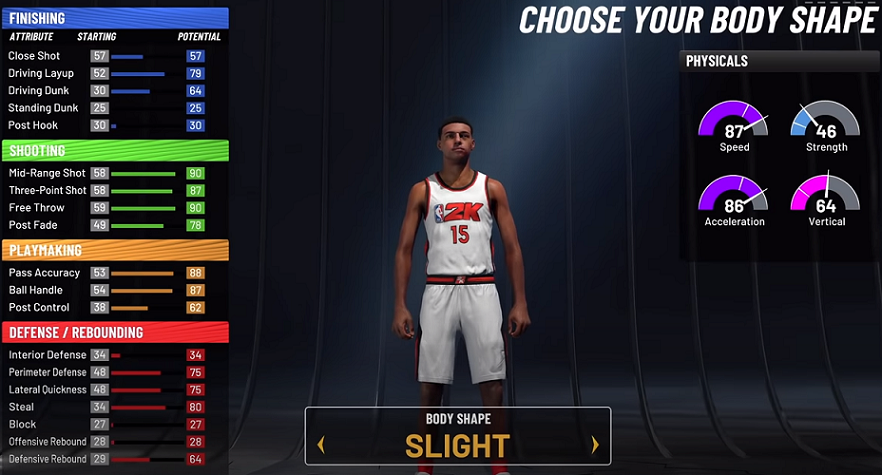 Body Settings
The height can be six foot three and have the speed boost, but in the past, six foot two point guards have been insane. The smaller you are, the faster you are. For the weight, go all the way down, and the wingspan, do one above the lowest.
Body shape: Slight
Height: 6'2"
Weight: 165 lbs
Wingspan: 74.9"
Choose Your Takeover
The takeover picked for this build is Spot Up Shooter. You can build a playmaking shot creator in NBA 2K22.
Badges
Finally, we get 25 shooting badges, 24 playmaking badges, 6 defensive badges and 1 finishing badge. You can adjust the attributes upgrades to change the badge layout based on your play style.
- Shooting badges: Blinders (HOF), Deadeye (HOF), Hot Zone Hunter (HOF), Stop & Pop (HOF), Catch & Shoot (Gold), Chef (Gold), Limitless Spot-Up (Silver), Green Machine (Bronze)
- Playmaking badges: Hyperdrive (HOF), Quick Chain (HOF), Quick First Step (HOF), Bullet Passer (Silver), Ankle Breaker (Bronze), Bail Out (Bronze), Tight Handles (Bronze), Unpluckable (Bronze)
- Defensive badges: Intimidator (Gold), Clamps (Gold)
- Finishing badges: Giant Slayer (Bronze)
Buy cheap NBA 2K22 MT to start an unstoppable season!
NBA 2K23 News Guides

NBA 2K22 News Guides

NBA 2K21 News Guides
CONTACT US
TEL (USA) : +1-315-889-1198
TEL (UK) : +44-020-32905838
MSN: [email protected]
QQ: 1498133786