Home
>>
News
>>
Nba 2K22 Current Gen Next Gen Build System How To Make The Best Nba 2K22 Myplayer Builds

NBA 2K22 Current Gen & Next Gen Build System - How To Make The Best NBA 2K22 MyPLAYER Builds
Date: 9/7/2021 2:43:44 PM
Are you most excited about new gameplay, new dribbling, new shot meter, or the new builder system in NBA 2K22? Are you excited about the matchmaking, the cruise ship, or new level rewards in NBA 2K22 season 1? Nothernless, the majority is going to wonder what is the best MyPlayer build should we going to make in NBA 2K22 MyCareer mode. Follow the guide, we will list the things about NBA 2K22 build system, as well as the best tips to create the best builds.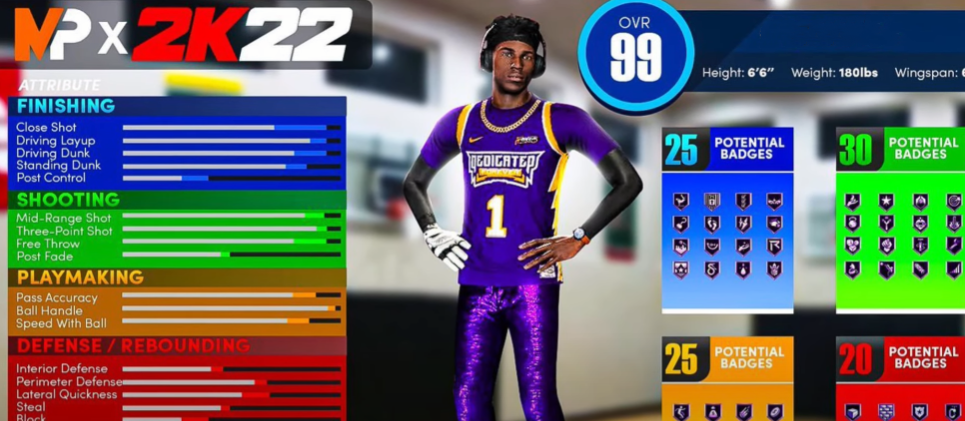 NBA 2K22 MyPlayer Build System For Current Gen & Next Gen
2K has made a lot of adjustments to the build system to create more balanced builds and give incentives for creating different types of players, said Mike Wang. On the one hand for the NBA 2K22 current-gen MyPlayer build system is going to run with the same old and new pie chart. On the other hand for the NBA 2K22 next gen MyPlayer build system is going to be very similar to the NBA 2K21 next gen. Basically, you do the height, weight, and wingspan to start off, it shows you the MyPlayer builder caps with the actual potential you have, and the attributes as well. For example, if you make s 6'9'' guard with a certain wingspan, you are able to see your max attributes caps when you set your height, weight, and wingspan.
Read related:
Top 10 NBA 2K22 Best Budget Card - Cheap & Most Overpowered Cards On 2K22 MyTEAM Under 5K
NBA 2K22 Best Dribble Moves Current Gen & Next Gen - Best Dribble Moves Animations, Settings, Badges & Tips
NBA 2K22 Next Gen Best Build - Most Overpowered Builds For All Positions In 2K22 Next Gen
NBA 2K22 Current Gen Best Center Build - Top 5 Most Overpowered Builds In 2K22 Current Gen
NBA 2K22 Best MyPlayer Build Tips In MyCareer Mode
To make the best NBA 2K22 build is something that people mess up all the time. There are more useless and money wasted build all year round. Players used to make some mistakes when they create the MyPlayer Builds. Below, we are sharing with you the best tips and tricks on creating the 2K22 best MyPlayer build, in order to eliminate the mistakes.
1. Tips to create the best point guard build in NBA 2K22
When it comes to point guards every single year, there's typically a meta height, from 6'1'' to 6'4''. If you find yourself somewhere in the middle at about 6'2'' or 6'3'' that's going to be a safe height. Slow your weight, because minimum weight is always the glitch. Strength never matters in 2k. As for your wingspan, you just want to be careful and you're going to have to make sure that you're looking at your statistics. if you're trying to be safe don't let your three-ball go under a 92.
When making an NBA 2K22 point guard build, you want to have a max of three your mid-range can always be a little bit lower since mid ranges are easy. If you play pro-am, you want free throw. Having about 16 to 20 shooting badges is ideal, and ball handling, passing accuracy, and speed with ball matter are now in the new 2K22 MyPlayer builder. You don't necessarily need the defense to guard the corner but a decent physical.
2. Tips to create the best point guard build in NBA 2K22
When it comes to making the best center build in NBA 2K22, don't make him as tall as possible. Speed is arguably the most important thing and for a center. In order for you to play twos or threes and even pro-am in hedge versus elite guards. Make a center that's anywhere from 6'8'' to 6'10'', you play center on a power forward position in current-gen. Wingspan you want to max that out unless you're playing on an outside. To make a safe center build in 2K22, go for an inside center rather than an outside center. Minimum weight is the best way to do a body shape.
The most important thing that you can have as a center is to have your defense and physical maxed. As a 6'9'' inside the center, you're going to be an 80 plus speed, this is already the safest center build that you would be able to use in the park and in the pro-am. Then max out your driving dunk max to get 20 finishing badges. If you want to play around with it, drop your defense down and put in on the shooting.
3. Focus on the speed
Having as high of speed as possible, so you don't get cooked on defense and useless on offense. All you need is a little sliver of space in order to get open and make shots. Being as fast as you can possibly be having that speed edge on your opponent is huge. You're not going to be able to sit back and play this game with a bad speed.
4. Don't need the strength
Do not be baited into wasting precious upgrade points on your player's strength, that's the mistake that people make often. 2K cannot find a way to successfully make strength matter every single year and it's not going to be any different this year in NBA 2K22.
5. Add badges to your build
Don't get rid of your build because it isn't good without badges. You have to get your badges and put that time in, in order to see if it's a good build or not. Due to the fact that you'll never know how good a build truly is until you take the time to badge it out.
These are best Myplayer build advice for players in NBA 2K22. If you need cheap NBA 2K MT to build your dream squad t compete, buynba2kmt.com provides the cheapest NBA 2K22 MT!
NBA 2K23 News Guides

NBA 2K22 News Guides

NBA 2K21 News Guides
CONTACT US
TEL (USA) : +1-315-889-1198
TEL (UK) : +44-020-32905838
MSN: [email protected]
QQ: 1498133786