NBA 2K22 Best Power Forward Build Current Gen & Next Gen - Best Big Man Build in 2K22
Date: 9/13/2021 2:40:01 PM
With a series of new badges, pie charts, and mechanism changes implemented in NBA 2K22 MyPLAYER builder, do you want to build a version of demigod to impress everyone? If you are looking for the best big man build in park or pro-am, here we'll take a look at the two best NBA 2K22 power forward (PF) build for current gen and next gen consoles.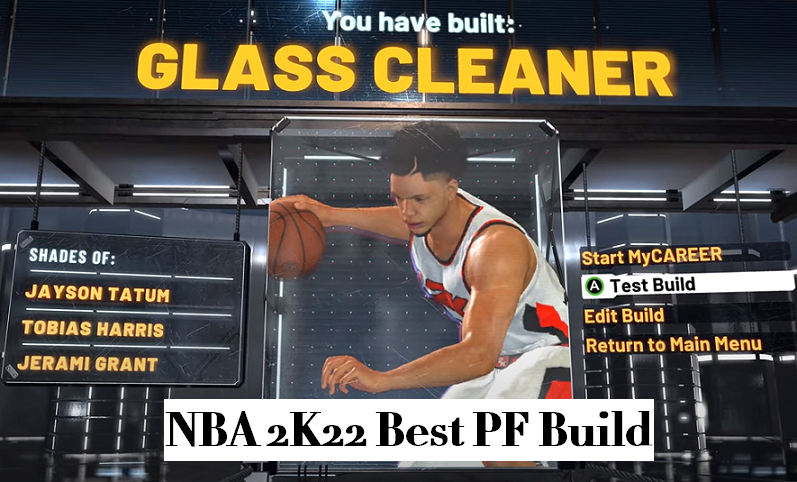 NBA 2K22 Best Power Forward (PF) Build Current Gen - Best Stretch Big Build in 2K22
Have you ever tested the NBA 2K22 power forward build by Lxck DF? This is an insane stretch big build on 2K22 current gen, when it comes to the settings, the body shape really does not affect anything, it's just a personal preference of what you want to do. Put your wingspan to 86.0 and that will help you get the rebounds. Your defenders are going to leave you open since you're a glass cleaner and they're not going to think you could shoot, but you're going to surprise them.
Skill Breakdown
Choose the pie chart with the most shooting, followed by defense/rebounding.
Set Your Potential (Attributes)
- Finishing: Close Shot - 53, Driving Layup - 64, Driving Dunk - 68, Standing Dunk - 26, Post Hook - 28
- Shooting: Mid-Range Shot - 80, Three-Point Shot - 78, Free Throw - 88, Post Fade - 75
- Playmaking: Pass Accuracy - 69, Ball Handle - 58, Post Control - 35
- Defense/Rebounding: Interior Defense - 78, Perimeter Defense - 67, Lateral Quickness - 68, Steal - 63, Block - 85, Offensive Rebound - 79, Defensive Rebound - 86
Body Settings
- Height: 6'8"
- Weight: 232 lbs
- Wingspan: 86.0"
Takeover
Spot Up Shooter
Badges
- Finishing badges: Acrobat (Bronze)
- Shooting badges: Catch & Shoot (HOF), Limitless Spot-Up (HOF), Corner Specialist (Gold), Green Machine (Gold), Blinders (Silver), Deadeye (Silver), Hot Zone Hunter (Silver), Volume Shooter (Silver)
- Playmaking badges: Quick First Step (Gold), Bail Out (Bronze)
- Defensive badges: Brick Wall (Gold), Chase Down Artist (Gold), Intimidator (Gold), Pogo Stick (Gold), Rebound Chaser (Gold), Box (Silver), Post Lockdown (Silver), Rim Protector (Silver), Worm (Silver)
Buy cheapest NBA 2K22 MT with our discount coupon code.

NBA 2K22 Best Power Forward (PF) Build Next Gen - Best Big Man Build in 2K22
Below is the NBA 2K22 next gen power forward build by Bobby Buckets, this is an Anthony Davis build with 92 badge points. This is going to be a 6'8", minimum weight, and max wingspan power forward. For the mid-range, to get a 75, and go with a 45 close shot, the close shot ties in with your three-pointer and your mid-range this year, that's key if you're playing more big. Make the layup be 70 to get the long athlete lay-up animation and 86 driving dunk for some dunk animations. Then for the shooting, 75 mid-range and 78 three-ball to get silver Blinders on your builds and 20 shooting badges. Key attributes affect badge upgrade costs. Check out more attributes potential, takeovers and best badges for this 2K22 PF build below.
Body Settings
- Height: 6'8"
- Weight: 210 lbs
- Wingspan: 7'6"
Set Your Potential (Attributes)
- Finishing: Close Shot - 45, Driving Layup - 70, Driving Dunk - 86, Standing Dunk - 85
- Shooting: Mid-Range - 75, Three-Point Shot - 78, Free Throw - 67
- Playmaking: Pass Accuracy - 85, Ball Handle - 75, Speed With Ball - 66
- Defense/Rebounding: Interior Defense - 72, Perimeter Defense - 86, Steal - 82, Block - 89, Offensive Rebound - 86, Defensive Rebound - 93
- Physicals: Speed - 77, Acceleration - 75, Strength - 48, Vertical - 75, Stamina - 92
Choose Your Takeover
- Primary Takeover: Paint Intimidation
- Secondary Takeover: Perimeter Badge Drop
Badge Distribution
- Finishing: Fast Twitch (HOF), Limitless Takeoff (Gold), Posterizer (Silver), Lob City Finisher (Bronze), Mouse In The House (Bronze), Rise Up (Bronze), Unstrippable (Bronze)
- Shooting: Corner Specialist (Gold), Blinders (Silver), Limitless Spot-Up (Silver), Catch & Shoot (Silver), Deadeye (Silver), Hot Zone Hunter (Silver)
- Playmaking: Glue Hands (Gold), Bullet Passer (Gold), Hyperdrive (Silver), Quick First Step (Silver), Break Starter (Silver), Unpluckable (Silver), Bail Out (Bronze)
- Defense/Rebounding: Intimidator (Gold), Menace (Gold), Rebound Chaser (Gold), Box (Gold), Clamps (Gold), Interceptor (Gold), Rim Protector (Gold), Ball Stripper (Bronze), Chase Down Artist (Bronze), Pick Rocket (Bronze)
NBA 2K23 News Guides

NBA 2K22 News Guides

NBA 2K21 News Guides
CONTACT US
TEL (USA) : +1-315-889-1198
TEL (UK) : +44-020-32905838
MSN: [email protected]
QQ: 1498133786