NBA 2K22 Playmaking Shot Creator Best Build & Jumpshot - Best Guard Build in 2K22
Date: 11/3/2021 12:03:50 PM
If you are hesitant about which type of player you want to be on the court of NBA 2K22, the playmaking shot creator, which works great for points guards, will make you be unstoppable. Now we are going to introduce the best NBA 2K22 playmaking shot creator build with breakdown, also get the best jumpshot options for this build.
Related Read: Best 2 Way & Pure Sharpshooter Build 2K22
NBA 2K22 Playmaking Shot Creator Best Build - Best Guard Build 2K22
Check out the NBA 2K22 current gen playmaking shot creator by HankDaTank. You get 60 badges on this player, you get an unlimited amount of rebirth, so when you go to make a new player, it will give you 20 badges and you can upgrade to 90 overall immediately. To unlock the rebirth quest, all you have to do is go to the top layer of the boat and talk to the lady and then she gives it to you. Additionally, before you make your player, you want to go into the Settings and change the imperial system to the metric system. The point of that is the metric system can be more precise. When making this NBA 2K22 play shot creator, you want to make him a point guard.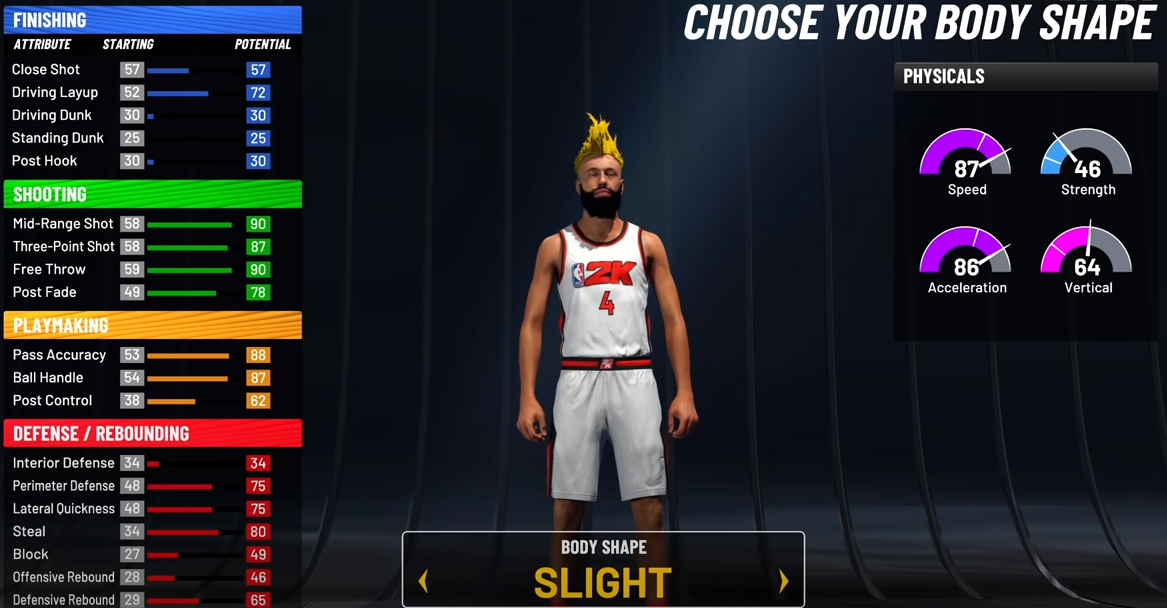 Skill Breakdown
Choose the pie chart with half playmaking (yellow) and shooting (half green).
Physical Profile
You have to go with the speed pie chart, which is the top one. You don't really need vertical on a play shot, but the highest speed as possible.
Attributes
Let's talk about the potential attributes, firstly we want to put the three-pointer, mid-range and free throw up all the way, and then the post fade, put it up to a 78 which is until we get 25 shooting, because if you put it down one more, you only get 24. Now you get 24 playmaking on this build, you want to put the post control up to a 63 and then go down one tick to a 62 because that's the cutoff for 24 badges. Looking at the defense, max out the perimeter, lateral, steal and defensive rebound to get 6 defensive badges. Then increase the block and the offensive rebound, you could do that and then put the driving layup up to a 66, when you hit 99 overall you'll have a 70 driving layup and you're able to get the long athlete layup package.
- Finishing: Close Shot - 57, Driving Layup - 72, Driving Dunk - 30, Standing Dunk - 25, Post Hook - 30
- Shooting: Mid-Range Shot - 90, Three-Point Shot - 87, Free Throw - 90, Post Fade - 78
- Pass Accuracy - 88, Ball Handle - 87, Post Control - 62
- Defense/Rebounding: Interior Defense - 34, Perimeter Defense - 75, Lateral Quickness - 75, Steal - 80, Block - 49, Offensive Rebound - 46, Defensive Rebound - 65
- Physicals: Speed - 87, Strength - 46, Acceleration - 86, Vertical - 64
Body Settings
For the height, you'll technically be six one and a half with this and instead of 1.88, if you go down to 1.87, you get one more speed, one more ball handle and one more steal. But if you go down to 1.86, you're actually like 6'1", if you go with 1.89m, your speed and acceleration both go down one, but we want the highest speed and acceleration with the highest ball handle, so 1.87 or 1.88 is the best choice. For weight, we want to go with the lowest weight possible, you can't even go up one because you lose one on your acceleration. Then for the wingspan, we're gonna go with the lowest wingspan so that we get a 94 ball handle, you can still play insane defense with this little play shot build, because you get a 78 perimeter, and you still get a 76 driving layup, it's not like you're gonna get blocked in the paint.
- Body shape: Slight
- Height: 1.88 or 1.87m
- Weight: 73 kg (lowest)
- Wingspan: 187 cm (lowest)
Takeover
If you want ankle breakers and if you want to make your teammates shoot better, go with playmaking takeover, but sharp take is the whole point of a playmaking shot build.
Badges
- Defense/Rebounding: Clamps (Gold), Pick Pocket (Gold), Interceptor (Silver), Chase Down Artist (Bronze)
- Finishing: Fast Twitch (Bronze)
- Shooting: Blinders (HOF), Sniper (HOF), Mismatch Expert (HOF), Chef (Gold), Deadeye (Gold), Green Machine (Gold), Hot Zone Hunter (Gold), Stop & Pop (Silver)
- Playmaking: Bullet Passer (HOF), Handles for Days (HOF), Quick First Step (HOF), Tight Handles (HOF), Unpluckable (HOF), Quick Chain (Gold), Bail Out (Bronze)
You can obtain safe MT with the lowest risk of being banned on the reliable store BUYNBA2KMT.COM, offering cheap NBA MT for sale on different platforms.
NBA 2K22 Playmaking Shot Creator Best Jumpshot
Let's get straight to the best jumpshot for playmaking shot creator in 2K22, here we present two custom jumpshots with different bases, you can choose any one of them based on your play style.
Playmaking shot creator jumpshot 1:
Base: Jump Shot 98
Release 1: Paul George
Release 2: Rudy Gay
Release Speed: 75%
Animation Blending: Paul George 70%/Rudy Gay 30%
Playmaking shot creator jumpshot 2:
Base: Jump Shot 3

Release 1: Ray Allen
Release 2: Paul George
Release Speed: 100%
Animation Blending: Ray Allen 55%/Paul George 45%
NBA 2K23 News Guides

NBA 2K22 News Guides

NBA 2K21 News Guides
CONTACT US
TEL (USA) : +1-315-889-1198
TEL (UK) : +44-020-32905838
MSN: [email protected]
QQ: 1498133786