NBA 2K22 Best ISO Build - All-Around Threat Build 2K22 Current Gen
Date: 4/28/2022 5:10:07 PM
How do you get all-around players in 2K22? You can always try new types of builds in MyCAREER and test them to get the best results. Here is an NBA 2K22 best ISO build current gen, which can help you become an all-around threat in the game.
NBA 2K22 Best ISO Build - All-Around Threat Build 2K22 Current Gen
Now, we've got a demigod NBA 2K22 ISO build by ClutchUpNext, this build can shoot the ball way better than a two-way playmaker, if you get a good jump shot with an 83 ball handle, you are never gonna miss everything. It is so fun to play on, you can fade with this build, you can shoot from anywhere, and on top of it, the other stats in every category is very broken, so it is a literally all-around threat build in NBA 2K22. The first thing we are going to do is go to the Settings in the Game Menu, then change the units of measurement to the metric system. When it comes to the position, we are going to go with a shooting guard for this ISO build. VC is useful when you are going to upgrade the MyPLAYER and MT coins are important in each season.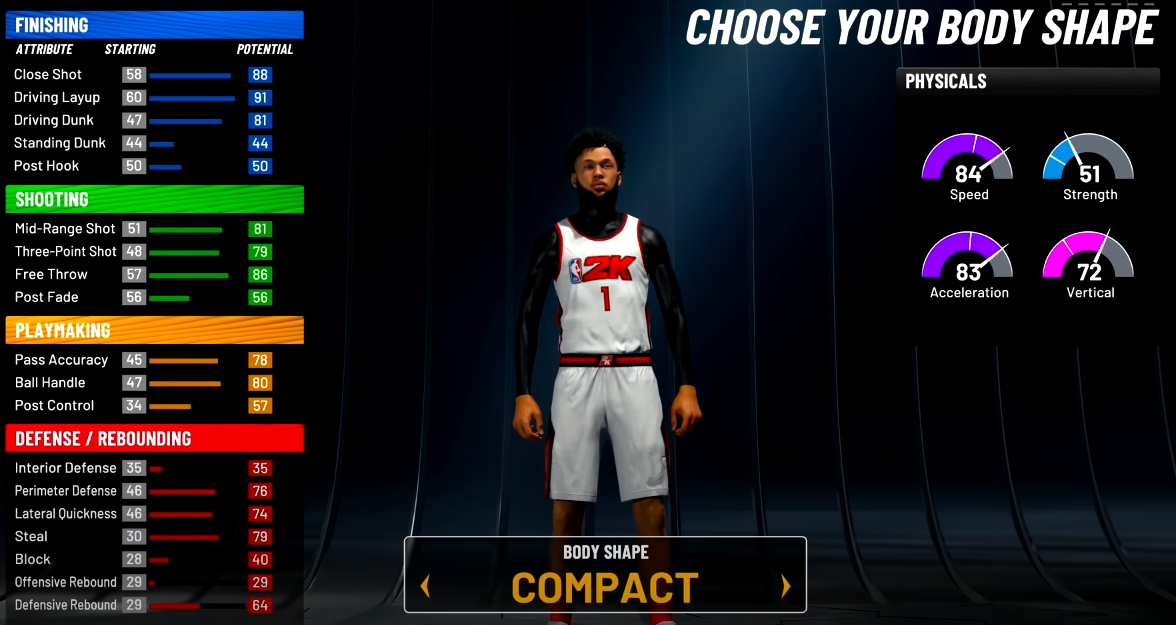 Skill Breakdown
Choose the third pie chart with a little bit more blue than green.
Physical Profile
Choose the speed pie chart, as you want to be the fastest possible you can.
Potential Attributes
Firstly, upgrade your close shot all the way to an 88 overall, and driving layup all the way to a 91, then driving dunk all the way to an 81 and you should end up with 15 finishing badges. Moving on to the shooting category, max out the mid-range shot to an 81 and three-point shot to a 79, then make your free throw at 86, you should have 16 shooting badges. For playmaking, upgrade your pass accuracy all the way and then upgrade the post control to a 57, and you'll have 16 playmaking badges. Last, upgrade your perimeter, lateral quickness, steal and end up with six defensive badges. If you have been level 40 in the past 5 seasons in NBA 2K22, you can have an additional 5 badges.
- Finishing: Close Shot 88, Driving Layup 91, Driving Dunk 81, Standing Dunk 44, Post Hook 50
- Shooting: Mid-range Shot 81, Three-Point Shot 79, Free Throw 86, Post Fade 56
- Playmaking: Pass Accuracy 78, Ball Handle 80, Post Control 57
- Defense/Rebounding: Interior Defense 35, Perimeter Defense 76, Lateral Quickness 74, Steal 79, Block 40, Offensive Rebound 29, Defensive Rebound 64
Body Settings
- Body Shape: Combat
- Height: 1.91m
- Weight: 77 kg
- Wingspan: 214cm
Takeover
Go with the Slasher takeover, the build we have made is a two-way slashing playmaker, this build is all around and is an absolute demigod, if you can't shoot the greatest with a lower three-ball, this build is perfect for you.
Badges
- Finishing badges: Limitless Takeoff (HOF), Slithery Finisher (HOF), Posterizer (HOF), Fearless Finisher (Gold)
- Shooting badges: Blinders (Gold), Hot Zone Hunter (Gold), Lucky #7 (Gold), Sniper (Gold), Stop & Pop (Gold), Green Machine (Bronze)
- Playmaking badges: Bullet Passer (Gold), Handles for Days (Gold), Quick Chain (Gold), Quick First Step (Gold), Unpluckable (Gold), Bail Out (Bronze)
- Defense/Rebounding badges: Clamps (Gold), Pick Dodger (Gold)
NBA 2K24 News Guides

NBA 2K23 News Guides

NBA 2K22 News Guides

NBA 2K21 News Guides
CONTACT US
TEL (USA) : +1-315-889-1198
TEL (UK) : +44-020-32905838
MSN: [email protected]
QQ: 1498133786