NBA 2K22 Current Gen Kevin Durant Build - Best 6'10" Build 2K22
Date: 2/25/2022 4:54:23 PM
Kevin Durant can shoot from anywhere and helps score for your team. How do you make your player like Kevin Durant? Shooting and finishing are important when you create the MyPLAYER build, check out the following NBA 2K22 Kevin Durant build current gen, which is a demigod 6'10" build, along with a breakdown to details.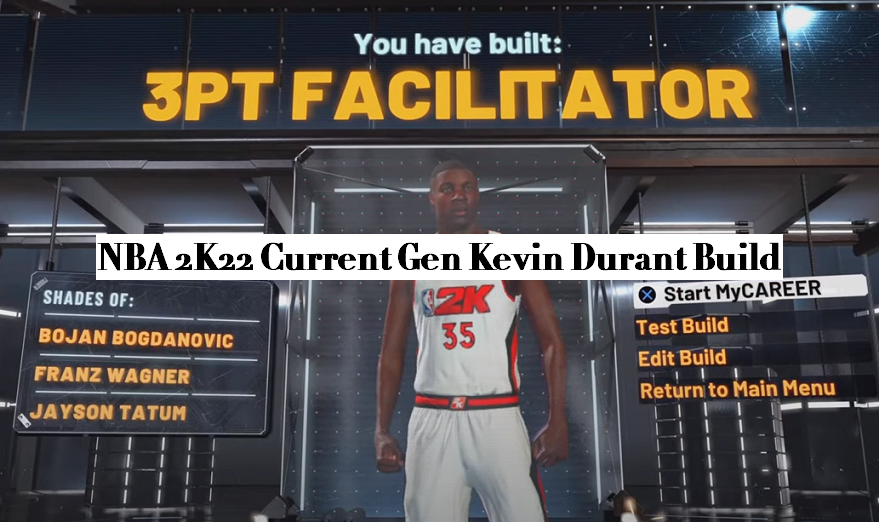 Related Read: NBA 2K22 Best Sharpshooter Build Current & Next Gen
NBA 2K22 Current Gen Kevin Durant Build - Best 6'10" Build 2K22
How to create a 6'10" KD build? Here is an example of 2K22 current-gen Kevin Durant build by B Haynes. This is a 3PT facilitator (playmaker) build at the small forward position. He is an all-around demigod who can't be guarded by any build, he can slash, shoot off the catch, and dribble, also play amazing defense. This SF build is particularly in the metric system.
To build Kevin Durant in NBA 2K22, you need to max out the majority of finishing and shooting attributes. So max out close shot, driving layup, and driving dunk to go all the way up, 47 on the standing dunk. Then max out the three-point, make the mid-range shot go to 80. Next, max out pass accuracy, leave post control alone. Max perimeter defense, lateral quickness, steal, block, and defensive rebound. For the height, you want to go all the way down, try to go past 1.96, they go up to 2.07, then we want to minimize the weight.
Skill Breakdown
Go with the pie chart that has the most green (shooting) and less yellow (playmaking).
Physical Profile
Go with the first pie chart.
Potential Attributes
- Finishing: Close Shot - 88, Driving Layup - 69, Driving Dunk - 67, Standing Dunk - 47, Post Hook - 28
- Shooting: Mid-Range Shot - 80, Three-Point Shot - 84, Free Throw - 93, Post Fade - 52
- Playmaking: Pass Accuracy - 82, Ball Handle - 74, Post Control - 42
- Defense/Rebounding: Interior Defense - 55, Perimeter Defense - 72, Lateral Quickness - 71, Steal - 71, Block - 60, Offensive Rebound - 29, Defensive Rebound - 67
Body Settings
- Height: 2.07m
- Weight: 87kg
- Wingspan: 222cm
Takeover
Shot Creator
Badges
- Finishing badges: Limitless Takeoff (Gold)
- Shooting badges: Catch & Shoot (HOF), Hot Zone Hunter (HOF), Sniper (HOF), Stop & Pop (HOF), Green Machine (Bronze)
- Playmaking badges: Hyperdrive (Gold), Quick First Step (Gold), Downhill (Silver), Unpluckable (Silver)
- Defense/Rebounding badges: Clamps (Silver), Rim Protector (Silver), Hustler (Bronze), Chase Down Artist (Bronze)
If you are going to find an NBA MT store to buy 2K22 MT points and pick up your most wanted player in 2K22 MyTEAM, buynba2kmt.com offers budget price and secure transaction.
NBA 2K23 News Guides

NBA 2K22 News Guides

NBA 2K21 News Guides
CONTACT US
TEL (USA) : +1-315-889-1198
TEL (UK) : +44-020-32905838
MSN: [email protected]
QQ: 1498133786