Home
>>
News
>>
Fastest Way To Hit Level 40 And Get Mascots In Nba 2K23 Where To Buy Mascots In 2K23

Fastest Way to Hit Level 40 and Get Mascots in NBA 2K23 - Where to Buy Mascots in 2K23
Date: 5/25/2023 12:05:15 PM
Season 7 is running in NBA 2K23, players can earn a free mascot when they reach a certain level in the game. In this article, we'll go over the fastest way to hit level 40 and get a mascot reward in 2K23, as well as where to buy mascots on the 2K23 current gen.

Fastest Way to Hit Level 40 and Get Mascots in NBA 2K23
How to get mascots in NBA 2K23 Season 7? On next-gen, players will be rewarded with a random NBA Mascot outfit for reaching Level 30, and get a Jetpack when they hit Level 40. While for current-gen players, can choose an Affiliation Mascot outfit by reaching Level 30 and earn an NBA Mascot outfit at Level 40.
1. Pro-Am 3v3
The first rep method for leveling up fast and hitting level 40 in NBA 2K23 is going to play Pro-Am 3v3, it gives you so much XP and VC. This is an incredibly fast method, if you play for a whole day, you can hit level 30 easily. Once you get your lineup, you'd have a guard that can throw lobs, a center that can dog, and a slasher that can shoot in the corner. You can make any build you want, you are capable of having a lock that can shoot, dunk, and get locked. In the Pro-Am 3v3, you want to run down the court and throw the lobs, the lobs cap out at five, so do not throw more than five lobs a game, this will give you lots of VC. All you need to play is 150 Pro-Am games and if you throw lobs correctly, you'll be a level 40 in no time. After you throw your five lobs, play regularly and shoot your threes to win the game, because winning the game also gives you a multiplier of like 1.2, 1.5, sometimes depending on the opponent's strength, lobs are the best for the Pro-Am 3v3. If you do not play 3v3, you don't have a full three, you want to play twos this is also a good method. You're gonna go on the two square you're gonna through lobs and flashy passes, flashy passes are absolutely broken, they almost give you as much as the lobs.
2. Rec
Besides 3v3 Pro-Am, the Rec method works best on centers, which earns you more XP than guards, because centers are throwing full-court passes, they're in the outlet passes and they get way more rebounds, way more stats, they're more likely to get a triple-double than a guard. For the centers, all you want to do after you catch a board, R1, L1, or RB, LB if you're on Xbox that will throw an outlet pass all the way down the court to the man, that's an easy dunk that gives you a lot of rep, those do not cap out, so you will get so much rep for those, put on Break Starter, this is a must-have badge for bigs to throw accurate passes down the court after securing a rebound, if you're center, it'll throw the pass more accurately also lob passes in Rec, after you throw him 10, do not throw anymore, just play your game normally, and also if you're a center for the Rec, bait your opponent going into the paint.
Where to Buy Mascots in NBA 2K23 Current Gen?
For current-gen players, you can receive a random NBA Mascot outfit once you achieve Level 40 during the current 2K23 season, and if you're interested in a different Mascot, you'll be able to pick it up from SWAG's. Players on current-gen are able to buy Season 7 mascots in the game, go to the Swags, and once you get into here, go all the way down, the Mascot category is next to the Pro. You can various types of mascots, such as Rockets Mascot, Pelicans Mascot, and more. A total of 25 mascots are listed here. All the mascots are selling for 100K.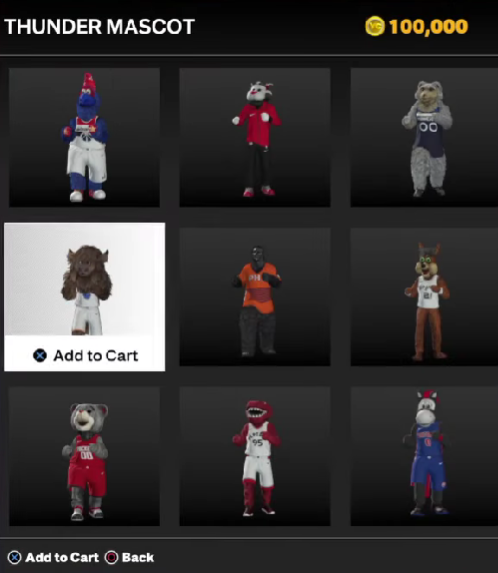 NBA 2K24 News Guides

NBA 2K23 News Guides

NBA 2K22 News Guides

NBA 2K21 News Guides
CONTACT US
TEL (USA) : +1-315-889-1198
TEL (UK) : +44-020-32905838
MSN: [email protected]
QQ: 1498133786