nba 2k17 badge guide:how to get posterizer badge in mycareer
Date: 11/2/2016 3:55:16 PM
anyone know a reliable way to get this badge for a character with low contact and driving dunk stats? buynba2kmt.com will bring you nba 2k17 badges tips: how to get posterizer badge in mycareer.
how to get the posterizer badge?
call for screen
drive to the basket
destroy whoever tries to help down low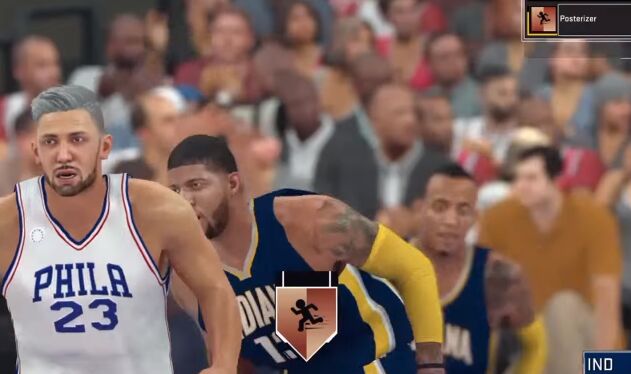 steal the ball,then run the fastbreak wait for the pg to go under the basket then post him up deep enough and dunk on his ♥♥♥ with left and right trigger+ left and right stick toward the basket it will give you contact dunk 9/10.
make sure you have equipped all three contact dunks animations, 2k vc each i did it with slasher in 3-4 games max on rookie 12 min, run iso, go to the side, quick cross towardt th paint and go to the rim, that way u can unlock both posterizer and relentless finisher
i have this badge on two of my players and you need to get 20 contact dunks whenever! you can make 1 in a season and you will still get it after 20 seasons. so don't bother yourself with this consecutive game thing.
i suggest you to equip tomahawk dunks for your player. unequip other dunks and equip only tomahawks. when you are in the game, call the high screen, get past defenders and dunk the ball in! sometimes it will be a layup, sometimes just a non-contact dunk, sometimes you will throw the defender down but still not get it...but keep trying!
you need to get "contact dunk" in your teammate grade feedback. when you get it 20 times, you'll get the badge.
if you want to get nba 2k17 mt coins online, we also can offer it at bottom price. we have special discount for you every day. use coupon code"2k17" for 5% off. hope you enjoy it.
NBA 2K23 News Guides

NBA 2K22 News Guides

NBA 2K21 News Guides
CONTACT US
TEL (USA) : +1-315-889-1198
TEL (UK) : +44-020-32905838
MSN: [email protected]
QQ: 1498133786