nba live mobile tips:how to get award winners in nba live mobile
Date: 1/4/2017 3:21:27 PM
nba live mobile features plenty of famous basketball players to "collect" for your dream lineup. fighting to complete the player sets for the award winners? we have written a guide to help you gather collectibles to complete the set for the various award winners players.
below is a list of the trophies that you will need to complete the collection to obtain these players. you can get the award winners collectible from award winners live events. you generally want to complete the stephen curry set first so that you stop getting the all star mvp drops.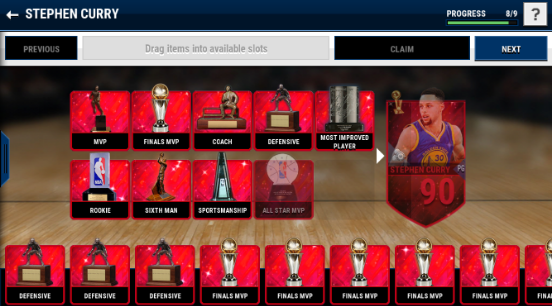 he requires the following items to be applied towards his unlock:
mvp
finals mvp
coach
defensive
most improved player
rookie
sixth man
sportsmanship
all star mvp
so this is what i have pulled so far
mvp-30
coach-18
finals mvp-29
defensive-14
rookie-7
sportsmanship-1
most improved-9
sixth man- 3
all star mvp-2
each of the awards are only gained as drops for completing events and season matches. each one requires you to perform exceptionally well. unfortunately, there are no tricks to getting these. they're luck based drops and you'll just have to keep playing until you've unlocked them all. and please buy cheap nba live mobile coins on www.buynba2kmt.com.use coupon "2k17" can enjoy a 5% discount.
NBA 2K23 News Guides

NBA 2K22 News Guides

NBA 2K21 News Guides
CONTACT US
TEL (USA) : +1-315-889-1198
TEL (UK) : +44-020-32905838
MSN: [email protected]
QQ: 1498133786