Home
>>
News
>>
Nba 2K21 Custom Jumpshots 100 Greenlight Nba 2K21 Best Shooting Badges Tips On How To Master Your Shooting

NBA 2K21 Custom Jumpshots - 100% Greenlight, NBA 2K21 Best Shooting Badges & Tips On How To Master Your Shooting
Date: 10/28/2020 4:27:23 PM
NBA 2K21 Next-Gen is coming up, now is the best time to go over your jumpshot, in this article, we will be showing you the 100% Greenlight custom jumpshot in NBA 2K21 and the Best NBA 2k21 Badges for shooting. Lastly, we are going to talk a bit about 5 ways on how to improve your shooting.
The Best NBA 2K21 Custom Jumpshots -100% Greenlight
Jumpshot #1
Base: Trey Burke
Release 1: Rudy Gay
Release 2: Kevin Duckworth
Animation blending:
Rudy Gay: 51%
Kevin Duckworth: 49%
Analysis:
The cue of the Jumpshot is When your player pulls the ball up right to his face, to the forehead of the player, and right when his wrist to come out, it's right around when you want to release that shot.
Jumpshot #2
Base: Jump Shot 98
Release 1: Release 15
Release 2: Release 26
Animation blending:
Release 15: 60%
Release 26: 40%
Analysis:
With the base 98 is all that matter is for the stats of your Jumpshot, the releases don't do anything except help you know where to time the Jumpshot and it also changes the release or the arch of the shots. So for example, when you had on Shaq, doing a standing shot when you release, you obviously gonna get block more, you gonna get contested more, that is all the releases do, that actually does nothing for your shots, don't make your shot any better or worse at all. Base 98 has 511 milliseconds shots speed, it's timed the fastest shot in the NBA 2K21. but it only has 72% green shot, you gonna be greening less but at the same time, you gonna get contested less, whatever way you choose it, it only depends on your playstyle and how others are playing against you, if people contest you more, you might want to go with a faster shot and give up fewer greens. 80% total make, which is 1.5 different from the green or the total make of the Trey Burke, and it has a 1 millisecond better green window, which is a 30 milliseconds green window.
Both these Jumpshots are great, it really just depends on your play style and more importantly, how good you are able to time the shot.
Best NBA 2K21 Shooting Badges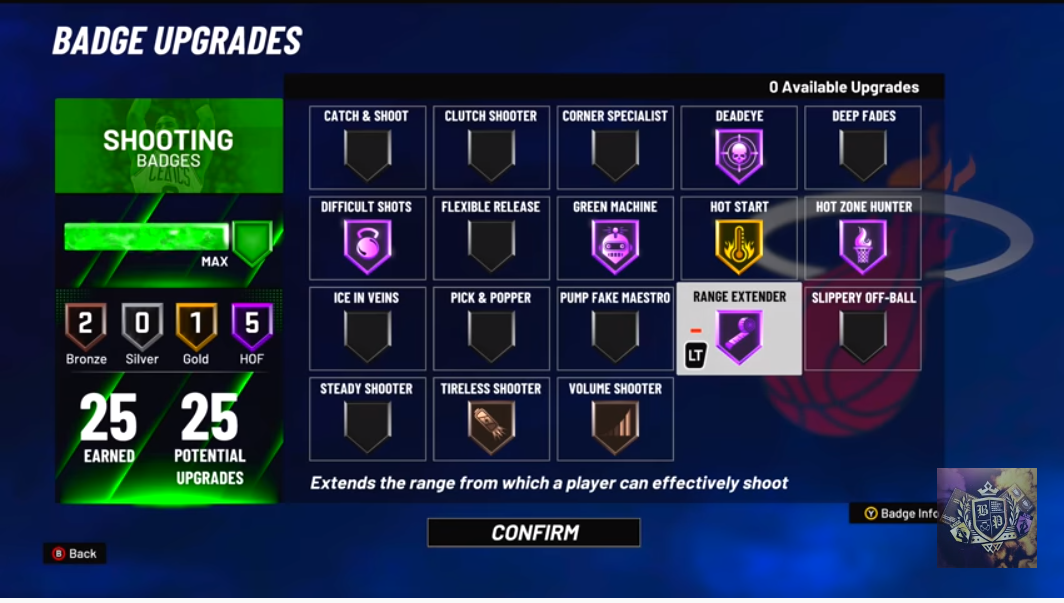 Catch&Shoot

Clutch Shooter

Corner Specialist

Deadeye

Deep Fades

Difficult Shots Flexible Release

Green Machine

Hot Start

Hot Zone Hunter

Ice In Veins

Pick & Popper

Pump Fake Maestro

Range Extender

Slippery Off-Ball

Steady Shooter

Tireless Shooter

Volume Shooter
5 Tips On How To How To Master Your Shooting in NBA 2K21
1.Having a monitor
Having a monitor helps you out tremendously in NBA 2K or in any game in general. But especially on 2K, because as soon as you press that button, you can see your player going into the Jumpshot, so you can release it at the same time. A monitor is very cheap and what it does is when you press square or x to shoot on Xbox or ps4, trying to press the button to go up, when your player goes up at the exact second, then you press it to shot, so you going to have a less millisecond delay, which is going to help you with your Jumpshot a lot. Because having a delay in the game, not only it is going to throw you off, but it's also going to bury you.

2.Never going to a game without the jump shot boost
It cost 115 VC per game if you buy ten out at a time, which you'll be making more per park game, netting profit while having the jump shot boost on, and be better at playing your games, and if you don't have enough VC, buynba2kmt.com can offer you way cheaper VC than the market price with safe transactions, and fast delivery! Click here to place an order.
3.Turn the meter off
You have to learn how to shoot without the meter on and learn cues, as in where to release the Jumpshot so you don't have to look at a meter, try to find out the when is the best time to release it, and it'll give you a much better boost, then having to look at the meter. It can also avoid delays. You probably will be bad at it first, but once you getting used to it, you gonna feel much better.
4.Hot spots
It only takes one or two MyCareer games to get all of your hot spots.
5.Uses the right shooting badges for your play style
For example, if you are only fading away one to two shots a game, don't have it on the hall of fame difficult shots. Or if you are playing on a 3-3 court, and you are just a spot-up, don't waste your difficult shots on this, you can have it on Catch&Shoots, Corner Specialist, or Hot Zone Hunter, etc. In conclusion, don't waste your shooting badges on something you might do.
NBA 2K23 News Guides

NBA 2K22 News Guides

NBA 2K21 News Guides
CONTACT US
TEL (USA) : +1-315-889-1198
TEL (UK) : +44-020-32905838
MSN: [email protected]
QQ: 1498133786