Best Jumpshot in NBA 2K21 - Automatic Greenlight & Custom Jumpshot For Every Archetype
11/6/2020 5:33:13 PM
It's so exciting to hit the perfect jump shot in NBA 2K21. When you get it right, it feels like no effort is needed at all. What is the most overpowered jump shot after the patch in NBA 2K21? How to custom your best NBA 2K21 jumpshot to get 100% greenlights in any position and never miss again? Buynba2k21. Com will showcase you NBA 2K21 best jumpshot for all archetypes.
NBA 2K21 Best Jumpshot – Greenlight & Custom Jumpshot For Any Build in NBA 2K21
1. Automatic Greenlight Jumpshot for Any Build in NBA 2K21
Lower/Base: Jumpshot 98

Upper Release 1: Carmelo Anthony
Upper Release 2: Release 26
Animation Blending: Carmelo Anthony - 60%/ Release 26 – 40%
98 base is a good jump shot base the same as Dwyane Wade in NBA 2K21. By using 98 jump shot is easier to time with it. Try this new best automatic greens jumpshot quickly, you will feel so good and smooth!
2. Best Custom Jumpshot in NBA 2K21 For Every Position, Archetype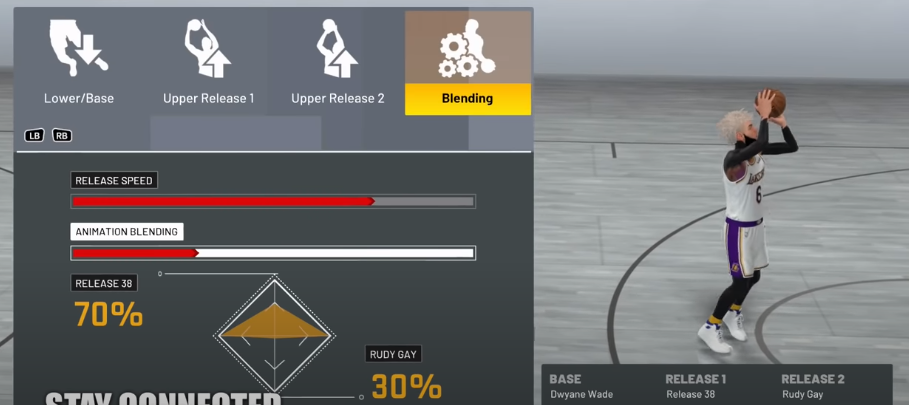 Lower/Base: Dwyane Wade
Upper Release 1: Release 38
Upper Release 2: Rudy Gay
Animation Blending: Release 38 - 70%/ Rudy Gay – 30%
Dwyane Wade as the guard base, one of the best jumpshot base in NBA 2K21. release one is 38 and release two is Rudy Gay. This is the best 2K21 jumpshot for pointed guards. It's very easy to get used to and pretty easy to get green lights.
3. Best & Fastest Jumpshot in NBA 2K21 For Any Build
Lower/Base: Jumpshot 98
Upper Release 1: Paul Pierce
Upper Release 2: Paul George
Animation Blending: Paul Pierce - 50%/ Paul George – 50%
Jumpshot 98 is one of the fastest jumpshot base in NBA 2K21. He is actually a great jumpshot player. In order to make this jumpshot consistently smooth put the animation blending 50% to 50%. Faster release means that your shot is less likely to be blocked. Rudy Gay's shots are rarely blocked, and he has lost his chance before the defender has a chance to shoot. Although it is difficult to determine a very fast release time in video games, the reward is that fewer shots are blocked.
How to unlock custom jump shot in NBA 2k21?
The first thing you need to do is upgrade your player to 85 overall to unlock Jump Shot Creator in MyPlayer APPEARANCE. Within the creator, you can edit your jump content in many ways, including base, upper release, animation blending and release speed.

If you are looking for the most reliable online store to buy NBA 2K21 MT, Buynba2k21mt.com is here offering you the cheap price NBA 2K MT with fast delivery.
CONTACT US
TEL (USA) : +1-315-889-1198
TEL (UK) : +44-020-32905838
MSN: [email protected]
QQ: 1498133786