Home
>>
News
>>
Nba 2K21 Glitch Market Season 6 How To Fast Unlock Glitched Market And Glitched Cards In 2K21

NBA 2K21 Glitch Market Season 6 - How To Fast Unlock Glitched Market And Glitched Cards In 2K21
Date: 4/10/2021 2:28:15 PM
What calls for special attention is that the exciting season 6 has evolved in NBA 2K21, features the themed of glitched reality. In the MyTeam mode came up with a brand new NBA 2K21 season 6 glitched market. Have you seen a lot of people unlock the glitch market? Can You Get That? Here we highlight what is exactly the glitch market in NBA 2K21 season 6, how to unlock the market fast, and what are the best glitched market cards.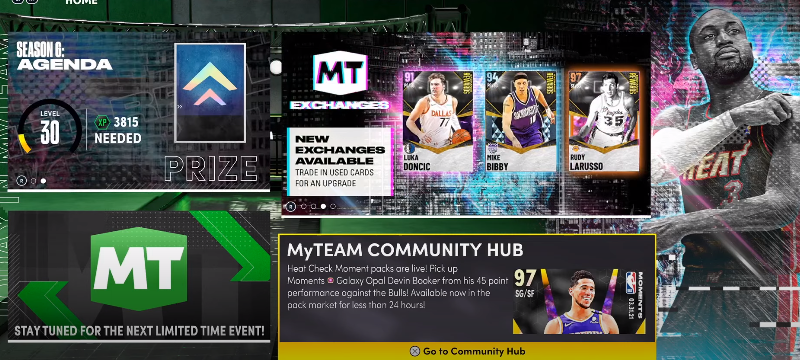 Glitched Market In NBA 2K21 Season 6 - What Is The Glitch Market And How To Open The Glitch Market In 2K21
The reason that why players are desperate to open the glitched market is because there are some really overpowered NBA 2K21 glitched market cards. Meanwhile, the glitch market is a mode where players can their own NBA teams. Once you get into the glitch market, there are also several screens where you can get a diamond shoe, a diamond contract, packs, or a limited amount of tokens. No one can refuse the NBA 2K21 MT and tokens. To unlock the new NBA 2K21 glitch market, there have been different methods people tried, for example, use various lineups, shoot the ball differently, try different Jerseys, or different game modes. Let's say it's so rare to get a dark matter card in the pack market, think about 10 times harder to open the glitch market on NBA 2K21. Next, we are going to detail the best way to open the glitch market, whilst an insane glitch for the glitch market NBA 2K21.
How To Open The Glitch Market In NBA 2K21
Finding the glitch market by playing triple threat online or offline, also you can find the glitch market after games of domination. For players who have over a hundred games in and have yet to find it, we maybe had 30 games in before unlocked that was totally random, started out playing some triple threat online.
NBA 2K21 Insane Glitch To Unlock Glitch Market 100% Working
As stated in the previous paragraph, it's all by chance to open up the glitch market. This NBA 2K21 glitch market glitch was founded by OkoDre. To better your odds, you are not going to play TT offline you're not going to play TT online, even though you could, TT online is the second fastest way to find a glitched market in 2K21.
The best method is getting the most amount of wins you can per minute, and using a full bronze lineup in unlimited. It has to do with the more wins you get, the more of a chance you literally get to open up the glitch market. If you are on current gen, it's a little harder to boost, but you will match up frequently in next gen. The reasons are as follows why to try unlimited rather than TT online. Because in TT online you got to wait for the ball drop and it takes forever, but when you're matching with the buddy he quits, so you get that W right away and the glitch market will literally open for you. Unless you got nobody to boost, TT offline will work. Namely, to better your odds by opening up the NBA 2K21 MyTEAM Glitch Squad by having a friend boost with you and quit for you.
Best NBA 2K21 Glitched Market Cards Rewards
Tyronn Lue - 79 - PG/SG - 6'0''
79 rated Tyronn Lue is the new gold in the glitch market that everybody likes. On the one hand, he is the best gold glitch card in NBA 2K21. He's got wonderful badges, excellent in finishing, shooting and playmaking. He has no defense badges whatsoever, after all, he is gold who can't do everything. With 86 three ball, 92 speed with ball, 96 ball handle, 92 speed, 92 acceleration, 95 stamina, and 87 lateral. He also has good tendencies for gold, jump shot 22 on very quick as well as curry slide on quick. Above all, he is very solid for a gold card. On the other hand, in the season agendas, infers him is a gold guard.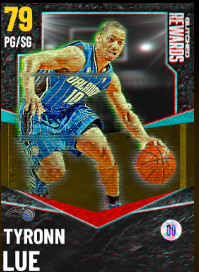 Tacko Fall - 99 - C - 7'5''
Tacko Fall is a dark matter, a 7'5'' center with Phil Jackson's coach. He has 98 standing dunk, 90 driving dunk, 97 strength, 97 stamina, 97 interior defense, 99 block, 98 offensive rebound and 98 defensive rebound. He's got Consistent Finisher(HOF), Hot Zone Hunter(HOF), Ice In Veins(HOF), Unpluckable(Gold), and every defensive badge you need. This is another great glitched market card 2K21 with an excellent defense that players are excited to get.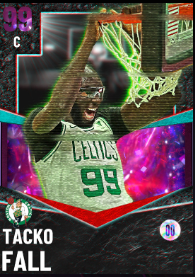 OG Anunoby - 96 - PF/SF - 6'8''
He is overpowered diamond in NBA 2K21 glitch market season 6. He has a super quick jumper with very quick timing, and the curry slide. Both his release and handle are good. He's got 93 three ball, 90 driving layup, 90 driving dunk, 89 speed with ball, 94 speed, 94 acceleration, 95 perimeter defense and 96 lateral quickness. Badges including Showtime(HOF), Catch And Shoot(HOF), Hot Zone hunter(GOLD), Range Extender(GOLD), Unpluckable(GOLD), Clamps(HOF) and Intimidator(HOF). This is definitely one of the NBA 2K1 best glitched market cards.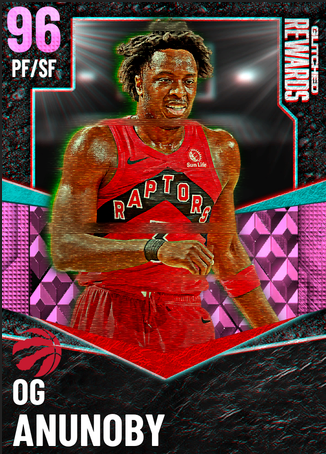 Frank Ntilikina - 96 - PG/SG - 6'6''
Frank Ntilikina is a defensive guard who has nice badges Catch And Shoot(HOF), Hot Zone Hunter(Gold), Range Extender(GOLD), Clamp(HOF), Interceptor(HOF), Intimidator(HOF). He also has a good jumper with jump shot 4 on quick, shifty dribble style and the curry slide which will help you out. With 89 three ball, 88 driving layup, 93 speed, 95 perimeter defense, 96 lateral quickness and 96 steal makes he an unstoppable pink diamond n the NBA 2K1 glitched market.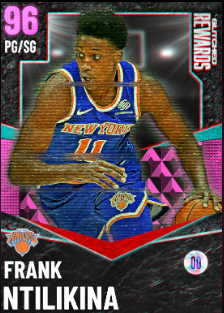 Myles Turner - 96 - C/PF - 4'1''
Myles Turner is a really good tow way big. What's more, he is a good shooter and good defender who has very quick timing on his exclusive jump shot 71. He is got 92 three ball, 90 standing dunk, 94 strength, 95 stamina, 95 interior defense, 89 perimeter defensive, 97 block, 93 offensive rebound and 98 defensive rebound. He carries Clamps(HOF) and Range Extender(HOF).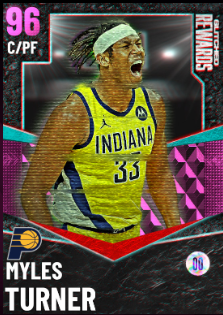 Read more:
NBA 2K21 MyTEAM Token Market (Season 7) - Are New HOF Badges Worth Getting In 2K21 Token Market?
NBA 2K21 MyTEAM Season 7 Full Throttle Guide - Which Are The Best Free Season 7 Cards In 2K21 MyTEAM
Top 5 NBA 2K21 Next Gen Best Builds - Best Guard Build, Spot Up Build, Center Build & More NBA 2K21!
NBA 2K21 Best Jumpshot For All Builds - Fastest Greenlight Jumpshots & Best Shooting Badges In 2K21
Now you can see all the reasons why players want to open 2k21 glitched markets, with so many great glitched market cards are waiting for you to unlock. If you ever need to buy NBA 2K21 MT coins or NBA 2K22 MT coins, buynba2kmt.com is always the best place.
NBA 2K23 News Guides

NBA 2K22 News Guides

NBA 2K21 News Guides
CONTACT US
TEL (USA) : +1-315-889-1198
TEL (UK) : +44-020-32905838
MSN: [email protected]
QQ: 1498133786