NBA 2K23 Next Gen Power Forward Build - Best PF Build in 2K23 MyPlayer and MyCareer
Date: 9/9/2022 3:10:05 PM
Starting the 2K23 MyPlayer creator, you can make any position as you like, but power forward is really effective. In this guide, we found the NBA 2K23 best power forward build next-gen, which is one of the most overpowered all-around builds in MyPlayer and MyCareer.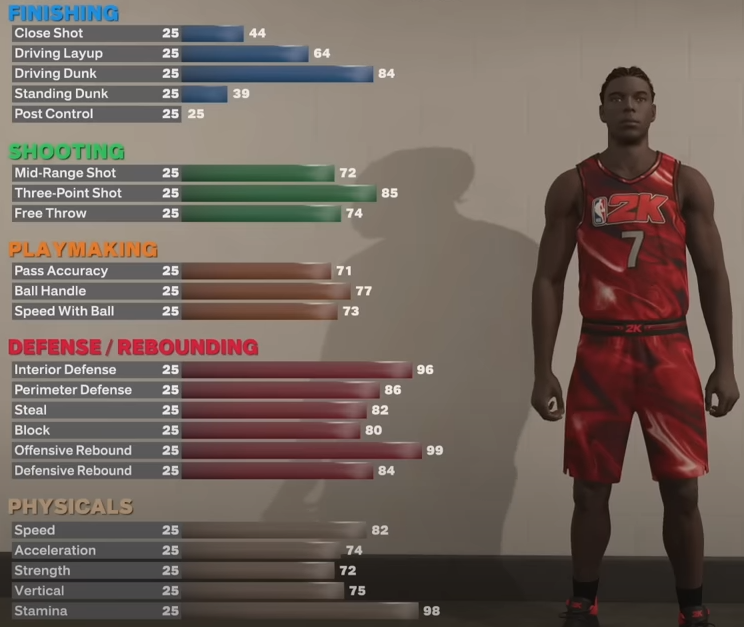 NBA 2K23 Next Gen Power Forward Build - Best PF Build in 2K23 MyPlayer and MyCareer
Check out the breakdown of NBA 2K23 best PF build next gen by Power DF. Looking at the key attributes, finishing is the relatively weak category for this PF build. Make your driving dunk all the way to 84, this is where you can unlock pro contact dunks. Then for shooting, upgrade your three-point shot to 85, which is the key thing for silver limitless. Moving on to playmaking, the ball handle can be 77, if all you need is pro dribble moves in this game, a 75 ball handle is enough. Next, put the interior defense all the way up to 96, it gives a gold brick wall, and 86 perimeter defense is good, that's the limit for gold clamps. By upgrading offensive rebound all the way, you can unlock Hall of Fame rebound chaser. 82 speed is fast, max out the celebration to 74, 72 strength should be decent, and make the vertical up to 75. An important thing you need to know is there's no +4 in 2K23, so when you go to 99 overall as making builds in the MyCAREER builder, what you see is really what you get.
Body Settings
Height: 6'8"
Weight: 240 lbs
Wingspan: 7'3"
Potential Attributes
- Finishing: Close Shot 44, Driving Layup 64, Driving Dunk 84, Standing Dunk 39, Post Control 25
- Shooting: Mid-Range Shot 72, Three-Point Shot 85, Free Throw 74
- Playmaking: Pass Accuracy 71, Ball Handle 77, Speed With Ball 73
- Defense/Rebounding: Interior Defense 96, Perimeter Defense 86, Steal 82, Block 80, Offensive Rebound 99, Defensive Rebound 84
- Physicals: Speed 82, Acceleration 74, Strength 72, Vertical 75, Stamina 98
Takeovers
- Primary: Spot-Up Precision
- Secondary: Paint Intimidation
Badges
Below we list the best badges for this PF build on 2K23 next-gen, including each tier badges and core badges for all categories.
1. Finishing badges (8 points)
- Tier 1: Acrobat (Bronze), Backdown Punisher (Bronze), Dream Shake (Bronze), Dropstepper (Bronze), Giant Slayer (Bronze) - Core, Post Spin Technician (Bronze), Pro Touch (Bronze), Rise Up (Bronze)
2. Shooting badges (19 points)
- Tier 1: Amped (Bronze), Space Creator (Bronze), Claymore (Gold)
- Tier 2: Green Machine (Bronze), Guard Up (Gold)
- Tier 3: Catch & Shoot (Gold) - Core, Limitless Range (Silver)
3. Playmaking badges (15 points)
- Tier 1: Dimer (Silver), Hyperdrive (Bronze)
- Tier 2: Ball Out (Bronze), Quick First Step (Silver)
- Tier 3: Handles For Days (Bronze), Unpluckable (Bronze) - Core
4. Defensive badges (29 points)
- Tier 1: Ankle Braces (Bronze), Boxout Beast (Bronze), Menace (Bronze), Brick Wall (Gold), Post Lockdown (Bronze)
- Tier 2: Interceptor (Silver), Chase Down Artist (Gold)
- Tier 3: Challenger (Gold), Clamps (Silver), Rebound Chaser (HOF) - Core
More NBA 2K23 builds guide and MyTEAM news, as well as cheap NBA MT are also provided here.
NBA 2K23 News Guides

NBA 2K22 News Guides

NBA 2K21 News Guides
CONTACT US
TEL (USA) : +1-315-889-1198
TEL (UK) : +44-020-32905838
MSN: [email protected]
QQ: 1498133786