Home
>>
News
>>
Nba 2K23 Best Animations Next Current Gen Best Dribble Moves Fastest Jumpshot And More

NBA 2K23 Best Animations (Next & Current Gen): Best Dribble Moves, Fastest Jumpshot and More
Date: 9/9/2022 11:11:38 AM
NBA 2K23 officially kicks off today, have you entered the game? When talking about the most popular things, we are going to bring you NBA 2K23 best animations next and current gen that features dribble moves, jumpshots, dunks, post, and other animations.
NBA 2K23 Best Jumpshot Animations - Top 3 Fastest Jumpshots for Every Height
In the new custom jumpshot of NBA 2K23, all of the number bases are now gone, and a lot of jumpshots for the player names are either slowed down or removed. Then how to create the best jumpshot for current and next-gen? Take a look at the Jinsanity's top 3 fastest NBA 2K23 jumpshots for different builds or heights, with the best jump shot bases and releases.
NBA 2K23 Best Jumpshot for 6'4" & Under
De'Aaron Fox is by far one of the fastest bases out of all options based on the height, the top five bases you can consider are De'Aaron Fox, Derrick Rose, Russell Westbrook, Cole Anthony, and Kelsey Plum. Darius Garland is the fastest release and the easiest release of time, John Wall and Coby White are followed by Darius Garland for the top three releases.
Lower/Base: De'Aaron Fox
Upper Releases: Darius Garland, John Wall, Coby White
NBA 2K23 Best Jumpshot for 6'5" to 6'9"
Six foot nine would be one of the best heights for a build. Kyle Kuzma is the fastest base for that height restriction, so if your player is between six foot five and six foot nine, definitely pick Kyle Kuzma as your lower base. Terance Mann is another fast base and a smooth jump shot, and it is easy to green. For the releases, Kyle Kuzma and Ziaire Williams are the top two releases for players who are 6'5" to 6'9". Ziaire Williams is slightly faster than Kyle Kuzma, and another good release is Marquese Chriss.
Lower/Base: Kyle Kuzma
Upper Release 1: Kyle Kuzma
Animation Blending: 40
Upper Release 2: Ziaire Williams
NBA 2K23 Best Jumpshot for 6'10" & Higher
Christian Wood is going to have a good release this year and LaMarcus Aldridge is gonna be your upper release, it has been a top release for many years and is only available when you're tall enough, so it is not available for guards, if you're building a 6'10" player, you should put on Aldridge.
Lower/Base: Christian Wood
Upper Release 1: LaMarcus Aldridge
NBA 2K23 Best Dribble Moves & Animations
Then we'll look into some best dribble animations and sigs for 2K23.
- Dribble Style: Michael Jordan
- Passing Style: Lamelo Ball
- Signature Size-Up: Steve Francis
- Size-Up Escape Package: Trae Young
- Moving Crossover: James Harden
- Moving Behind the Back: Stephen Curry
- Moving Stepback: Normal
- Moving Spin: Jimmy Butler
- Moving Hesitation: Normal
- Triple Threat Style: Michael Jordan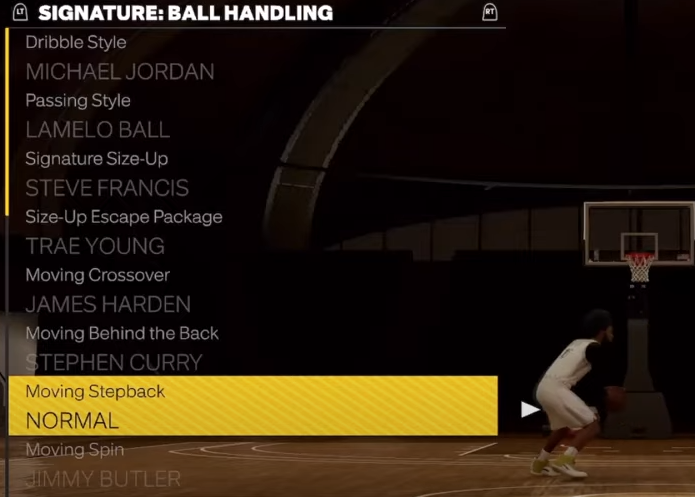 More NBA 2K23 Animations
- Layup Package: Default Swing
- Go-To Dunk Package: Athletic Front Tomahawks
- Dunk Package 2: Athletic One-Handers Off Two
- Dunk Package 3: Basic One-Handers Off Two
- Dunk Package 4: Under Basket Athletic Flushes
- Dunk Package 5: Athletic One-Handers Off One
- Dunk Package 6: Rim Grazers Off One
- Dunk Package 7: Reverses Off Two
- Post Fade: Pro 2
- Post Hook: Normal
- Post Hop Shot: Pro
- Post Spin Shot: Small
- Free Throw: Free Throw 25
- Dribble Pull-Up: Trae Young
- Spin Jumper: Stephen Curry
Buynba2kmt.com is a safe and fast place to buy NBA 2K23 MT for sale, whether you play on PC, PS4, PS5, Xbox One, Xbox Series, or Switch.
NBA 2K23 News Guides

NBA 2K22 News Guides

NBA 2K21 News Guides
CONTACT US
TEL (USA) : +1-315-889-1198
TEL (UK) : +44-020-32905838
MSN: [email protected]
QQ: 1498133786