NBA 2K23 2-Way 3-Level Playmaker - Best Playmaker Build in 2K23 Next & Current Gen
Date: 11/25/2022 2:18:49 PM
In this article, we are going to introduce an NBA 2K23 2-Way 3-Level playmaker build to you, it is a very versatile and dominant build on both next-gen and current-gen.
NBA 2K23 2-Way 3-Level Playmaker - Best Playmaker Build in 2K23 Next & Current Gen
If you want to build a beast that is competitive in Park, Rec, and Pro-Am, it is worth testing this NBA 2K23 2-way 3-level build by Uncle Demi.

Body Settings
You want to go power forward for this two-way three-level build, it does not matter if you are left or right hand, for height, you want to go down to six foot eight to get the 75 speed with ball, that is going to give you the Michael Jordan dribble style, which you want to have. Then drop the weight all the way down to 210 and max your wingspan.
- Weight: 6'8"
- Weight: 210 lbs
- Wingspan: 7'6"
- Body Shape: Defined
Attributes Potential
Speaking of the build attributes, go 85 on the close shot for the Fast Twitch on gold, which is a really good badge, and you also have the gold Fearless Finisher and gold Masher as a tier 2 badge. Then put a driving layup on 82, which gives you every single layup package possible except for Michael Jordan, and a driving dunk on 86 as that will give your gold Limitless Takeoff, finally, you'll have 16 finishing badge points to work with. Next, on shooting, you want to go 80 on mid-range and 82 on a three-point shot, then get the free throw to 76, this will give you 20 badge points. For playmaking, max out the ball handle, then get the pass accuracy to 86, you do have 23 badge points for this category. Moving to defensive, you want to go with 87 perimeter defense, which gives you the two-way build, and 87 on block, 85 on the steal. Finally, you want to max out the acceleration and get your vertical to 75.
- Finishing: Close Shot 85, Driving Layup 82, Driving Dunk 86, Standing Dunk 41, Post Control 25
- Shooting: Mid-Range Shot 80, Three-Point Shot 82, Free Throw 76
- Playmaking: Pass Accuracy 86, Ball Handle 89, Speed With Ball 75
- Defense/Rebounding: Interior Defense 75, Perimeter Defense 87, Steal 85, Block 87, Offensive Rebound 25, Defensive Rebound 45
- Physicals: Speed 75, Acceleration 78, Strength 53, Vertical 75, Stamina 90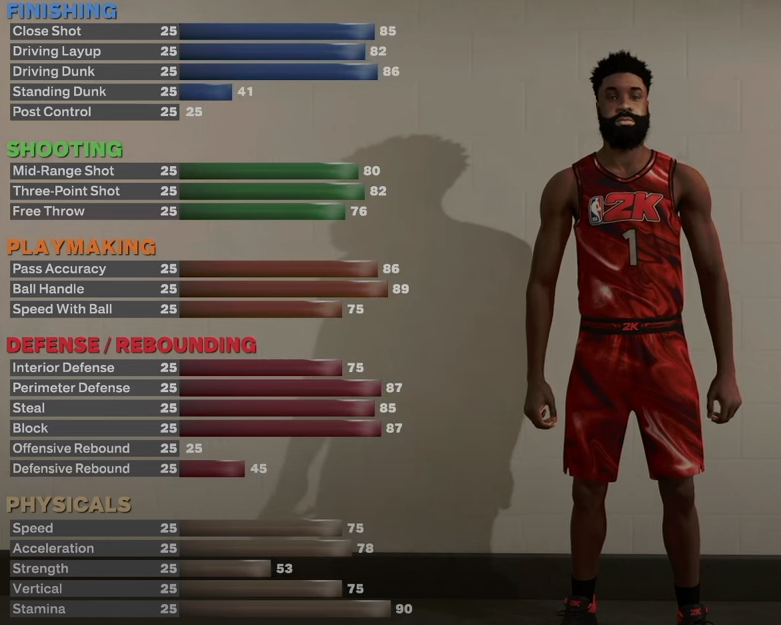 Takeovers
- Primary: Limitless Range
- Secondary: Limitless Range
Badges
1. Finishing badges:
Tier 2: Fast Twitch (Gold), Fearless Finisher (Gold
Tier 3: Limitless Takeoff (Silver), Posterizer (core)
2. Shooting badges:
Tier 1: Amped (Gold), Volume Shooter (HOF)
Tier 2: Agent 3 (Bronze), Green Machine (Gold)
Tier 3: Limitless Range (Bronze), Blinders (core)
3. Playmaking badges:
Tier 1: Hyperdrive (Bronze)
Tier 2: Bail Out (Bronze), Quick First Step (HOF)
Tier 3: Clamp Breaker (Gold), Handles For Days (Silver), Unpluckable (core)
4. Defense/Rebounding badges:
Tier 1: Menace (Bronze), Work Horse (Bronze)
Tier 2: Chase Down Artist (Gold), Glove (Bronze)
Tier 3: Anchor (Silver), Clamps (core)
You can also take part in themed events in NBA 2K23 MyTEAM for earning 2K MT and free cards.
NBA 2K24 News Guides

NBA 2K23 News Guides

NBA 2K22 News Guides

NBA 2K21 News Guides
CONTACT US
TEL (USA) : +1-315-889-1198
TEL (UK) : +44-020-32905838
MSN: [email protected]
QQ: 1498133786