Home
>>
News
>>
Nba 2K23 Best Finishing Badges Next Gen Current Gen Finishing Badges Tier List In 2K23

NBA 2K23 Best Finishing Badges Next Gen & Current Gen - Finishing Badges Tier List in 2K23
Date: 2/21/2023 4:01:09 PM
What are the best badges to equip for your build in NBA 2K23? Now follow us to take a look at some of the best finishing badges ranked for next gen and current gen.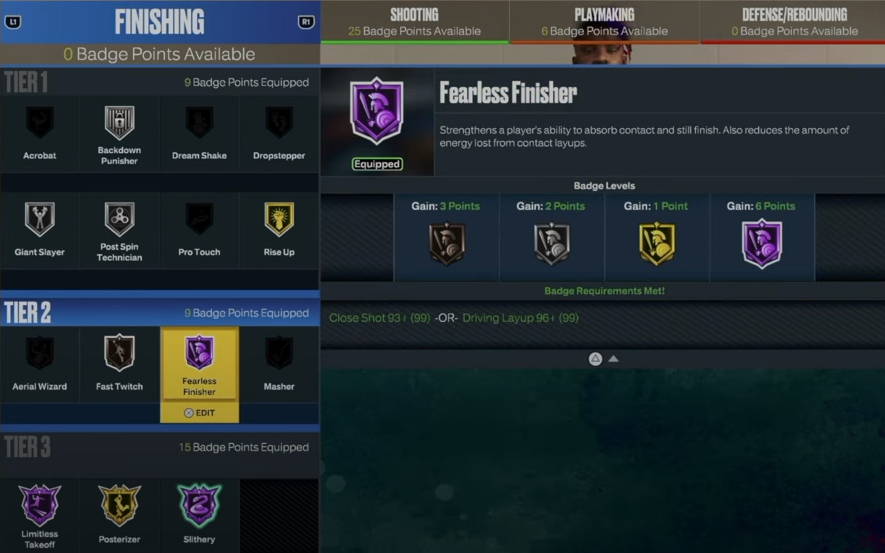 NBA 2K23 Best Finishing Badges Next Gen & Current Gen - Finishing Badges Tier List in 2K23
Below is a NBA 2K23 finishing badges tier list by Uncle Demi. S tier finishing badges are what you need to have first, A tier badges are also really good, and then for B tier badges, you are not gonna go any lower than that. However, the final tier does not mean the definite best and worst finishing badges in NBA 2K23, but based on the position and builds you are playing.
S Tier: Slithery, Limitless Takeoff, Fearless Finisher
- Slithery: it increases your ability to slide through traffic and protect the ball from being stolen, also avoid contact during gathers and finishers at the rim, this is an overpowered badge, whatever you got, you need to equip it.
- Limitless Takeoff:this is definitely an S-tier badge in 2K23, you can just jump from the free throw line consistently after just two dribbles you don't even need any momentum you can just take it up and go, this is a badge you definitely want, make sure you have it as high as you can.
- Fearless Finisher: it strengthens the player's ability to absorb contact and still finish, also reduces the amount of energy lost from contact layups, it is going to help you get those layups, it's very op, it works so well with Slithery, Limitless and Posterizer. You can top it off with Fast Twitch and Rise Up, then you're unstoppable.
A Tier: Posterizer, Rise Up, Fast Twitch
- Posterizer: it is a good badge, it opens up the green window, you get more contact dunks by just pressing Square, then actually trying to initiate with your pro stick.
- Rise Up: this is a really strong badge that you want to have, especially if you are a center, get Rise Up equipped, whatever it is at, it is going to be very valuable. But if you are can get it on Gold or Hall of Fame, you can tell a massive difference of how much you are gonna get and how often you get contact dunks.
- Fast Twitch: the good thing about this badge is that you get a lot of opportunities especially as a taller build, if you're shorter like six foot one or six foot two guard, this is not most important badge that you want to be trying to look at, you want to stick with Fearless Finisher, Slithery and Giant Slayer.
B Tier: Giant Slayer, Post Spin Technician
- Giant Slayer: The first one we are going to talk about is going to be Giant Slayer, if you are short, this is actually an S-tier finishing badge, most of your builds are tall, for this to be truly effective, you do need to be shorter. If you are six foot nine, you really don't need this badge, that's the reason why it's a B tier for taller players. If you are smaller guards like six foot one, you want to go with this.
- Post Spin Technician: The next one is going to be Post Spin Technician, the reason why it's only a B tier here is because as a six nine player like a Michael Jordan build, if you're working the post, you always want to try to get this as high as you possibly can, and that's what makes B here, these b-tier badges could be S tier or A tier automatically and that's what makes them in the B because it's about what position you're playing and what build you're using. Post Spin Technician is good if you have post control at all, at least put it on Silver, because you're going to be going against a guard.
- Backdown Punisher: The last one in the B-tier is Backdown Punisher, again, if you work in the post, it's good.
NBA 2K24 News Guides

NBA 2K23 News Guides

NBA 2K22 News Guides

NBA 2K21 News Guides
CONTACT US
TEL (USA) : +1-315-889-1198
TEL (UK) : +44-020-32905838
MSN: [email protected]
QQ: 1498133786