NBA 2K23 Season 5 Rewards Guide: Release Date, Level 40 Rewards & Changes
Date: 2/20/2023 10:48:07 AM
NBA 2K23's newest patch 5 just changed everything, from lowering the chances that you get a green on contested shots to potentially increasing the chances you make a white in close game situations. It's a whole new ball game now, the question is will these changes improve the overall gameplay experience and bring people back for season 5, or will it bring an end to 2K? Today, we mainly talk about NBA 2K23 season 5 rewards, level 40 prizes, and new changes.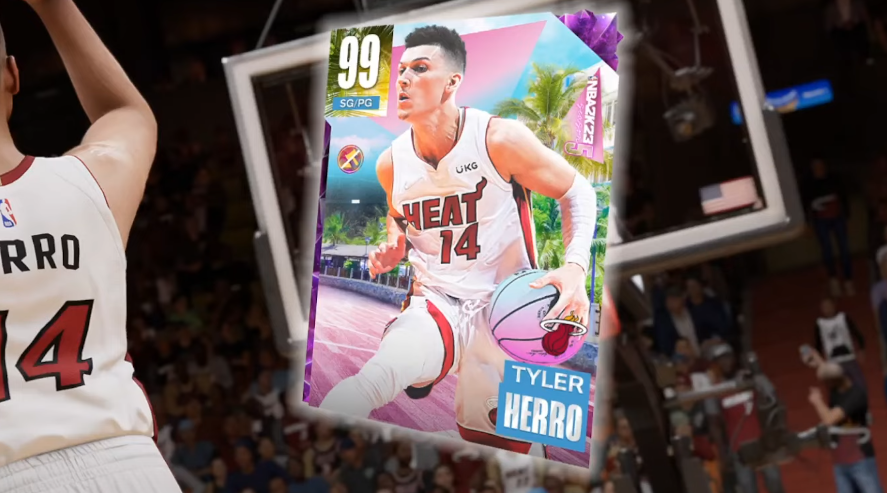 NBA 2K23 Season 5 Release Date
NBA 2K23 season 5 update comes out on February 24, at 8AM PT/11AM ET/4PM BST. 2K decided to switch things up right before season 5 came out now.
NBA 2K23 Season 5 Level 40 Rewards
MyCAREER
There are several vehicles to choose from in NBA 2K23; the newest addition is the Pocket Bike. Make quick work of navigating the streets of The City or the G.O.A.T. Boat on your Level 40 Pocket Bike. Play a game of tag with your pals that feel like you're racing along South Beach.
MyTEAM
Our cover athlete, Tyler Herro, has reached the pinnacle of NBA 2K23's MyTEAM season 5 rewards as a level 40 player. The first 2K23 level 40 reward to receive a perfect score of 99, this Dark Matter variant features increased power and durability. You need to be able to not only match up with MyTEAM's top players but also direct your finest offensive units.
NBA 2K23 Season 5 Series 2 Cards
NBA 2K23 Series 2 is about to begin! Friday's Season premiere party marks the first public appearance of this collection. The NBA as it is right now is reflected in these cards, complete with player ratings and the most recent roster changes since the league's extremely busy trade deadline a few weeks ago. You can now add the current NBA's finest to your lineups with to this collection of strong Galaxy Opals featuring NBA superstars.
Most of the '23 NBA: Series 2 cards will be accessible via the Pack Market and tradable in the Auction House, just like prior years' cards in MyTEAM. After you complete each set, you'll unlock 30 additional Pink Diamond Collection Complete Prizes, each of which features a different active player from that franchise. As of this Friday's update, top card collectors in the community will have access to two more Dark Matter prize players and a total of over 400 new cards, allowing them to unlock 10 new collector levels.
NBA 2K23 Season 5 Dominitaion Rewards
You may get one card from every '23 NBA: Series 2 collection by reaching the new Domination level. Here your squad will face off against all 30 of the active NBA clubs, all of which have newer Series 2 cards to use in the game. Win by the specified margin against each team, playing at maximum difficulty. If you do, you'll get the special Domination player card included in every Series 2 box. Those who are a part of the MyTEAM community will be able to take advantage of the many benefits offered by the new Domination tier. Also, this new Series 2 Domination tier may be competed in without having unlocked the previously available levels.
More NBA 2K23 Season 5 Rewards
Each mode in Season 5 will have brand-new and incredible rewards for players, and there will be a new Domination tier overall. Try your luck in MyTEAM's Triple Threat, Unlimited, Limited, Clutch Time, and Draft modes to win Galactic Opals and access to goodies that are only available in that specific game modes. Also, throughout the first half of Season 5, additional awards will be added to The Vault, Wheel Spins, and Triple Threat Online Ball Drops. Don't miss out on the season's mid-season revivings. Not only will these legendary player cards return, but so will brand new player reward cards, which may be earned directly in Season Levels and at the pinnacle of the Season Ascension chart.
In the last season, Limited has seen a radical transformation, transitioning from a weekend-only option to a weekday-only one. It will remain thus in Season 5, with six Championship Rings to acquire each week as prizes for adhering to the various lineup and competition specifications. In keeping with the retro vibe of this season, Limited will also be hosting its first ever historic period rulesets. Multiplayer games will use the same historically-based rules, presentation, and gameplay as select Domination and Challenge games, as well as the Jordan Challenge and MyNBA Eras, excluding the full-screen effects. This season, look for Limited to encourage a more active and flexible style of play.
NBA 2K23 Season 5 Events
With the return of the 2-week events, the focus will shift back to unlocking new modes, collecting the '23 NBA: Series 2 players, and completing new Agendas, Challenges, and more as Season 5 kicks off.
NBA 2K23 Season 5 Changes
With this patch, 2K addresses a number of quality-of-life improvements in season 5 NBA 2K23 such as fixing issues with not being able to access your phone, increasing the amount of VC you get from Rec and Pro-Am, improving the overall performance of the city, and all good improvements that we love to see. But there was one patch note that stood out to everybody more than all the others and that was adjusting the shooting model to reduce the frequency of made low-percentage shots and missed high-percentage shots which people began to interpret that as less contested greens and contested whites.
We will keep updating more news about NBA 2K23 season 5 rewards. Stay tuned on Buynba2kmt.com! If you need to buy NBA 2K23 MT, we have the best offer.

NBA 2K24 News Guides

NBA 2K23 News Guides

NBA 2K22 News Guides

NBA 2K21 News Guides
CONTACT US
TEL (USA) : +1-315-889-1198
TEL (UK) : +44-020-32905838
MSN: [email protected]
QQ: 1498133786