Fastest Way to Get 99 Overall in NBA 2K22 - How to Get MyPoints & Badges Fast in 2K22
Date: 9/17/2021 2:11:44 PM
If you keep grinding XP through various games, you can reach 99 overall at some time in NBA 2K22. But in order to make the progression quicker, here is the fastest way to get 99 overall in NBA 2K22, which is helpful to max out your MyPoints and badges in a short time.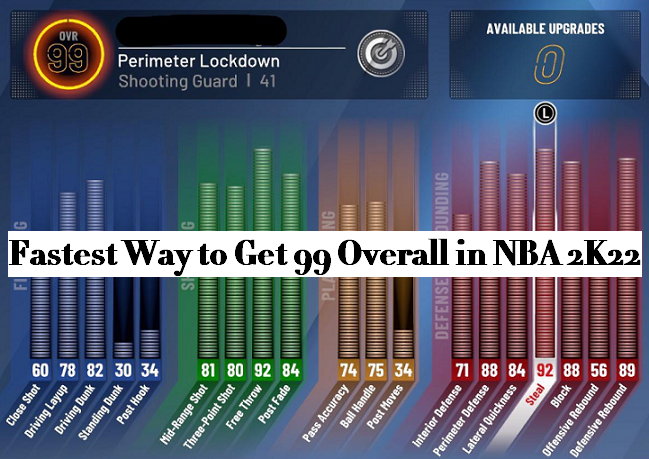 Related Read: NBA 2K22 Next Gen & Current Gen Best Jumpshot
Fastest Way to Get 99 Overall in NBA 2K22 - How to Get MyPoints & Badges Fast in 2K22
How to increase your MyPoints and how to get 99 overall fast?
1. Settings
Before you start a game in MyCAREER, make sure your Settings are optimal. Open the Options/Quit in the main menu and choose SETTINGS. Game Difficulty matters much for earning NBA 2K22 MyPoints, the higher the difficulty, the more XP and progression each game. You can start off on Pro, this is just the easiest way to do it and not stressful, but if you want to get MyPoints as fast as possible, put it on Hall of Fame. Then, change your Quarter Length to 12 minutes.
2. Finishing
What you can do is to take simple screens and find creative ways to score, such as euro step, contact dunks, and more. The more variations of these things you do, the more XP you can get. Every single thing that you do gives you different MyPoints values, if you do the same thing too many times, you'll stop getting that number of XP, so it's important to mix it up and change the way you score.
3. Shooting
Shooting is not just assembling pick and roll, it's pick and roll from inside the three-point line, for whatever reason, when you go inside of the 3PT line, the AI doesn't hedge. 2K Sports did a good job of upgrading their AI this year to where you can't just abuse them, stop it, set the screen wide open, throw a three-point easy green. This is a simple and efficient way to get lots of threes, the AI actually plays really good defenses.
4. Playmaking
Simply boils down to throwing easy lobs when they're there, when it comes to the finishing lobs, you want to do a mixture of flashy passes, lobs, regular assist pass to assist all that stuff. Make sure that you're mixing it up no matter what you're doing, whether it's shooting, playmaking, or defending.
5. Defensive
Put it in a full-court press, run around and swing and do your best to go for steals, blocks, and good contest, it's going to speed up the other team and get you more offensive possessions, so you can get your badges there quicker, it's one of those things where it's like a win-win, you're not only ranking up your defense, but you're also putting yourself in a position to get more offensive possessions.
Also, buy cheap NBA 2K22 MT here can save your time of farming it.
NBA 2K24 News Guides

NBA 2K23 News Guides

NBA 2K22 News Guides

NBA 2K21 News Guides
CONTACT US
TEL (USA) : +1-315-889-1198
TEL (UK) : +44-020-32905838
MSN: [email protected]
QQ: 1498133786