Home
>>
News
>>
Top 10 Nba 2K22 Best Budget Card Cheap Most Overpowered Cards On 2K22 Myteam Under 5K

Top 10 NBA 2K22 Best Budget Card - Cheap & Most Overpowered Cards On 2K22 MyTEAM Under 5K
Date: 9/18/2021 4:22:28 PM
Competing with the best teams becomes very impossible in NBA 2K22 if you don't have a team with a majority of the most overpowered players. Nowadays, everyone likes to use the cheap and most overpowered cards in NBA 2K22. Today, we are going to list the top 10 best budget NBA 2K22 MyTEAM cards that are under 5k MT or less.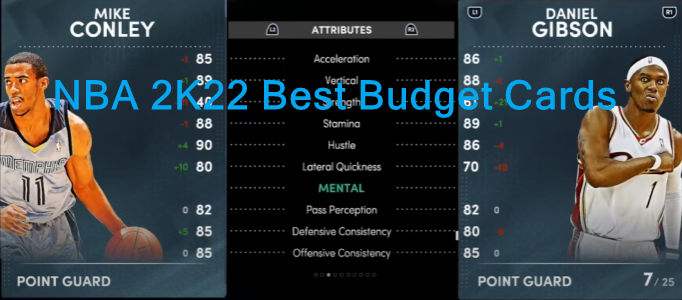 Top 10 NBA 2K22 Best Budget Card - Cheap & Most Overpowered Cards On 2K22 MyTEAM Under 5K
Amethyst, diamond, ruby, sapphire, even some pink diamonds are considered budget cards in NBA 2K22. Instead of grinding for millions of NBA 2K22 MT to spend on getting god-tier players to complete Triple Threat or Unlimited, there are the most overpowered 2K22 cheap players you can grad for reasonable amounts of MT. Everyone talks about Artis Gilmore as an absolute god in NBA 2K22. Is he really an unbelievable player just like people said? If you are on a budget, we will recommend someone who is cheaper but still a solid player just like him.
Thanks to DBG, below is the list of the top 10 best cheap cards in NBA 2K22 MyTEAM
Top 10 Best Cheap NBA 2K22 MyTEAM Card
Lauri Markkanen - PF/C - 7'0''- 7'0'' - 240 lbs
Lauri Markkanen is a seven-foot-tall ruby shooter. He's got corner specialist, difficult shots, rhythm shooter, set shooter, hot zone hunter, as well as a couple of good shooting badges. He will block the occasional shot just because he's tall. Moreover, he's got a really good mid-range, nice post hook and a good post fade away. Actually, the post-game has been underrated this year. He's got no real block, but his strength is 81 which is okay. If you're just looking for a shooting big man, there are not that many NBA 2K22 budget cards that do much better than Lauri Markkanen.
Jo Jo White - PG/SG - 6'3''- 6'5'' - 190 lbs
Jojo is one of the best cards in NBA 2K22 that is without question comparable to Kyrie Irving. He's 6k MT right now. With Jojo White, you've only got 4 silver badges, but he has a lot of good bronze badges, including pickpocket, pick dodger, circus threes, limitless spot up, chef, quick first step, stop & go, stop & pop. He is 6'3'' and has Paul George bass, 85 mid range, 84 three-ball, 89 ball handle, 89 perimeter defense, 70 interior defense, 88 speed and 85 lateral quickness. He's got a good enough driving dunk that allows him to dunk. He is a no-brainer to pick up.
Mike Conley - PG/SG - 6'1''- 6'5'' - 175 lbs
If you're looking at some of the best cheap 2K22 cards that are point guards, Mike Conley is a really good option. Mike Conley is a solid 6'1'' point guard with a decent wingspan. What you're getting with Conley is you're getting 8 silvers including pick dodger, lucky #7, bailout. 19 bronzes including catch and shoot, glue hands, clamps, downhill and quick first step. In addition, he's got base 22 which is a good release. With decent three ball, decent ball handle, good perimeter defense, good speed and great lateral, but without a great driving dunk.
Anthony Edwards - SF/SG - 6'5''- 6'9'' - 225 lbs
Anthony Edwards is a 6'5'' point guard or small forward who has a decent posterizer badge. He's not going to be dropping the ball with silver glue hands against. He's a bronze mismatch expert, it's only on bronze but still, he can shoot some crazy shots. He's got a 79 three-ball, therefore he'll hit when he's wide open. He's got 86 lateral, not the greatest but he's a really good budget NBA 2K22 card that cost only 1k mt.
Michael Porter JR. - PF - 6'10''- 7'0'' - 218 lbs
For Michael Porter JR, you're getting a 6'10'' power forward who can shoot. He has 6 gold badges including catch & shoot, corner specialist, set shooter, hot zone hunter, volume shooter and slippery off ball. At the same time, he has a good release. With, 85 three-ball, 80 driving dunk, 80 speed, 75 lateral quickness is so good for a power forward.
Cade Cunningham - SG/SF - 6'8'' - 7'1'' - 220 lbs
Cade Cunningham is a 6'8'' shooting guard/small forward, as well as one of the tallest two guards in the game. He's got the 4 gold badges, including catch and shoots. His release is good but not the greatest. He's got difficult shots, acrobat, tear dropper and dimer. Most importantly, he has bronze glue hands. He has 81 three-ball, 80 driving dunks, 86 ball handles, 75 perimeter defense, 83 speed, 83 speed with the ball, 83 acceleration, and 80 lateral quickness. His stats overall are good, in fact, he's 6'8'' which is the big thing with him.
Jalen Green - SG/SF - 6'6''- 7'0'' - 175 lbs
With Jalen Green, you've just got the fastest and the best shooter in NBA 2K22. Even though his rating is only 80, he's one of the best catch and shoot players in the game. He has 85 driving dunk, 77 ball handle, 88 speed, and 77 lateral quickness which is still pretty good on defense. He has 10 badges on silver including mismatch expert, sniper, green machine, hot zone hunter and limitless takeoff, the slippery off ball is the only badge he has on gold. By the way, Jalen Green has the worst stats but he just plays the best in-game. Which makes him the most overpowered budget NBA 2K22 MyTEAM cards to buy.
Kevin Martin - SG/SF - 6'7''- 6'10'' - 185 lbs
Kevin Martin is the super best cheap NBA2K22 card around the 5k. He has a decent ball handle good speed, but the problem is he has a terrible lateral. He's got a lot of really good shooting badges plus a quick first step. He's a good offensive player and actually with his bad lateral quickness gave him bronze clamps. For bagdes, he's got intimidator, lucky #7, and blinders.
Bob Dandridge - SF/PF - 6'6''- 6'9'' - 195 lbs
Bob Dandridge is good at everything, you can get this 2K22 best cheap card around 5k mt. He's got the eight silver badges include bailout, grace under pressure, hustler, catch & shoot, glue hands, giant slayer, and a lot of really good bronze badges. At the small forward positions, he has well-round stats, for example, 77 three ball, 77 driving dunk, 89 mid-range shot,76 steal, 82 perimeter defense, 82 lateral quickness, and 77 speed. Also, he's got a good release. Obviously, he is not the greatest, but as someone just for the consistency that'll do everything. After all, he's not a bad option especially for 5000 mt.
Marvin Bagley III - C/PF - 6'1'' - 7'0'' - 234 lbs
You can get this unbelievable NBA2K22 best budget card for less than 2000 mt. He is one of the best centers who has brick wall, box, pogo stick, backdown punisher, grace under pressure, hustler. Most importantly, he has a silver post-spin technician which is such an important badge in NBA 2K22. 6'11'' height is a really good player build. He's got good post-fade, good three-ball, good speed, mid-range is a bit lacking but he can hit the wide-open three. He dunks it on people. He's not a great shot blocker but he blocks more than you would expect with 56.
James Donaldson - C- 7'2'' - 7'5'' - 275 lbs
James Donaldson is under 2k mt, he gives you what Artis Gilmore gives you. He has a brick wall which is a massive badge for these big guys to have. Other than that, he's got drop stopper, rim protector, intimidator, post lockdown, worm, rise up, but he has no post spin technician. With the best cheap NBA 2K22 card, you've got 85 post moves, 85 post hook, 81 post fade and 86 block. Though he's at 25 speed, it doesn't matter since he is 7'2''along with a giant player build. If you want a cheap giant, get the best value, James Donaldson.
Read more:
NBA 2K22 Best Dribble Moves Current Gen & Next Gen - Best Dribble Moves Animations, Settings, Badges & Tips

NBA 2K22 Next Gen Best Build - Most Overpowered Builds For All Positions In 2K22 Next Gen
NBA 2K22 Current Gen Best Center Build - Top 5 Most Overpowered Builds In 2K22 Current Gen
NBA 2K22 Current Gen & Next Gen Build System - How To Make The Best NBA 2K22 MyPLAYER Builds
These are the top 10 NBA 2K22 MyTEAM best budget cards that everyone should get. Get NBA 2K22 MT for sale at buynba2kmt.com for these cheap beasts in NBA 2K22 to build your team.
NBA 2K23 News Guides

NBA 2K22 News Guides

NBA 2K21 News Guides
CONTACT US
TEL (USA) : +1-315-889-1198
TEL (UK) : +44-020-32905838
MSN: [email protected]
QQ: 1498133786