Home
>>
News
>>
Nba 2K22 Best Defensive Badges Current Gen Next Gen Top 5 Best Defensive Badges 2K22

NBA 2K22 Best Defensive Badges Current Gen & Next Gen - Top 5 Best Defensive Badges 2K22
Date: 9/28/2021 11:30:09 AM
Badges provide significant boosts to improve your abilities in NBA 2K22. When you are playing as a defender in the game, what are the defense badges to use? Here we present the best NBA 2K22 best defensive badges for current-gen and next-gen, as well as the badge requirements for each 2K22 badge here.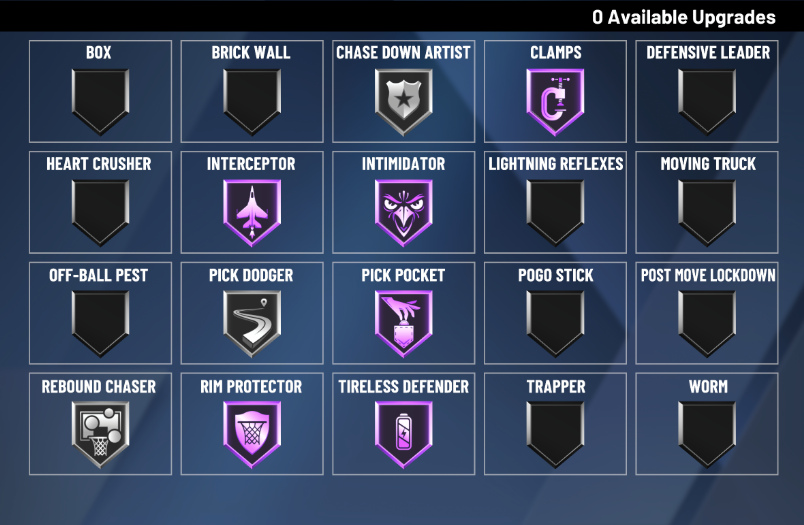 Related Read: NBA 2K22 Best Shooting Badges Current & Next Gen
NBA 2K22 Best Defensive Badges Next Gen & Current Gen - Top 5 Best Defensive Badges 2K22
All the badges are the same on both gens, so the best defensive badges 2K22 here will work on both current-gen and next-gen. According to the video of Skotrix 2k, here we picked up 5 top badges suitable for defending builds. These badges are S-tier in the game, but the others not listed are not bad badges, just because they are only working for specific MyPlayer builds or other reasons.
Rebound Chaser
Rebound Chaser improves the player's ability to track down rebounds from a farther distance than normal. Rebound Chaser is definitely one of the best defensive badges in NBA 2K22, if you are a big man or anybody who can grab rebounds, you definitely want to get Rebound Chaser, it is a must-have badge for most big man build. If you are a big man, you should have unleashed at least gold on the badge, Hall of Fame is better.
Rebound Chaser badge requirements
Bronze - 71 Offensive Rebound or 71 Defensive Rebound
Silver - 81 Offensive Rebound or 81 Defensive Rebound
Gold - 91 Offensive Rebound or 91 Defensive Rebound
HOF - 99 Offensive Rebound or 99 Defensive Rebound
Intimidator
With the Intimidator badge, you can intimidate offensive players causing them to miss shots more often, and make offensive players have less success shooting. It also boosts the shot defense ratings when tightly guarding an opponent. Intimidator is an s-tier badge in NBA 2K22, it is super good for any build and any position, get it as one of your first badges. It goes by block this year, you need 81 block rating for gold and 95 block for Hall of Fame.
Intimidator badge requirements:
Bronze - 54 Block
Silver - 65 Block
Gold - 81 Block
HOF - 95 Block
Menace
With Menace, when guarding and staying in front of an opponent, their attributes will drop if the good defense is being played. Menace is a good badge for any on-ball defenders, especially when you have high defense ratings or you are good at defense, this badge will make it a lot harder for offensive players to score on you, it will help you a lot. Make sure to apply it as long as you can get it.
Menace badge requirements:
Bronze - 64 Perimeter Defense
Silver - 77 Perimeter Defense
Gold - 86 Perimeter Defense
HOF - 95 Perimeter Defense
Clamps
Clamps is recommended for almost every single outside build. Some people think it will just play defense for them, but you still need to be decent at playing defense, otherwise, Clamps is not going to bail you out every single time you try to play defense, it's not a super badge but still really good. It will help you clamp up people on the perimeter, especially if you have high perimeter defense to pair with clamps.
Clamps badge requirements:
Bronze - 63 Perimeter Defense
Silver - 76 Perimeter Defense
Gold - 85 Perimeter Defense
HOF - 94 Perimeter Defense
Interceptor
Interceptor is worth being put on the top tier defense badges in 2K22, it is a pretty good badge this year, if you have a decent steal rating and you have a great ability to get off ball steals, it's highly recommended to invest in Interceptor as probably one of your first defensive badges. It is a super good badge for basically every position, as long as you have a high steal rating to be able to get the offload steals.
Interceptor badge requirements:
Bronze - 40 Steal
Silver - 60 Steal
Gold - 78 Steal
HOF - 90 Steal
Buy MT for NBA 2K22 MyTEAM with cheapest prices at BUYNBA2KMT.COM.
NBA 2K24 News Guides

NBA 2K23 News Guides

NBA 2K22 News Guides

NBA 2K21 News Guides
CONTACT US
TEL (USA) : +1-315-889-1198
TEL (UK) : +44-020-32905838
MSN: [email protected]
QQ: 1498133786