Home
>>
News
>>
Nba 2K22 Current Next Gen Best Defensive Settings Best Defensive Settings 2K22 Myteam

NBA 2K22 Current & Next Gen Best Defensive Settings - Best Defensive Settings 2K22 MyTEAM
Date: 12/3/2021 5:18:41 PM
How do you play defense better in NBA 2K22 and how to defend the pick and roll? Here we'll show you some of the best defensive settings on NBA 2K22 next gen and current gen that helps you get more success of defending.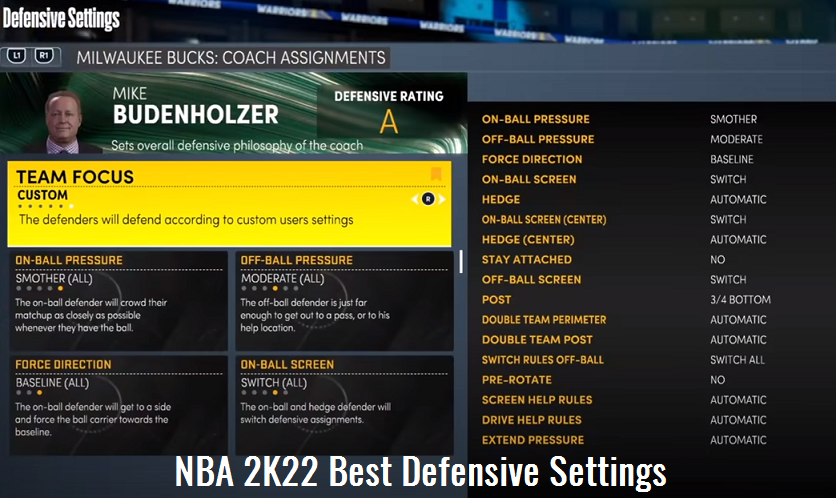 Related Read: How to Green Every Shot in NBA 2K22
NBA 2K22 Season 6 Best Jumpshot
NBA 2K22 Current & Next Gen Best Defensive Settings - Best Defensive Settings 2K22 MyTEAM
Whether current gen or next gen you are on, you can try these defensive settings in NBA 2K22. There are a few differences between different consoles, but a lot of them are similar. Let's go through each of these NBA 2K22 best defensive settings recommended by TyDeBo, but this does not mean these are the best or only option for everyone or every play style. Turn your Adaptive Coaching Engine to Off on current gen, otherwise, the CPU is gonna go do your game plan for you, adaptive coaching engine, what it does is it determines if you would like to game plan on your own or let the CPU do it for you. The difference between the current gen and next gen is the stay attached setting, other than that, everything is basically identical, the defensive movement is different.
1. On-Ball Pressure: Smother (All)
With Smother, the on-ball defender will crowd their matchup as closely as possible whenever they have the ball. You can to Tight, with Tight you can still send double teams, if you do Smother you can no longer send double teams plus it helps against back door cuts.
2. Off-Ball Pressure: Tight (All)
Tight is definitely the best off-ball pressure, great to use against shooters or players who are constantly coming off screens.
3. Force Direction: Automatic (All)
Defenders will favor a side and force the ball carrier according to the team's scheme.
4. On-Ball Screen: Go Over (All)
The on-ball defender will go over the ball screen, great to use against shooters. You know exactly where your defender is, you can bait other passes helping off the screen, see what to do with the center, you just know what you are getting now.
5. Hedge: No Hedge (All)
The hedge defender will drop down to defend against the drive, great if the screener is not a scoring threat and the ball carrier is not a great shooter. Either catch hedge or no hedge is fine. Both are dropping down to defend against the drive, the catch hedge is to contain the drive along with preventing the screener from getting behind him.
6. On-Ball Screen (Center): Go Over (All)
7. Hedge (Center): No Hedge (All)
8. Screen Help Rules: No Help (All)
Both the help and the rotation defenders will stay home on their assignments, great at limiting perimeter shooting in pick-and-roll situations.
9. Drive Help Rules: No Help (All)
Both the help and the rotation defenders will stay home on their assignments
10. Stay Attached: Yes (All)
Although we are on the next gen, the settings are pretty similar. When you put the Stay Attached on, it says the hedge defender will stay attached to the screener, that's the big thing that you're not gonna switch, and then it says when on your on-ball pick and roll coverage will change to go over, it really eliminates the switching. Whatever you want to do on that on current gen, you leave this on automatic on next gen, turn it to yes.
If you are looking for a reliable 2K22 MT store, BUYNBA2KMT.COM provides the safety guarantee and transaction protection.
NBA 2K24 News Guides

NBA 2K23 News Guides

NBA 2K22 News Guides

NBA 2K21 News Guides
CONTACT US
TEL (USA) : +1-315-889-1198
TEL (UK) : +44-020-32905838
MSN: [email protected]
QQ: 1498133786