NBA 2K22 Hoopspmas Event Guide - How To Get All The Hoopsmas Rewards In 2K22
Date: 12/18/2021 11:10:53 AM
"Christmas" is around the corner. In order to celebrate the most important festival in real life, that' when the Hoopsmas promo decides to take over NBA 2K22 MyTEAM. A lot of people can be confused because that is the first time we heard about this brand new Christmas event in NBA 2K22. In this NBA 2K22 Hoopsmas event guide, we are going to show you what is 2K22 Hoopsmas, how it works, and all the rewards you can earn from Hoopsmas.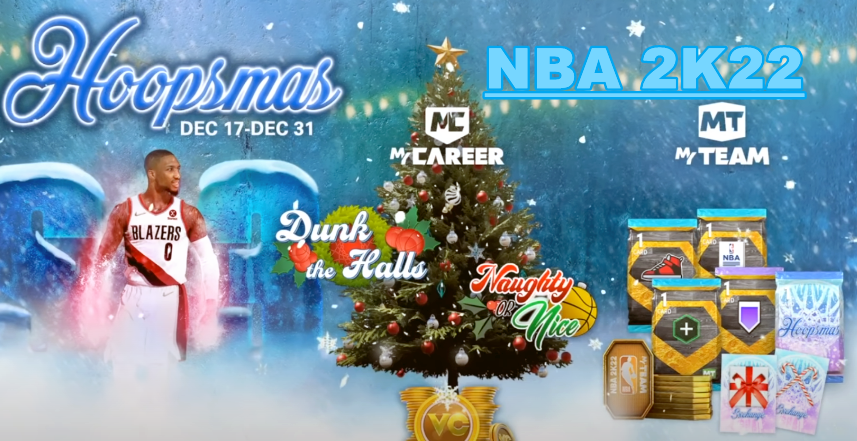 NBA 2K22 Hoopsmas Event Guide - How To Get All The Hoopsmas Rewards In 2K22
NBA 2K22 MyTEAM Hoopsmas goes from December 17th to December the 31st. For 14 days, all you need to do is log in every day to get a Hoopsmas pack, so that redeem a special reward such as a diamond contract, diamond shoe, diamond shoe boost, present event card, candy Cane and more. In addition, log in every day for a present or candy cane and that can be exchanged for prizes and until January 1. Exchange your candy cane or a "22" Series 1 Pack, and exchange your present event cards for a HOF badge, diamond consumables, 50 tokens, and more.
NBA 2K22 Hoopsmas Packs
Winter Basketball
Gold & Diamond Shoe Colorways
Shoe Boosts & Contracts
Candy Cane & Present Event Cards
NBA 2K22 Hoopsmas Candy Canes & Presents
Hall Of Fame Badge - 1 Present
Diamond Consumable - 1 Present
Diamond Consumable - 1 Present
20 Tokens - 1 Present
Amethyst Player - 1 Present
Signature Series III (Daily) - 1 Present
Series 1 Pack (Daily) - 1 Candy Cane
Present Event Card (Daily) - 3 Candy Cane
How To Redeem Hoopsmas Rewards In NBA 2K22
Since each day you're going to get a Hoopsmas pack and you're going to get a random item such as basketballs, gold badges, and other consumables. Luckily, some people will get candy canes and presents through Hoopsmas packs. As a matter of fact that, candy canes and presents can be both exchanged for more prizes.
Here is the way to exchange presents. You need to come over to the Miscellaneous Collections - My Collection - Auction Outcomes - The Exchange, you come to All, click lt and you can go to Events. Let's say you want to get a hall of fame badge, you need one present to exchange for the hall of fame badge.
How To Get All Hoopsmas Rewards In NBA 2K22
Out of the 14 days, in order to guarantee to get all the rewards, you're going to get 6 presents and you're going get 4 candy canes. However some people will never get a present or a candy cane, or maybe some people get a lot of candy canes and no presents or get a lot of presents and no candy canes during this 2K22 Hoopsmas event. Basically, just like the Thanksgiving Event, it's just guaranteed to get all the rewards, but they want to show it as it's more of a luck base. You're going to open 14 Hoopsmas packs by the end of the 14 days. Out of those 14 Hoopsmas packs, you're going to get a guaranteed 6 presents and then 4 candy canes to redeem everything.
The Best Hoopsmas Rewards In NBA 2K22
If you do get a present, the Hall of Fame badge is definitely the best reward as well as the first reward you should go for during the Hoopsmas promo NBA 2K22. Then probably go for the 50 tokens, the next is one of the diamond consumables, then probably the amethyst player pack, obviously the other diamond consumables, and the pack is probably the last thing that's good here. However, the present event card might be worth your 3 Candy Canes! To be noted, from Hall of Fame badges to consumables that are not repeatable. The only ones that are exchangeable are signature series III, series 1 pack and the present event card.

Last but not the least, make sure to log in every single day during this NBA 2K22 Christmas "Hoopsmas" promo because you don't want to miss out on one of the rewards such as 50 tokens, diamond consumables, hall of fame badge, series 1 pack or more rewards. If you need to buy cheap NBA 2K22 MT online, Buynba2kmt.com is there for you 24/7.
NBA 2K24 News Guides

NBA 2K23 News Guides

NBA 2K22 News Guides

NBA 2K21 News Guides
CONTACT US
TEL (USA) : +1-315-889-1198
TEL (UK) : +44-020-32905838
MSN: [email protected]
QQ: 1498133786