NBA 2K22 Gold Rush Guide - Rewards & How To Win Gold Rush In 2K22
Date: 3/1/2022 12:06:53 PM
Which of these first NBA 2K22 Season 5 events are you pulling up on weekends? Gold Rush aka Boost Rush has returned to NBA 2K22 in Season 5. Gold Rush was released on Saturday, February 26. In this NBA 2K22 Gold Rush event guide, we tell you the Gold Rush rewards, the best build, and tips to win Gold Rush so that you can put your VC where your mouth is.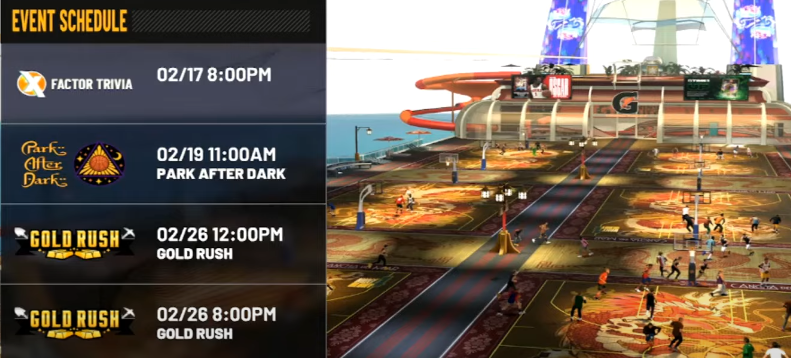 NBA 2K22 Gold Rush Guide - Rewards & How To Win Gold Rush In 2K22
Finally, after 6 months of waiting for an actual event, Gold Rush is live now in NBA 2K22 both current gen and next gen. 2K did listen to us and give us an actual event with leaderboards. Complete in Ante-Up to receive 2x rep for all games played. Teams who gain the most VC win the event. There are reasons you are not able to win this event since NBA 2K20 and NBA 2K21 because this event is going to be boosted if you don't have a perfect team that you can win every game with. Next, we are going to show you the best way to win Gold Rush on NBA 2K22.
How To Play Gold Rush In NBA 2K22
The first step to playing Gold Rush is to go to the Ante-Up. So you need to head over to the 6 elevator, press use elevator, go to deck 14. It's by the game room. Press go down to the Ante-Up. There are four times you can play Gold Rush in NBA 2K22, and each time lasts four hours. Basically, how you play the event is if whoever wins the most VC currently during that four-hour margin, wins the event. If you get top 10 on the leaderboards, you get to choose from the rewards. If you get to the top 50, you will be able to decide on another reward.
NBA 2K22 Gold Rush Rewards
In the 2K TV, they advised that you can earn treasure at Gold Rush, all the VC you earn in anti-up will be used as your event score and the winner will supposedly be drifting in gold, such as the gold jersey, the gold source, and the normal rewards for Gold Rush. Unfortunately, there are no rewards, there are no leaderboards after you complete this Gold Rush event in NBA 2K22.
NBA 2K has tweeted: we are aware of the Gold Rush prizing issue and are actively working on a fix that will reward players based on their final leaderboard position and resolve the issue for future events. They have fixed the Gold Rush rewards, clothes, and more. So, everybody who is in the leaderboards, you should be getting your NBA 2K22 Gold Rush rewards as soon as possible.
How To Win Gold Rush With The Best Build In NBA 2K22
This two-way playmaker is created by Clutch DF. You can win the Gold Rush event in Season 5 NBA 2K22 with the most broken point guard build that has 99 overall. You need to have a mid-range shooting sleeve on and the three-point shooting sleeve on, which brings you to a 76 mind range shoot and 69 three-point shot. Furthermore, you can speed boost off the rip. Your steal is a 98. If you have on boost, it will be a 99! Of course, the driving dunk is an 84. This build is insane with 8 finishing, 11 shooting, 21 playmaking, and 21 defense/rebounding badges.
Finishing
Close Shot: 25-90
Driving Layup: 25-88
Driving Dunk: 25-84
Standing Dunk: 25-30
Post Hook: 25-34
Shooting
Mid-Range Shot: 25-76
Three-Point Shot: 25-69
Free Throw: 25-86
Post Fade: 25-62
Playmaking
Pass Accuracy: 25-90
Ball Handle: 25-89
Post Control: 25-44
Defense/Rebounding
Interior Defense: 25-41
Perimeter Defense: 25-91
Lateral Quickness: 25-91
Steal: 25-98
Block: 25-42
Offensive Rebound: 25-46
Defensive Rebound: 25-81
Tips & Tricks To Win Gold Rush In NBA 2K22
If you have played Gold Rush before, you will know how hard is it to win. You have boosters, the court glitches, the delayers, the boosters, the ball holders, and you got the dues that pull up on you multiple times. Basically, everyone that wins this event is boosted. To win Gold Rush, you have to win the most VC in the four hours that 2K gives you. The highest court in the court is 10K. The only way to way is to win the 10k court or the 5k court. And you need to finish games fast and try to join different stages in order to get the most VC. A lot of people choose to do the VC glitch or the boost, but 2K recently started banning people for it.
All the cheesy rewards will come up for the Gold Rush event in NBA 2K22. Just stay patiently and wait patiently. However, if you are looking for some cheap and fast NBA 2K22 MT coins, Buynba2kmt.com will provide all customers with legit 2K22 MyTEAM coins at a cheap price on the market!
NBA 2K24 News Guides

NBA 2K23 News Guides

NBA 2K22 News Guides

NBA 2K21 News Guides
CONTACT US
TEL (USA) : +1-315-889-1198
TEL (UK) : +44-020-32905838
MSN: [email protected]
QQ: 1498133786