NBA 2K22 Easter Event Guide - Easter Event Rewards, Egg Locations, & How To Collect Them
Date: 4/18/2022 10:40:12 AM
There's a brand new Easter promo in NBA 2K22 MyTEAM in honor of Easter. It actually looks crazy. Because it's a great way to get tokens, badges, and a lot of free rewards. In this NBA 2K22 Easter Event guide, we share the rewards, Easter egg locations and more tips to collect them.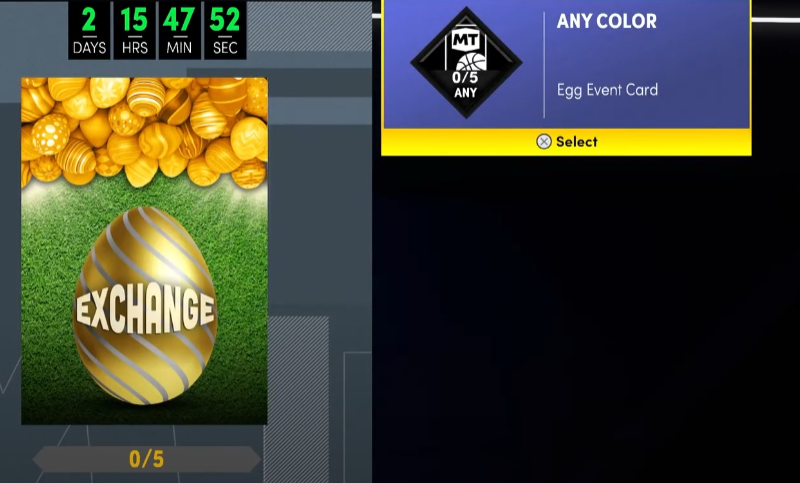 NBA 2K22 Easter Event Guide - Easter Event Rewards, Egg Locations, & How To Collect Them
Limited time Easter Event in 2K22 earn egg cards and egg hunt packs by playing triple Threat Triple, Triple Threat the 100, Unlimited, Limited, and Clutch Time which is actually kind of crazy, you can see there are three different packs along a lot of really cool stuff. During the NBA 2K22 MyTEAM Easter Event, we can earn an golden egg every hour. What you can do is take four of your blue eggs and turn them into a gold egg, and obviously the gold egg is what you can use for some of these bigger ticket items like the contract, the pogo stick, the limitless takeoff, and the galaxy opal player.
How To Collect Easter Eggs In NBA 2K22
If you head over to Triple Threat, you can see that we have a gold egg, a blue egg, and a mystery pack with two cards in it in the vault. However, 2K kept 5 tokens, they kept the 1250 NBA 2K22 MT and they kept Richard Dumas in here which is awesome. If you head over to Clutch Time, if you do a wheel spin you'll actually get the rewards. But on Clutch Time, the wheel spin will show some Unlimited and Limited, we'll have some rewards if you just uh win some games, you'll get some stuff in some of these boxes. Limited whenever you flip over that reward for the week, you'll be able to check some of those out. For Triple Threat Online, you can actually see it is loaded with stuff. The gold egg is only for the top board as well as Bradley Beal, that blue exchange egg, and the mystery pack with two. The mystery pack is probably going to have shoe boots, shoes in general, some contracts, and badges. If you just grind, you can get quite a bit of stuff.
NBA 2K22 Easter Event Exchange Rewards
Once you get some of those NBA 2K22 Easter eggs, you want to head over to the exchange to help out, hit R2 go to the event.
1. Galaxy Opal Player - Golden Event Card
2. Limitless Takeoff - Golden Event Card
3. Pogo Stick - 1 Golden Event Card
4. Diamond Contact - 1 Golden Event Card
5. 50 Tokens (Hourly) - 1 Golden Event Card
6. Fan Favorite Pack (Hourly) - 2 Egg Event Card
7. Shoe Colorway (Hourly) - 1 Egg Event Card
8. 10 Tokens (Hourly) - 1 Egg Event Card
9. Deluxe Dynamic Pack (Hourly) - 1 Egg Event Card
10. Golden Egg (Hourly) - 5 Egg Event Card
How To Use Easter Eggs In NBA 2K22
The first one is you get a golden event card, you can exchange it for a free galaxy opal. This is something you definitely want to work for. Most importantly, for one golden egg event card, you get 50 tokens, but you can get that hourly. Meaning you can absolutely juice up your tokens, if all you want to do is play 2k and juice up tokens. If you just wanted to get the straight shot to 1000, so you can get a dark matter for next season, the best thing you can do is hold it out. That's definitely something you should look at.
Every hour you can use two of the blue egg event cards and get a fan favorite pack, so if you're somebody who doesn't really get to open packs a lot, you want to really juice up those contracts and make sure you have a lot of them. You'd better probably stick with 10 tokens and 50 tokens together if you can. It's only one of the blue eggs, save them get 10 tokens, get the shoe colorway, and get the fan favorites pack instead of getting these deluxe dynamic packs unless you just don't have anything else.
So essentially what you want to do is try to get those gold eggs. But if you're still somebody who just the ball drops, just don't go your way which honestly is all of us, you can still get some of those blue eggs and turn them into the gold eggs and get some pretty cool stuff.
NBA 2K22 Easter Event Tips
What 2k is doing, you can basically get it in everything. Heading to Clutch Time, pick basically pick your favorite mode to grind. If you want to do this the most efficient way, Triple Threat and Clutch Time are probably the best ones to do in Easter Event NBA 2K22. Because those modes are very easy to win, you can just juice up with some of these new goals and just try to get a bunch of these packs and just have some fun. If you are somebody who likes to buy packs, there's a guaranteed opal box topper in these 20 pack boxes which is awesome to see both extremely cheap and extremely good cards.
NBA 2K24 News Guides

NBA 2K23 News Guides

NBA 2K22 News Guides

NBA 2K21 News Guides
CONTACT US
TEL (USA) : +1-315-889-1198
TEL (UK) : +44-020-32905838
MSN: [email protected]
QQ: 1498133786